Vancouver Tech Journal | #89
"Magic happens when people of different perspectives, with different experiences and different backgrounds come together with the common goal of solving big problems." - Supercluster CEO Sue Paish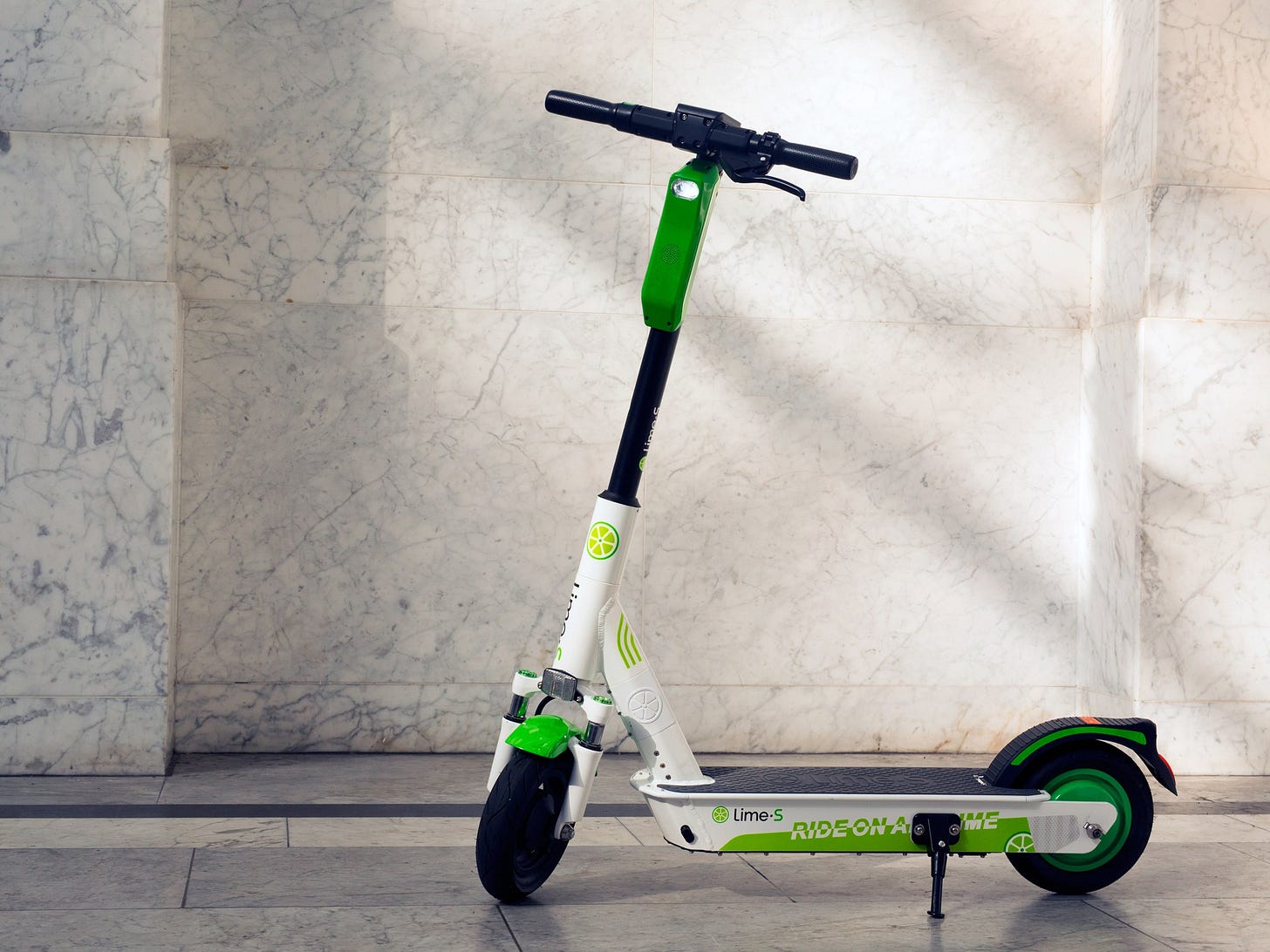 The Vancouver Tech Journal spotlights the city's most important technology news and business stories. This is the Sunday Briefing. Enjoy.
NEWS
Lime, the "smart-mobility provider that offers cities an array of mobility products including Lime-E e-assist bicycles and Lime-S electric scooters," is hiring a General Manager, Western Canada. Why? The province is now accepting applications for e-scooter pilot projects. Electric scooters are banned, apparently, but that's about to change. /more
"In a span of four weeks at the tail end of 2019, at least three B.C.-headquartered companies announced the appointment of CEOs who themselves decided not to relocate to the West Coast," reports Tyler Orton. Which companies? The newly-appointed heads of Vision Critical, Ritchie Bros., and RentMoola. BCBC head Greg D'Avignon says that "factors such as the foreign-buyer's tax, higher income taxes compared with the U.S. and the high cost of housing are working against efforts to attract top C-suite talent to B.C." /more
CyberPatient is a Vancouver-based learning platform that uses interactive lessons to help medical students practice a variety of medical cases on virtual patients. The company, started by UBC professor Dr. Karim Qayumi, aims to help future doctors get real experience via simulations—and it is now available to physicians around the world. /more
Vancouver-based online emergency preparedness network ePACT has received $2.5 million growth capital financing from CIBC Innovation Banking. Calling itself the "LinkedIn for emergencies", ePACT's "peer-to-peer-to-peer" network allows users to invite a third user to receive full access to their emergency contacts, medical issues, allergies, immunizations, special needs, waivers, and consent forms. /more
Vancouver's ToursByLocals raised C$33 million from Tritium Partners. The company sources local guides in 162 countries, then helps tourists search and book them for either individual or small group tours and experiences in the place they are visiting. This is the first outside funding for the startup, which for the past 10 years has bootstrapped its business, building it up to 1.45 million customers and some US$45 million in revenues. It has around 100 employees today. /more
Vancouver's Elastic Path acquires tech firm Moltin, giving the firm offices in Boston and the U.K. Elastic Path specializes in e-commerce technology. "It really helps us accelerate our strategy around helping businesses really create more unique and engaging customer experiences that go just way beyond web stores and mobile apps," Elastic Path CEO Harry Chemko told Business in Vancouver. /more
The Digital Technology Supercluster unveiled its second wave of projects in Vancouver on January 16, with 16 initiatives tapping into $25 million. "In the last 10 months the supercluster has gone from building its foundation to really accelerating into an environment where the projects that we announced last March are now starting to deliver results," said Digital Technology Supercluster CEO Sue Paish. /more
5 B.C. companies—Axine Water Technologies, Carbon Engineering, Enbala Power Networks, Minesense Technologies, and Semios—were named to the prestigious Global Cleantech 100 list at the Cleantech Forum in San Francisco. The Global Cleantech 100 recognizes the most innovative ventures tackling the planet's most pressing environmental issues. This year, more than 13,000 companies were considered for the prestigious award. /more
BuildDirect co-founder and Vancouver entrepreneur Jeff Booth has officially released of his first book titled The Price of Tomorrow: Why Deflation Is the Key to an Abundant Future. Techcouver quotes Booth as saying:
I wrote this book because I grew tired of the insufficient debate on the root causes of events happening around the globe. Inequality, polarization, and uprisings are predictable second and third-order effects of technology visibly impacting our world. Most of the conversation is spent on these issues without realizing the underlying driver. Every day, it seems like the social contract we grew up with is at greater risk. On our current path, I worry about the world that we will pass to our children.
Lululemon used to be a niche player, now some think it could be the next Nike. Per UBS analyst Jay Sole:
Brands like Nike and Adidas are great brands, global brands, but they're thought of as men's brands that make products for women. Lululemon has the distinction of being a women's brand that makes products for men. People doubted that they could really grow their men's business but they have.
"Sequoia, Bessemer, Kleiner Perkins backed growth Valley firm productboard evaluated Seattle, Austin and Toronto but just chose Vancouver for their first international customer success and business development office," claims Invest in Canada's Sean Elbe. They recently announced a $45M series B, a bet by VCs that, as the company says, "product management systems will change how companies are run as much as CRMs did." /more
Rogers has announced it is starting to roll out Canada's first 5G network in downtown Vancouver and other cities in preparation for when 5G devices become available this year. With plans to expand to over 20 more markets by the end of the year, the company also announced it is the exclusive Canadian member of the global 5G Future Forum, a first-of-its-kind 5G and mobile-edge computing forum that includes Verizon, Vodafone, KT, Telstra, and América Móvil. /more
---
ARCHIVES
December 1, 2006: 

How We Did It: Stewart Butterfield and Caterina Fake, Co-founders, Flickr

.

 "The original plan had been to create an online game. But they were just about out of money. And then Butterfield had this crazy vision of building a photo-sharing website, and before you knew it Flickr was a cultural phenomenon." Butterfield and Fake and their seven employees all moved from Vancouver to Silicon Valley after Yahoo bought Flickr for a reported $30 million.
---
IDEAS
Arbitrary Insights is a weekly series spotlighting somewhat random, but mostly valuable business and life insights from the most recent books that I've read. This week's insights are from The Four by Scott Galloway.
Ilya Brotzky, CEO of VanHack, writing in BetaKit: Four predictions for Canadian tech hiring 2020
Jan Altmann, president of Altmann Consulting Services, writing on LinkedIn: Winning like Pete Carroll
Gordon Patrick Newell, executive coach at Bond & Bourne Leadership, writing on LinkedIn: Your FUBAR? Why 'owning it' is a powerful part of your organization's culture.
Kirk LaPointe, publisher and editor-in-chief of Business in Vancouver, writing in his publication: Big Taxi's big roadblocks stalling ride-hailing competition in B.C.
---
EVENTS
Super Early Bird tickets are now available for the #BCTECHSummit, taking place June 1-2, 2020. Use code VTJ for a special discount.
Wednesday, January 22: BIV's Tech Migration panel explores the challenges and opportunities ahead as the ongoing tech migration morphs our economy, featuring Ray Walia, Raghwa Gopal and Ilya Brotzky. Register and get a discounted rate using promo code BIVTALKS2020. /go
February 3: Ryan Holmes, CEO of Hootsuite is speaking at TechVancouver. Get your ticket before the event sells out. Seriously, this $25 event will sell-out. /go
February 4: BIV's A Conversation with Elizabeth Denham, the U.K. Information Commissioner. Elizabeth Denham has earned an international reputation as an advocate at the forefront of the protection of privacy and the public's right to know. She joins BIV's Hayley Woodin for an exclusive fireside chat. Register with promo code DENHAM. /go
---
LASTLY
Should your colleagues be reading this too? Forward it to them.
Follow along on Twitter: @vantechjournal / @notionport.
Reply with tips for next week.