The Sunday Briefing | #85
QOTW: "To be honest, what I would love to see is for Canada to stop competing provincially and start competing internationally." - Brenda Bailey, executive director of the DigiBC industry association.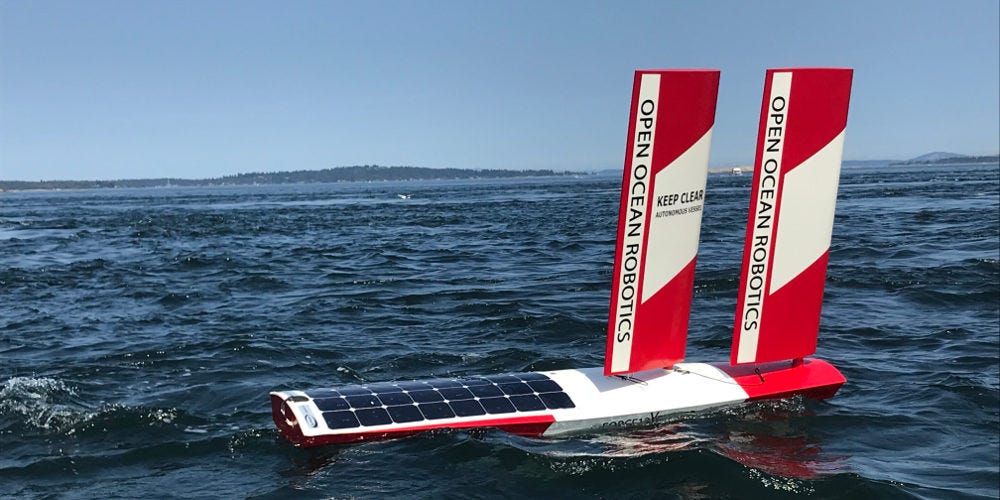 The Vancouver Tech Journal spotlights the city's most important technology news and business stories. This is the Sunday Briefing. Enjoy.
---
NEWS
Vancouver's Open Ocean Robotics, a startup that makes solar-powered drones that gather environmental data in real time and helps address environmental issues was profiled in Forbes. They had a big year. "During 2019, [they] won a most-promising startup award from the National Community for Angels, Incubators, and Accelerators; $100,000 in a Spring Impact Investor Challenge; and was a finalist in a New Ventures BC Competition, to name a few," writes science contributor Jeff Kart. /more
Vancouver-based mobility startup Damon Motorcycles has entered the EV arena with a preview of its first e-moto, the Hypersport Pro. "We are for the first time being black and white about the fact that we are a full-on producer and we have a motorcycle we're going to unveil at CES," founder and CEO Jay Giraud told TechCrunch. /more
Quora, the well-known question and answer website founded by former Facebook employees Adam D'Angelo and Charlie Cheever, announced that their first international engineering office will open in Vancouver in 2020. They decided on Vancouver for three reasons: friendly immigration system in Canada; Vancouver's quality of life; and convenience of location (close to their Mountain View HQ). /more
Unbounce, a Vancouver-based landing page marketing platform, has achieved a milestone by reaching gender parity with its nearly 200 employees in November. "One of Unbounce's values is diversity — we're big believers in bringing diverse perspectives and backgrounds to the table in order to bring truly innovative technology to market," said Tamara Grominsky, Director of Product Marketing, in a release. /more
Vancouver-founded Vision Critical is moving it's headquarters to Toronto and has named Ross Wainwright as its new CEO. Wainwright will be joined next month in the C-suite by the new president of products, Riaz Raihan. Both males hail from Toronto. With around 260 employees based here, Vancouver will remain a development hub for the company. /more
No fewer than 19 ride-hailing platforms are being vetted by the Passenger Transportation Board, some with hundreds of drivers already qualified to work. Rejoice. /more
Vancouver's BroadbandTV (BBTV), the multi-platform network that provides content creation, distribution, management, and monetization services to digital influencers, has added five new creators to its arsenal across multiple verticals, including UFC's Max Holloway, rapper-skater Roy Purdy, and YouTuber ThatWasEpic. As of June 2019, BBTV said its channels had amassed 587 million total unique viewers who consumed 46.9 billion minutes of content every month. /more
Venture capital firm Chrysalix Venture Capital announced the second close of its Chrysalix RoboValley Fund, nearing its target size of $120 million USD. Investors now include Caterpillar Inc., J-POWER, South32, Mitsubishi Corporation, Golden Properties, and Hyundai Motor Company, among others. /more
Vancouver Sun reporter Denise Ryan profiles new GVBOT boss Bridgitte Anderson. The board of trade represents nearly 6,000 members, 80 per cent of whom are small-business owners. In multiple interviews, Anderson has focused her messaging around 'competitivenes' as a priority, in addition to getting municipalities to stop working in silos. /more
Speaking of silos: TransLink is urging municipalities to work together to create a single business licence for ride-hailing across the region. As it stands: "In Vancouver, for instance, ride-hailing companies are facing a $155 licence fee, plus a $100 vehicle fee. Meanwhile in Burnaby, each driver will have to pay a $510 fee to operate in the city." Good lord. "Regional co-ordination is needed to make effective use of… local government powers," says the TransLink report. /more
Marketing performance management firm Allocadia has tapped Rahul Nirula as its new chief product officer. He takes over from co-founder Katherine Berry, who "will continue her work with Allocadia's most strategic enterprise customers and in supporting Allocadia's innovation agenda," according to a release. /more
Burnaby's D-Wave Systems has announced the expansion of the Leap™ API into Amazon Braket, a new, fully managed Amazon Web Services (AWS) solution. The service will give global Amazon Web Services users live, real-time access to D-Wave's 2000Q quantum computer via the Leap quantum cloud service. /more
---
IDEAS
Annika Lewis, associate at Vanedge Capital, writing on Medium: Corporate vs. Institutional Venture: A Primer
Hussein Hallak, founder at Next Decentrum, writing on LinkedIn: How to write an email follow up after an event?
BC Tech Association, via their #WhatWorks Series, shares: 15 Strategies for Tech Success among Women
Nicko van Someren, CTO at Absolute Software, shares insights in: 10 Predictions How AI Will Improve Cybersecurity In 2020
Teresa Duke, leadership coach and consultant, writing on the Weevr blog: How to Hire for a Growth Mindset: 4 Interview Questions to Ask
---
CAUSE CÉLÈBRE
Vancouver SkyTrain Derailed — Bad Timing for NeurIPS Attendees. /more
BC Tech Association pledges to double number of women on their board by 2020. /more
More Vancouver business owners complain about 'epidemic' of shoplifting. /more
Will Alphabet's Sidewalk Labs soon make a play for Vancouver? /more
---
LONG READ
Business in Vancouver's Forty under 40 winners list features at least 10 major tech personalities. To read individual profiles, simply click their names below:
---
REPORTS
Best Coast: The Economic Forecast Council expects B.C.'s economy to outperform the country. The council predicts that B.C. real gross domestic product (GDP) will grow by 2% in 2019, 2.4% in 2020 and 2.2% in 2021. British Columbia currently has the lowest unemployment rate in the country and is the only province in Canada with a triple-A credit rating from the three major international rating agencies. /more
A November report commissioned by the Entertainment Software Association of Canada revealed the number of gaming workers in B.C. grew by 1,400 to a total of 7,300 between 2017 and 2019. But during that same period, the number of companies operating in B.C. shrank to 116 from 139. /more
---
VIDEOS
Actress in ridiculed Peloton ad starts over — with Ryan Reynolds's gin. /watch
---
EVENTS
Monday, December 9: WeWork Station Square Grand Opening./go
Monday, December 9: CrossOver AI Conference to Showcase B.C.'s AI Ecosystem. I'll be emceeing the reverse pitches portion of the event. /go
Tuesday, December 10: TechVancouver: Building Products for the Fortune 500 with Isaac Oslund, co-founder & CTO at Bananatag. /go
Wednesday, December 11: Demo Day at BrainStation, their graduate project showcase, which celebrates everything full-time students have accomplished during their diploma program. Includes demos and an evening social event. [Editor's note: This is always a blast.] /go
---
LASTLY
Should your colleagues be reading this too? Forward it to them.
Follow along on Twitter: @vantechjournal / @notionport.
Reply with news for next week.