Vancouver Tech Journal | #83
"Trulioo's journey from startup to scaleup is the epitome of why tech is the most impactful and exciting industry in the world." - Zac Cohen, newly-named COO of Trulioo
The Vancouver Tech Journal spotlights the city's most important technology news and business stories. This is the Sunday Briefing. Enjoy.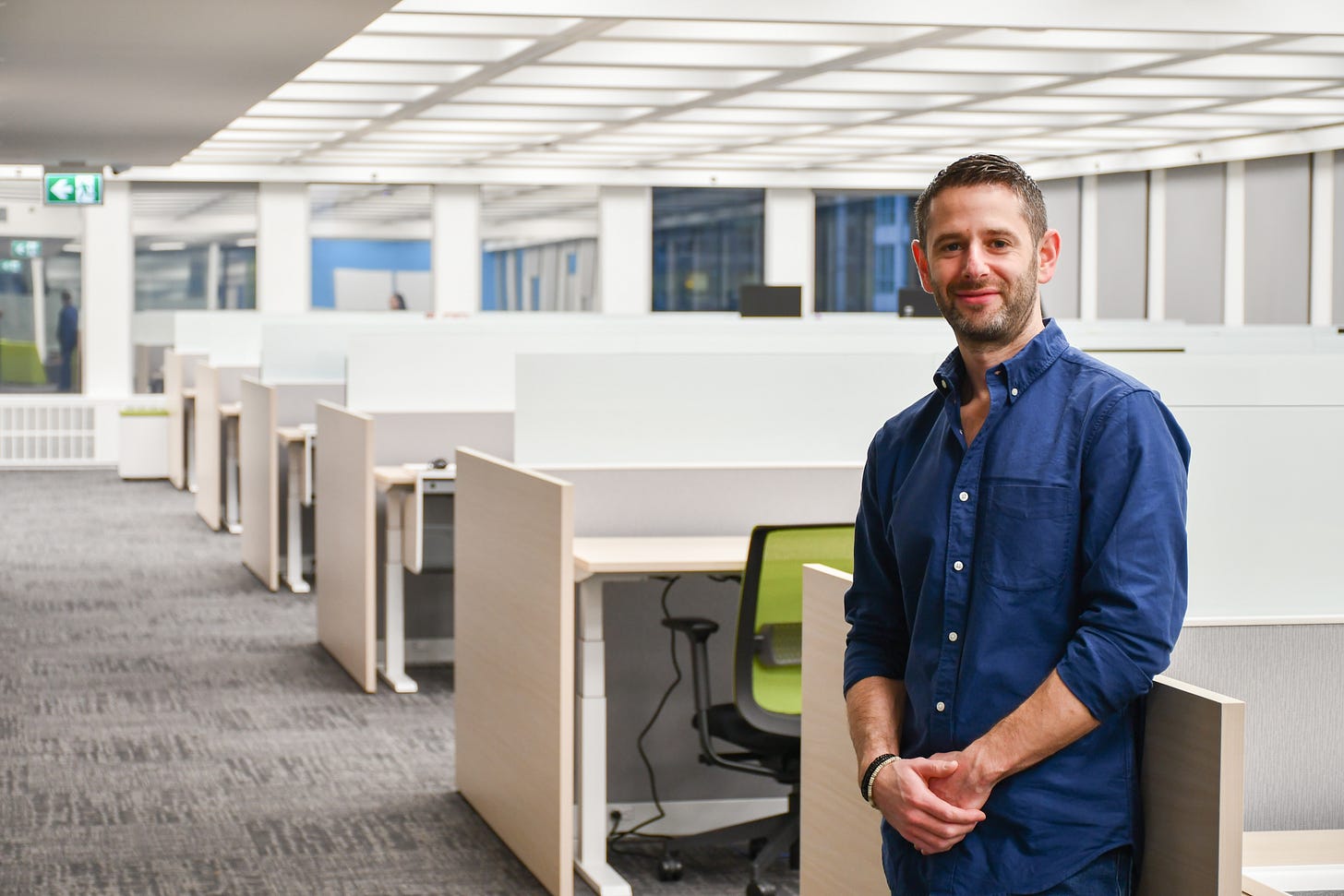 news
Fresh off of a $70m raise, Trulioo tapped Zac Cohen as COO. Cohen was formerly GM. "Under his leadership, revenue has grown 150% year-over-year and our headcount has tripled to 140 staff across our Vancouver, San Francisco and Dublin offices," Trulioo CEO Stephen Ufford said in a statement. /more
CBRE's summary of tech companies moving into new space in Q4 2019 features Traction on Demand, 1QBit, Nanotech, Lumen5, Riipen and others. /more
Five Canadian companies made the 2019 CNBC Upstart 100 list, including Vancouver cybersecurity startup Cmd, which is led by Jake King (ex-Hootsuite). /more
Unbounce announced a new tool called Smart Traffic, an AI-powered conversion tool that starts learning and optimizing after as few as 50 page visits. /more
"We are going to have to get more people into cybersecurity to deal with that growing threat that comes from becoming more connected," says Tokunbo Makanju, dean of the cybersecurity program at New York Institute of Technology's Vancouver campus. NYIT offers the only master's degree in cybersecurity in Western Canada. /more
Highline Beta announced the close of its inaugural investment fund of $20 million, Highline Beta Fund 2019. The fund will make up to 30 investments in startups co-created or partnered alongside corporations, and is one of only seven funds selected by the Government of Canada's Venture Capital Catalyst Initiative, with Royal Bank of Canada (RBC) as the lead private investor. /more
Charli AI, which quietly raised a $1.6 million seed round from Yaletown Venture Partners and BDC Capital in the spring, has come out of stealth mode with a workflow automation product. Charli AI is led by Kevin Collins, former CEO of Bit Stew Systems, which was acquired by GE Digital for USD$153M. /more
Two BC research projects have received a combined total of $448,000 through the Ignite Program of Innovate BC. A waste polyurethane chemical recycling project led by James Olson of UBC, Polymer Research Technologies, and the BC Research Institute, will receive $300,000 in funding from Innovate BC. The second project, focused on automated clinical tissue manufacturing, will receive $148,000 in funding. This project is led by Konrad Walus of UBC and Vancouver-based Aspect Biosystems. /more 
Kore.ai, an Orlando, Fla.-based conversational AI platform provider, secured growth capital from Vistara Capital Partners. Kore.ai offers an all-in-one conversational AI platform (as-a-service) that allows enterprises to build and deploy out-of-the-box or customized chatbots/virtual assistants for customers and workforces. /more
First Table, an international online dining site from New Zealand, has officially launched in our city. The concept allows Vancouver diners to get 50 percent off their food bill if they manage to book the first table of the evening at participating restaurants. /more
Downtown Vancouver's only casino, Parq, is getting a new CEO at the beginning of 2020, with former BC Gaming Industry Association executive director Peter Goudron taking over for Joe Brunini, after his three and a half years at the helm. /more
---
ideas
Raghwa Gopal, President + CEO, Innovate BC, writing in Daily Hive: Five BC tech startups that are ready to change the world
Andrew Reid, Founder and CEO, writing in Entrepreneur: Could Solving Loneliness Be Streaming TV's Next Innovation?
Vaclav Vincalek, CEO of PCIS, writing in Forbes: Launch A Two-Sided Market, Rinse, Repeat
Marius Adomnica, Technology & Gaming Lawyer at Segev LLP, writing on his blog, The Patch Notes: 6 Things I Learned From Luminosity's Financial Statements
Garry C. Bizzo, CEO of Bizzo Management Group Inc, writing at Equities.com: Complexities of Talent Acquisition for Startups
Wyatt Fossett, Writer & Freelance Journalist, writing in Daily Hive: High-speed rail connecting Vancouver, Seattle, and Portland makes sense
---
q+a
Read an interview between Nicholas Thompson, Editor in Chief of Wired and Stewart Butterfield, the CEO of Slack. /more
Read an interview between Vanesa Listek from the website 3DPrint.com and Tamer Mohamed, the CEO of Aspect Biosystems. /more
---
controversy
Seattle offers B.C. lessons in dark side of the tech-industry explosion. /more
Two Chinese representatives dropped from UBC business forum amid anger from Uyghur groups in Canada. /more
WeWork was set to occupy 678,000 square feet in Lower Mainland, but turmoil clouds their expansion plans. /more
$16 million in funds allegedly owed to crypto-traders by Vancouver's Einstein Exchange all but gone, receiver says. /more
---
longreads
A must-read from Nathaniel Rich in Vanity Fair with many Vancouver links:
Ponzi schemes, private yachts, and a missing $250 million in crypto: The strange tale of Quadriga. When Canadian blockchain whiz Gerald Cotten died unexpectedly last year, hundreds of millions of dollars in investor funds vanished into the crypto ether. But when the banks, the law, and the forces of Reddit tried to track down the cash, it turned out the young mogul may not have been who he purported to be.
---
reports
Over the past two years, B.C. added 1,400 workers to the gaming industry, for a total of 7,300, according to a new report commissioned by the Entertainment Software Association of Canada (ESAC). B.C.'s performance in terms of including women in the video game sector was the worst in Canada, with just 14% of the West Coast workforce indentifying as female as of 2019. /more
212 new retail businesses have opened in downtown Vancouver since 2012, per the Downtown Vancouver Business Improvement Association. /more
CB Insights put together a list of 84 notable Canadian fintech companies, as well as the 5 most active venture capital and corporate investors in Canadian fintech. Multiple Vancouver firms noted. /more
Canadian billionaires: The 41 richest people in Canada list features a few west coast personalities, including Lululemon founder Chip Wilson. /more
---
events
Tuesday, November 26: Fireside Chat with Boris Wertz, founding partner of Version One Ventures. /go
Thursday, November 28: BrainStation hosts top designers and researchers for a panel discussion: The Story Behind the Design. /go
December 10: TechVancouver: Building Products for the Fortune 500 with Isaac Oslund, co-founder & CTO at Bananatag. /go
---
last words
Should your colleagues be reading this too? Forward it to them. Follow along on Twitter: @vantechjournal and @notionport. Send stories to news@vantechjournal.ca. Donate to my Movember campaign.