Vancouver Tech Journal | #82
In this week's Sunday Briefing, let's take a moment to consider how we can have an everlasting impact on the face of men's health.
Friends, its Movember, the month when men and women across the globe join together to raise awareness and funds for men's health, specifically prostate cancer, testicular cancer, and mental health. The mental health issues in the tech and startup space are no secret: researchers from the University of California found that 72% of entrepreneurs surveyed self-reported mental health concerns.
More broadly, 1 in 10 Canadian men will experience major depression in the course of their lives, and 75% of suicides are men. Unfortunately, these issues often only come into sharp focus after a tragedy—and there have been many in the tech space including the suicides of Austen Heinz, Jody Sherman, and Aaron Swartz, a co-founder of Reddit.
To learn about what you can do to stop men dying too soon, visit Movember.com. You could also support my campaign that I'm starting belatedly: mobro.co/notionport. (If you and the rest of my subscribers pitched in just $1.25, I'd easily beat my goal.). More importantly, you should check on your strong friend. Talk. Be a man (and woman) of more words.
Also, while you're here, read this Vancouver investor's Forbes piece titled How I Live With Diagnosed Anxiety As An Entrepreneur. Okay, now, here's your Sunday Briefing...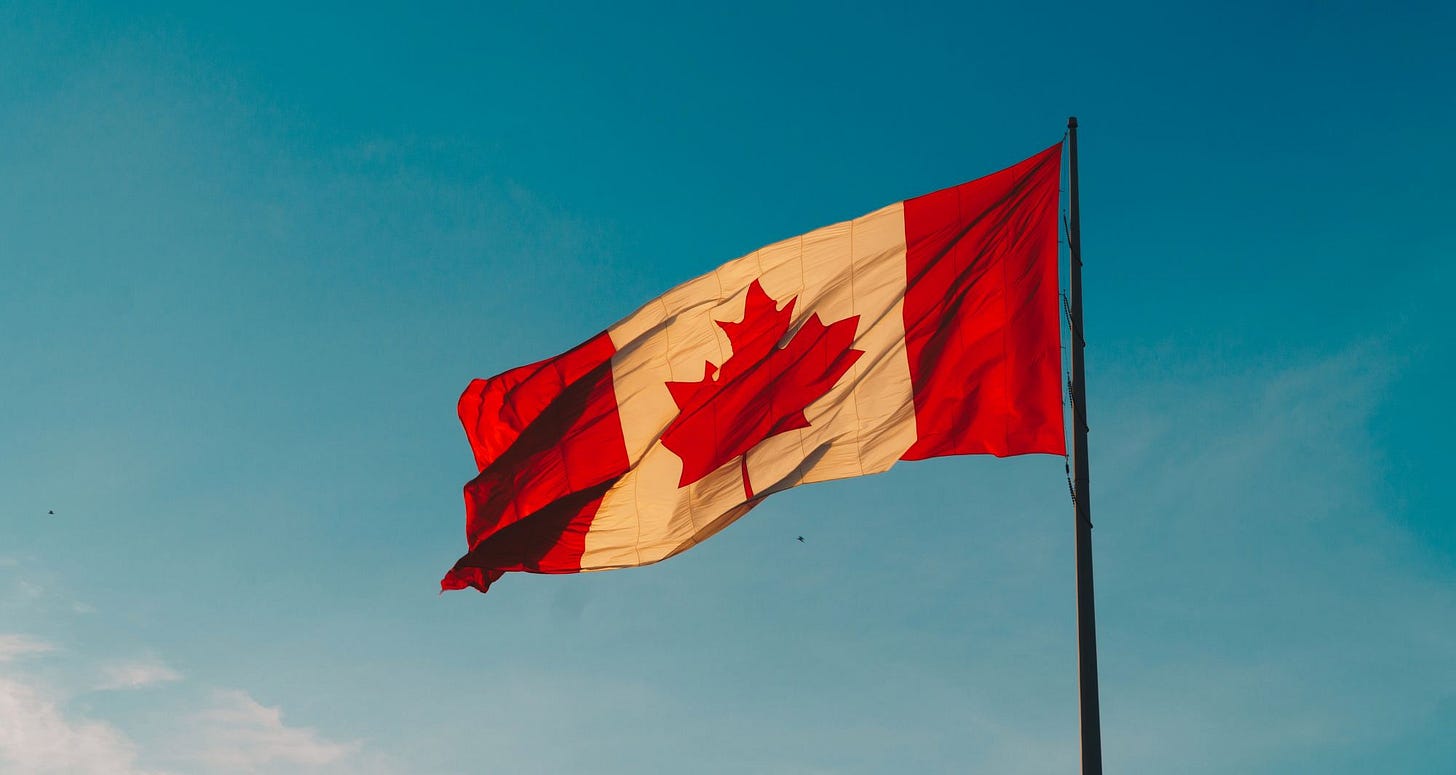 Canada is denying travel visas to AI researchers headed to NeurIPS, the largest AI conference in the world that's taking place in Vancouver next month.
Apparently this isn't the first time this has happened. Google AI researcher Timnit Gebru said 15 of 44 attendees planning to join the event's December 9 workshop were denied entry. Many cited immigration officials' fears that they would not return home.
[VentureBeat]
Vancouver executives Kelly Hall, Chief Customer Officer of Vision Critical, and Kristine Steuart, Chief Executive Officer and Co-Founder of Allocadia, named to The Software Report's (TSR) Top 50 Women Leaders in SaaS of 2019 list.
Per TSR:
Today, more than ever, it is important that we recognize and celebrate the accomplishments of women in SaaS, software, and the broader technology field. By shining a light on these leaders we can help inspire and encourage today's younger generation of women to aim high and achieve.
B.C. tech firms accounted for 20% (10) of the spots on Deloitte Technology Fast 50 list.
The highest-ranking company to represent B.C., Vancouver-founded Mojio, had 4,056% revenue growth from 2015-18 as it's been partnering with global telecom companies to help connect cars to the internet.
The other companies are Left, Bananatag Systems Inc., Visier, Strawhouse Inc., Vanrx Pharmasystems, Foodee Inc., Pressboard, SendtoNews, and Pixieset. Four Metro Vancouver firms landed in Deloitte's Enterprise Fast 15 category: Paladin Technologies. Broadband TV, Buyatab Online Inc., Canada Drives Ltd.
[Business in Vancouver]
Rogers Communications has turned on its first 5G-powered smart campus in the country in partnership with the University of British Columbia in Vancouver.
The smart campus includes 5G towers spread across the university's Point Grey campus and an edge computing enabled data centre, all of which is being used by university researchers to test 5G applications in a real-world setting. Edge computing can support faster response times by bringing computing power, content, and servers closer to IoT and consumer devices.
"Collaboration between universities and industry is critical to fully leverage the opportunities offered by 5G," Dr. Gail Murphy, vice-president, research and innovation, UBC said in a press release.
[IT World Canada]
Vancouver startup CTO.ai featured in
TechCrunch
, announce $7.5 million seed round led by 
Slack Fund 
and Tiger Global.
CTO.ai lets developers build and borrow DevOps shortcuts. These automate long series of steps they usually have to do manually, thanks to integrations with GitHub, AWS, Slack and more. CTO.ai claims it can turn a days-long process like setting up a Kubernetes cluster into a 15-minute task even sales people can handle. The startup offers both a platform for engineering and sharing shortcuts, and a service where it can custom build shortcuts for big customers.
Ryan Holmes, probably the most well-known tech CEO in Vancouver, will step down and become executive chairman of the company he founded.
In an emailed statement, Holmes wrote:
At Hootsuite, we routinely look at our entire leadership team – which includes me – to determine the best path for our future stages of growth and continued success. I am fortunate that I have an excellent board that I can have positive and candid conversations with to this end. It was through personal reflection and these candid conversations with my trusted board that I decided it was time to start looking ahead at new leadership.
B.C. benefits from being one of the last jurisdictions to approve ride-hailing because the province has been able to learn from mistakes made by others, says Kevin Desmond, the CEO of TransLink.
The regulatory framework the province has put in place is a wise framework. We benefit from going last because we are able to see what happened in other cities where it started without any kind of regulatory environment. It's kind of a wild west atmosphere. You know, I don't want to say optimistic or even cautiously optimistic. I think we're wary.
Read this Q&A with Duncan Blair, director of marketing, at Vancouver-based Article, Canada's fastest growing company two years running.
How are they ensuring that their growth is sustainable? First, they didn't "go out and raise a tremendous amount of capital in the pursuit of growth for growth's sake." And because they don't have a massive war chest, Blair explains:
we have continued to invest heavily in developing our core product – which we see as the entire furniture shopping experience. If we can make it easy to create beautiful modern spaces, we are confident we can continue to win over customers and keep them coming back. Revenue growth just helps us measure how successful we are at doing that.
Vancouver's chief licence inspector Kathryn Holm is recommending that Expedia, Bookings and TripAdvisor should join Airbnb in forcing hosts to get licences.
Vancouver is the only city in Canada to have an arrangement with a short-term rental provider (Airbnb) that blocks hosts from the site unless they provide a business licence number. The law came into effect on Sept. 1, 2018, a day after Airbnb delisted 2,482 Vancouver units because they didn't have a licence.
Holm is also recommending the cost of a business licence roughly double from $51 to $99, which would generate an extra $200,000 a year for the city.
[Vancouver Sun]
Meng Wanzhou arrest caused UBC leaders concern over enrolment, fundraising, internal documents show.
In the days following the arrest last December of Huawei executive Meng Wanzhou, UBC administrators and faculty scrambled to assess the impact that rising Canada-China tensions could have on student enrolment, fundraising and research, internal records show. The vice-provost international told colleagues in an email a campus-wide meeting was needed "given our significant reliance on China for students/$."
Dan Burgar and Kate Wilson write in
TechCrunch
about why and how corporate and public investments are spurring interest in 'Cascadia' and Pacific Northwest startups.
So what's really happening in the region, which includes Vancouver, B.C., Washington and Oregon? Explains Challenge Seattle CEO and former Washington State Governor Christine Gregoire:
For many years, a number of international companies from Seattle have been putting Canadian headquarters in Vancouver. So without anybody deliberately thinking about how we could work together, it was already actually happening. These organizations have decided to capitalize on [what] was happening from the ground up, and build out a vision, and bring us all together so we can really magnify the success of what's already happening on the ground.
---
MUST WATCH: Shahrzad Rafati, CEO of BroadbandTV (BBTV), joins BNN Bloomberg to discuss how her business manages and monetizes content, ultimately giving content owners (e.g. NBA and Sony Pictures) a boost. Love the Vancouver/Canada shout-out at 4:08.
A diverse team results in a more balanced perspective on different issues, says Ilya Brotzky, the founder and CEO of VanHack, in an interview with APOLLO Magazine.
Vancouver-based FinTech startup Grow Technologies, which develops software solutions in the loan management space, has been acquired by Alberta's ATB Financial.
Life Sciences BC president and CEO Wendy Hurlburt told Business in Vancouver that the latest LSBC Investor Summit drew at record 200 attendees and 85 applications—of which 30 were selected—from companies wishing to present to investors.
The Ladders—a website that posts only $100k salary job postings—featured Vancouver's Absolute Software—and estimates that the average salary for an employee is $123,425 per year.
Clir Renewables was announced as Start-up of the Year at the inaugural European Wind Investment Awards, which are hosted by A Word About Wind and celebrate best practice in the European wind industry.
Variational AI is a newly formed artificial intelligence (AI)-driven molecule discovery and drug design startup out of Vancouver led by Handol Kim.
Vancouvers's Galvanize, a provider of SaaS governance, risk, and compliance software, has named Pascal Van Dooren—formerly of Sage, Epicor and CapitalStream—as chief revenue officer.
---
Olive, a new Vancouver startup, is streamlining technology applications
Vancouver-based cryptocurrency exchange, Einstein Exchange, shut down, taken over by B.C. Securities
Bitcoin phone scams rack up over $66,000 in losses from Metro Vancouver victims over three months
SEGA-owned Relic Entertainment unveils new 47,000-sq-ft Vancouver studio (PHOTOS)
What you missed at the VR/AR Global Summit in Vancouver (PHOTOS)
B.C. adds 15,300 jobs in October, reversing months of losses
An Indigenous developer ignored Vancouver's zoning rules, and all sorts of good things happened
The culture shock of Western Canada
B.C. craft brewers' sales boom as big beer's sales slow
---
---
Featured Events…
November 19: I will see you TechVancouver—The Top Skill in Business (and Life): Sales featuring Jane Van Sickle, Sr. Director of Sales & Onboarding at Unbounce, and Kris Hartvigsen, Founder & CEO of Dooly.

November 26: Fireside Chat with Boris Wertz, founding partner of Version One Ventures.

November 28: BrainStation hosts top designers and researchers for a panel discussion: The Story Behind the Design.
---
Should your colleagues be reading this too? Forward it to them.     

Follow along on Twitter: @vantechjournal and @notionport.

Send tips to news@vantechjournal.ca.

Donate to Movember.