Vancouver Tech Journal | #81
"I've never seen such an architecturally significant building in Vancouver."
In this week's Sunday Briefing, read about Vancouver real estate and tech growth in the
New York Times
; how Vancouver small businesses are struggling to find cybersecurity talent; Lyft's very Vancouver-themed advertising campaign; and 20 other business stories you may have missed. Enjoy.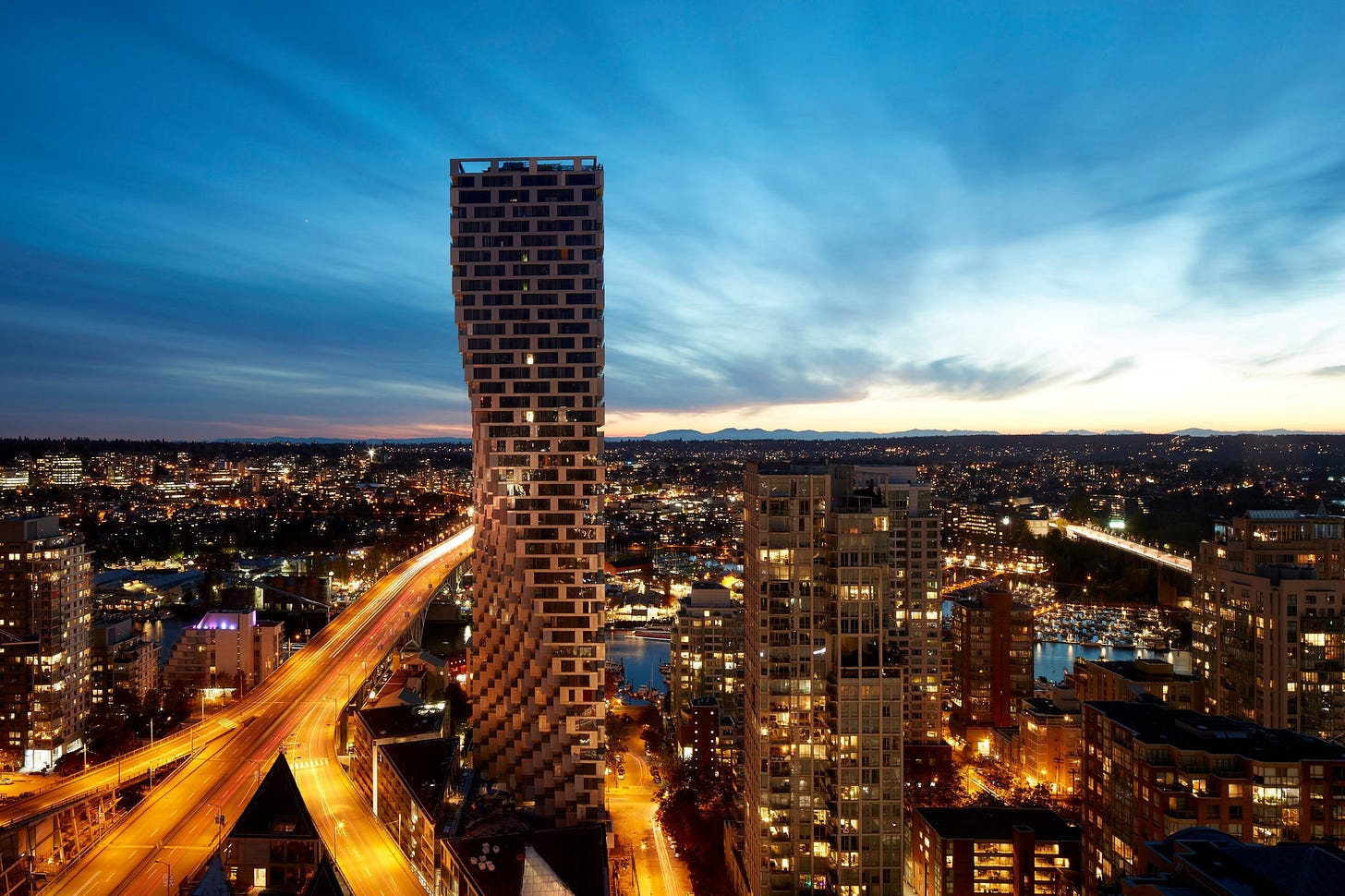 The New York Times covers Vancouver's real estate market, focusing in on the "spread of luxury housing and a tech-fueled office boom."
A record 3.96 million square feet of office space is under construction downtown, said Jason Kiselbach, senior vice president for CBRE British Columbia. Sixty-five percent of the buildings that are planned to open in 2022 and 2023 are already leased, and nearly three-quarters of those have been taken by technology companies.
"Tech is the No. 1 driver of the office market," Mr. Kiselbach said.
[New York Times]
Small business owners say cyber security issues keeps them up at night—but they're also struggling to secure quality talent to fill this functional gap.
Explains Alex Dow, chief technology officer at Vancouver's Mirai Security Inc., a cybersecurity consultancy:
There are a lot of smart people out there, but they're being hired by the big companies. Companies in the small- to medium-sized space really struggle to find talent that's willing to work in that space. Even my company struggles to win talent over from the Amazons and the Microsofts in Vancouver.
Dow adds that most "most SMEs can't afford to spend the time necessary to train these new digital defenders." However, he says not acting would be even more costlier:
They might be able to survive without doing security until a ransomware attack happens. But if they want to be competitive and sell to the Fortune 1,000 or Fortune 2,000 [companies], they need to start demonstrating that they know what they're doing when it comes to cybersecurity.
'Vancouver your face off': Lyft advertising campaign "
leans into local references to build awareness and get a leg up on the competition ahead of its launch."
Lyft highlights locals' points of pride and references barriers residents have faced when getting a ride. In one ad, it uses the 60s novelty hit "Sunshine, Lollipops and Rainbows" to draw ironic attention to the city's often miserable weather, while another features Vancouver Canucks goalie Jacob Markstrom. Another urge viewers to "Vancouver your face off," while ex-Dragons' Den panelist and celebrity chef Vikram Vij looks on, a message that's repeated in a spot where a local goes to various restaurants in town, tasting the spiciest food the city has to offer. 
[strategy]
But who knows if ride-haling will ever launch! The province's Passenger Transportation Board is delaying things even further.
Shocking but also not shocking: While some companies expected to receive an operating licence by mid-November, the province's Passenger Transportation Board (PTB) is now cautioning that applications could face additional processing delays of 21 days. Warns BC Liberal MLA Jas Johal:
It's going to be very difficult to have ride-hailing up and running in a legitimate way by Christmastime. We've added Class 4 licensing already, now we've added another hurdle companies have to jump over to start ride-hailing. It's not necessary. This is to placate entrenched interests in the taxi industry. Nothing more, nothing less.
Poparide, Canada's leading carpooling platform, has announced a partnership with TransLink to expand carpooling services across Metro Vancouver.
Poparide, which has 200,000 members across the country, connects people who need rides with people that own cars and are traveling on the same routes. TransLink selected the Vancouver-based technology company out of 90 organizations that were competing as part of TransLink's Open Call for Innovation on Seamless Mobility. Explains Poparide CEO and founder Flo Devellennes:
During an average morning commute, there are up to two million empty seats in vehicles travelling throughout the region. Our goal is to fill these empty seats and make it easier for Metro Vancouver residents to travel in a way that is more efficient, affordable and sustainable.
Launched in 2015, Poparide's most popular B.C. routes include Vancouver to Squamish ($10 a seat) and Vancouver to Kelowna ($40 a seat).
[Vancouver is Awesome]
CBRE Group's annual Tech-30 
report
 analyzes the 30 US and Canadian leading tech markets, and recently, Vancouver shot up 27 spots to take the number one position in high-tech job growth.
The report found that from 2017 – 2018, tech jobs in the city grew by 30%, with 13,600 new jobs added. "We've seen the growth, but something like this [ranking] solidifies it in real terms," explained Raghwa Gopal, President and CEO of Innovate BC to Daily Hive. Gopal expanded on that sentiment to BetaKit, saying:
We have a strong provincial tech sector that's growing year-over-year and Vancouver is at the heart of that. Simply put, our tech companies are among the best in the world. Recent funding raises from companies like Clio, Trulioo, and Terramera contributed to one of the most successful quarters in BC tech history. We have companies like Acuva, Aspect Biosystems, and Saltworks Technologies that are solving real global challenges. Then, you add in the fact that Vancouver pays some of the highest rates in the country for high demand tech jobs, and it becomes quite clear why we're sitting at the top of this list.
[Daily Hive / BetaKit]
PwC's Cameron Burke says that, "It's time to stop calling BC's tech talent situation a "crisis"
"I'm calling BS," he writes on LinkedIn.
We have the building blocks we need to solve this challenge sooner than we think…

BC needs to think outside the box—or rather, outside the tech industry— for how to identify, develop and retain top talent. If we can learn to look for talent beyond the traditional tech-centric pathways, implement new ways to develop our current employees, and combine those efforts with Canada's inviting immigration policies, we may find that the "talent crisis" is overblown at best.
I think my favourite part about this piece is his point that we can look to other sectors to find executives who have successfully scaled companies. "…all we need to do is facilitate greater cross-pollination between tech and other industries," he writes.
[LinkedIn]
---
Bits and bytes…
Vancouver's East Side Games, which specializes in mobile games and employs roughly 150 people in B.C., says Alberta's decision to eliminate Interactive Digital Media Tax Credit and the Scientific Research and Experimental Development Tax Credit makes the province a much less attractive place for tech investment.
Vancouver-based Curatio Networks won a $250,000 investment from Connecticut Innovations at a VentureClash pitch event at Yale University.
BC Tech Association welcomed its fifth HyperGrowth cohort, feating five companies "wanting to grow annual revenues from $1M+ to $10M+s."
Hussein Hallak, CEO of Vest in Canada, talks to CBC about innovation in Vancouver and British Columbia.
The BBC's weekly The Boss series profiled Vancouver's Tara Bosch, founder and CEO of Smart Sweets, which is on track to see its 2019 revenues exceed CA$50m.
This year's annual #MadeBySFU entrepreneurship competition attracted twice as many competitors as last year and, for the first time, all of them were women.
This month, blogger Rebecca Bollwitt, better known as Vancouver's "Miss 604," is celebrating the 15th anniversary of her eponymous blog that began like so many others did back in the early 2000's.
Vancouver's WELL Health Technologies Corp picked by The Motley Fool as a top growth stock for 2020.
Tea Nicola, co-founder of Vancouver-based WealthBar, is profiled by Gail Johnson in the Globe and Mail.
---
More headlines you may have missed…
---
Featured Events
---
Should your colleagues be reading this too? Forward it to them.    

Follow along on Twitter: @vantechjournal and @notionport.

Send tips to news@vantechjournal.ca.