Vancouver Tech Journal | #75
"We turned things around, and we turned them around f******g fast."
In this week's Sunday Briefing, read about Vancouver's fastest growing companies; how Vancouver Startup Week is tackling the tech sector's talent challenges; career advice from the City of Vancouver's CTO; how Unbounce supports parents; and 15 other business stories you may have missed. Enjoy.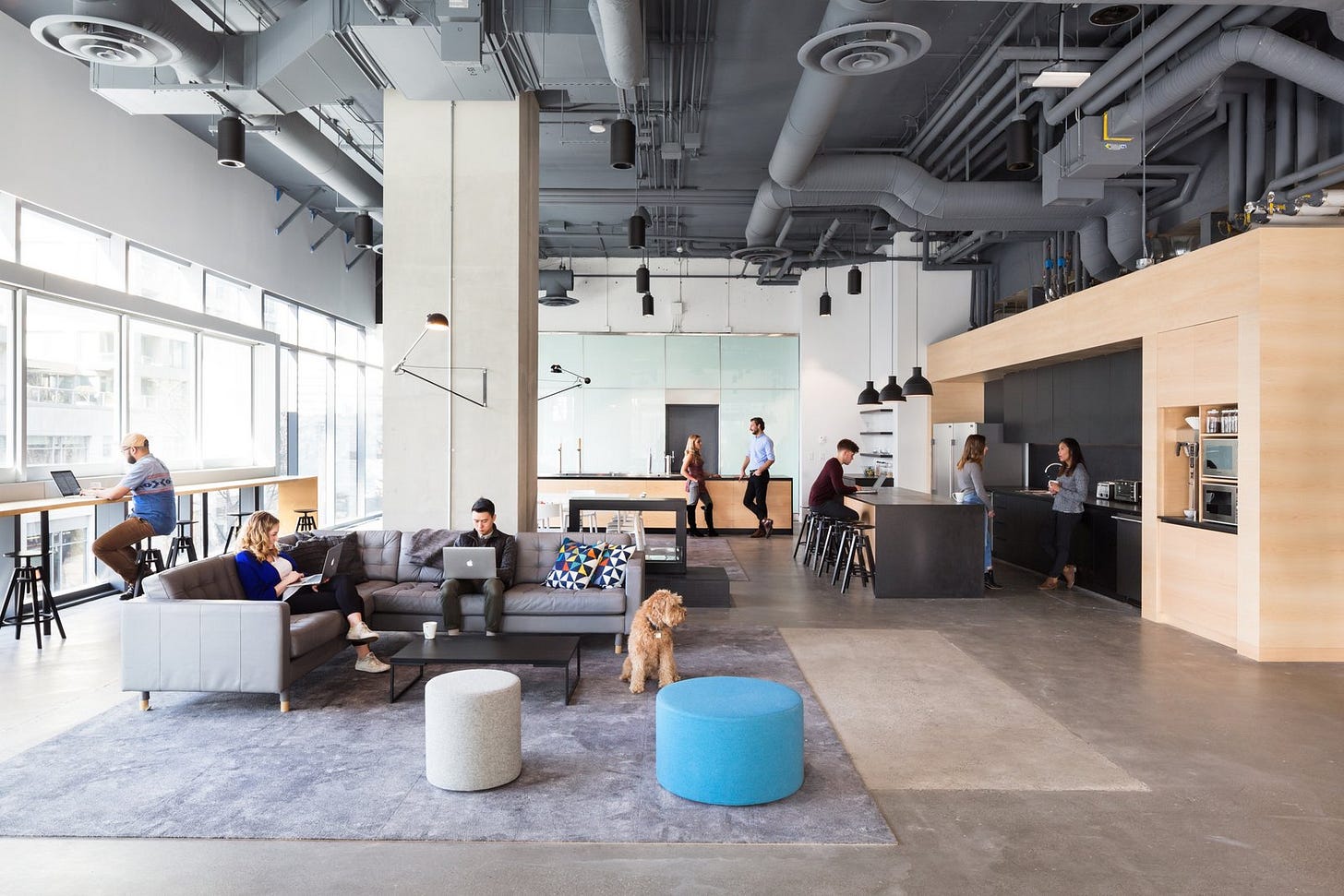 Apparently tech darling Bench missed its sales targets by 40% in 2019's Q1, laid off eighteen people and had enough cash on hand to last just nine months. So, how are they hiring 200 people now?
Darcy Matheson, Daily Hive's Vancouver City Editor, has the fascinating story. "We turned things around, and we turned them around frigging fast," Bench boss Ian Crosby told Matheson. "It's been a roller coaster."
[Daily Hive]
---
The 500 fastest-growing companies in Canada, measured by their revenue growth over the last five years, have been
announced.
Topping out the list for the second year in a row is Vancouver's Article with a five-year growth rate of 24,182%. Other top Vancouver firms include Pixieset, Progressa, and Daily Hive. There's also a Startup 50 list that showcases the top new companies and their two-year revenue growth. Just one Vancouver firm got a nod on this list: LBC Studios.
[Canadian Business]
Related: Need damn good advice? These Growth 500 CEOs have you covered
---
Startups are facing additional challenges locking down workers as tech giants move into Vancouver in greater numbers—but Vancouver Startup Week provides a platform for homegrown firms to tell their story and connect with local talent.
Explains Vivian Chan, co-chairwoman of Vancouver Startup Week, of the flood of tech companies spilling into Vancouver:
It's both a pro and a con. When you hear these big names coming into town — if they're coming here that means the talent is here. But for an early-stage entrepreneur it is going to be a little bit harder because you're going to have to bust your butt to get your name out there.
VSW is here to help, reports Business in Vancouver's Tyler Orton:
VSW is seeking to alleviate at least some of those pressure points with 100 events aimed at connecting entrepreneurs with everyone from potential employees to potential investors, and offering educational panels to help early-stage companies navigate business challenges such as funding or talent acquisition.
Will I see you there? These are the 20 must-attend events at Vancouver Startup Week 2019, per Daily Hive.
[Business in Vancouver / Daily Hive]
---
Two Vancouver tech heavyweights—City of Vancouver CTO Jessie Adcock and Absolute Software's Karen Sandhu—share career advice that delves into key "mindsets" to achieve goals.
For example, IT World Canada's Brian Clendenin asks, "Are there any traditional career advice misperceptions that you feel strongly about?" Adock responds:
I believe we have placed too much focus on mentorship as a pre-requisite for career growth in the tech industry.  I believe that mentors manifest in many forms and that we don't always need to develop a 1-1 relationship.  I get approached by lots of women who have bought into the idea that without a dedicated mentor, they cannot progress.  These women are at risk of missing key learning opportunities when they present themselves.  I believe that continuous education and the development of skills sets is what we need to succeed.  Keep learning.  If you find something you love, learning in that area becomes easier.
---
Lauren Robinson, general partner at Highline BETA and executive director at Female Funders, writes in the Globe and Mail about why venture capital firms need more women partners and entrepreneurs.
For decades the research has been clear: businesses benefit from gender diversity. Women are starting businesses at a faster rate than ever before, and leadership teams that include women provide better financial returns for investors. Investing in women is good for business. But for women founders looking to launch and scale successful businesses, access to capital remains a major barrier.
Robinson goes on to discuss the importance of and role of corporate venture capital (CVC) and how they can "use their growing influence as investors and limited partners to drive greater gender diversity across our ecosystem."
[Globe and Mail]
---
Erika Finlay, the social impact manager at Unbounce, praises her company for how they've supported her "as a Mom in Tech."
Throughout the Unbounce interview process, getting and starting the job and meeting the team I was struck by the company's commitment to supporting me as a person, which included my role as a parent…

To the Unbounce leadership and their brilliant People & Culture Team, thank you for building fostering an environment that both welcomed and continues to include a space for me as a mom working in tech.
Finlay is headed on her second mat leave in a few months (check out my posting here). 
[LinkedIn]
---
Kristine Steuart, CEO at Allocadia, shares insights from a fire-side chat with Greg Wolfe, former EVP of Operations at Business Objects (now SAP), among other roles, including:
Count the cards, make big bets, then make it happen. Steuart writes that:
By far, my biggest take-away is the power of taking stock of what you do well (counting your cards) and from there placing focused bets. To set a foundation for transformation, your team ultimately needs to set a strategy and make choices – change is initiated by choosing both what to focus on, and what to say no to. Conversely, while it produces the least amount of resistance, staying comfortable is the worst path to be on. Nurturing a culture which demands and rewards intelligent risk taking, while potentially uncomfortable, is incredibly critical to success.
The article is part of her Create Confidence series, where she shares her own experiences and stories from peers and team members. I encourage you to check the other stories out.
[LinkedIn]
---
U.S. tech firm Grammarly has secured a 3,000-square-foot office on Water Street in Gastown and is hiring a dozen new workers to fill jobs in frontend and backend engineering, as well as customer service and social media.
"The location is not a coincidence. It is part of our effort to become part of the tech community," co-founder and head of revenue Max Lytvyn said.
[Business in Vancouver]
---
Vancouver's
Dapper Labs
raised $11 million
to continue branching out from the product that made it famous: the popular 
CryptoKitties
 digital collectibles. What's next?
Flow.
As reported by Geekwire:
The two-year-old Vancouver B.C. startup will use the funds to build Flow, a blockchain product for the gaming and entertainment industries that will launch next year. Dapper Labs is working on the project with some big-name partners, including Warner Music and gaming heavyweights Ubisoft and Animoca Brands.
"Flow is a blockchain built from the ground up to support high performance ecosystems of apps and games without compromising decentralization," explains CEO Roham Gharegozlou. The largest investor in the round was Andreessen Horowitz.
[GeekWire]
---
Join Business in Vancouver to celebrate standout technology leadership and breakthrough innovation at the inaugural BC CTO Awards, honouring CIOs, CTOs, and others in top IT posts across the province.
Six winning IT executives will be honoured at a gala awards luncheon on September 18th, 2019 bringing together some of the most influential people in Vancouver's business community. Read about the winners and register using code CTO2019 for a special discount. I'll be there.
[REGISTER]
---
Bits and bytes…
Vancouver's Radius, a social innovation hub based out of Simon Fraser University's Beedie School of Business, is seeking startups to join its six-month Slingshot Accelerator, which supports early-stage social impact ventures. [BetaKit]
B.C.-based Kater Technologies Inc. says it wants to operate throughout the entire province when ride-hailing services finally arrive in B.C. [Business in Vancouver]
Deloitte has formed a strategic alliance with Vancouver-based TruTrace Technologies to deliver blockchain product-traceability solutions to the cannabis industry. [Consulting.ca]
Pattern Jobs is the first Canadian startup to pair hospitality workers with on-demand work in the restaurant and hospitality industry, with clients including Cactus Club, Sequoia Restaurants, and the Four Seasons. [Daily Hive]
---
Other headlines you may have missed…
Letter to Evo's product managers: Our ideas for improving the Evo iOS app
Meat by subscription: How online delivery service meets demand for local food (featuring Vancouver's Meatme)
Vancouver payment firm Neutropay helping businesses enter the Bitcoin market
Competing with big tech for coveted workers, Canadian companies tout benefits of working for smaller firms
From hyperloops to hailing rides: North America's biggest transportation conference hits Vancouver
---
Let's connect at these events…
Fireside Chat with Andrew Reid (Sept 24)
Artificial Intelligence Network of BC (Oct 1)
---
Should your colleagues be reading this too? Forward it to them.  

Follow along on Twitter: @notionport and @vantechjournal.      

Send tips to news@vantechjournal.ca.