Vancouver Tech Journal | #74
In this week's Sunday Briefing: 8 global tech giants in Vancouver, including Salesforce and Oracle, that we should be talking about; B.C.'s top CTOs; the largest venture-capital investment for a Canadian company since 2000; a CEO's entrepreneurial lessons learned from his six-month old daughter; the upcoming Lady Business Summit; and 23 other tech and business stories you may have missed. Enjoy.
---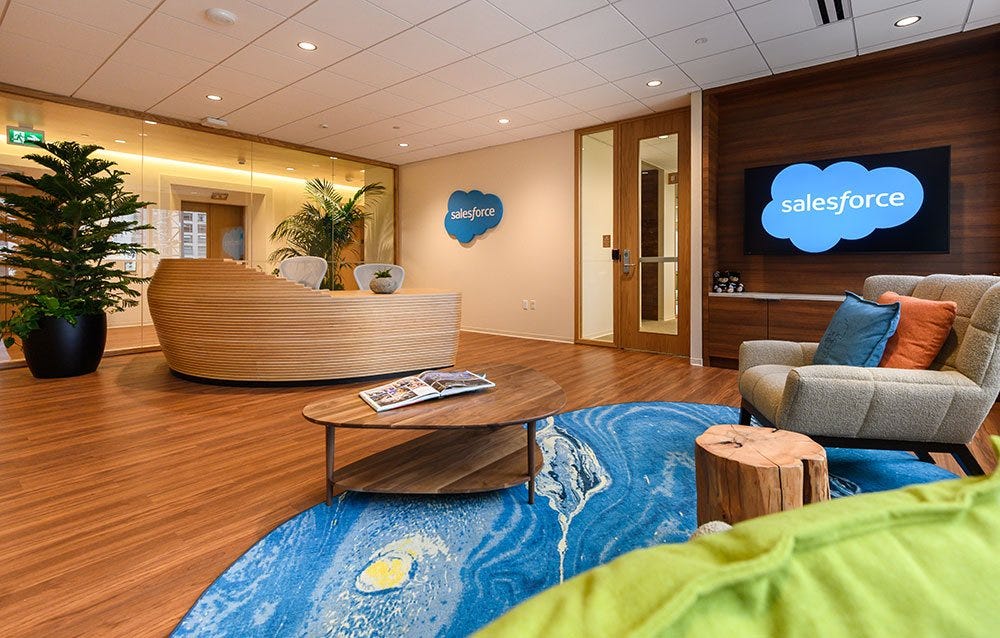 8 global tech giants in Vancouver, including Salesforce and Oracle, that we should be talking about.
Microsoft (even though they don't have the most employees) is basically our main anchor. A major Apple office is coming. Amazon will have 5,000 workers here soon. Fujitsu opened an AI HQ. But don't forget the rest… can you guess who else is town?
[Daily Hive]
---
Join Business in Vancouver to celebrate standout technology leadership and breakthrough innovation at the inaugural BC CTO Awards, honouring CIOs, CTOs, and others in top IT posts across the province.
Six winning IT executives will be honoured at a gala awards luncheon on September 18th, 2019 bringing together some of the most influential people in Vancouver's business community. Read about the winners and register using code CTO2019 for a special discount. I'll be there.
[REGISTER]
---
Vancouver legal software company Clio raised C$333.5-million (US$250M), the largest venture-capital investment for a Canadian company since 2000.
Clio provides cloud-based programs to more than 150,000 lawyers, primarily at small and medium-sized firms in the United States, Canada and other English markets to manage their practices. Its main product provides time tracking, case management and billing capabilities. Investor Amol Helekar, a principal with Silicon Valley-based TCV, an early backer of Netflix, Spotify and Airbnb, had this to say about the deal:
We were looking for the type of company that had strong, mission-critical software serving an underserved category. We realized Clio built by far the strongest product that serves law firms [sitting] at the very core of how they manage their businesses.
---
Dean Prelazzi
, Fujitsu's Vancouver-based VP, head of business development and marketing, wrote a a practical guide to starting your quantum computing journey.
Writing on LinkedIn, he intros a post on the Fujistu global blog:
In it, I provide further context regarding the emergence of quantum and quantum-inspired computing and new insight regarding the adoption of this advanced computing paradigm in the enterprise. Finally, based on my own experience, I provide some practical suggestions of how business and innovation leaders in the enterprise may help accelerate their own efforts with quantum computing by first embracing a quantum-inspired alternative which is based on digital technology.
---
SFU president Andrew Petter, writing in the
Globe and Mail
, calls for a national knowledge mobilization strategy to maximize research potential.
Acknowledging that Canada ranks a dismal 17th in the world in the Global Innovation Index, Petter argues that "universities need support to develop programs and initiatives that will transform their research discoveries into economic and social innovations." The federal government has a role to play, he argues:
Federal governments have shown real foresight by investing in higher education research… Now is the time for Ottawa to finish what it started, driving innovation and bolstering Canada's competitiveness by assisting researchers to take their discoveries into the community and the marketplace for the benefit of all Canadians.
---
Martini Film Studios announced a massive new 600,000 sq. ft film studio to be built at the new 80-acre Langley 216 Business Park.
Once complete, the world-class facility in Metro Vancouver will be the largest film and production studio in Canada and one of North America's biggest. Per Kenneth Chan: "MFS first opened in Metro Vancouver in 2017 with warehouse-to-studio converted facilities, totalling 250,000 sq. ft. at 9390-9390 198th Street and 19714 96th Avenue near Highway 1's 200 Street interchange in Langley City." Now the studio, which has a close partnership with Netflix, will more than triple its current size and capacity, and become the largest provider of film studio facilities in the region.
[Daily Hive / The Hollywood Reporter]
---
Entrepreneurs for Sustainability
, or EN4S ("Enforce") is a month-long series of events gathering fresh and bright minds for tackling sustainable energy issues.
Organized by BC Sustainable Energy Association (BCSEA), the events take place in Vancouver, September & October 2019. The month will begin with a meet and greet, where you'll get to know your fellow EN4S participants, and events get increasingly engaging from there. Discount alert: Use code VTJrocks to register for the event series beginning with the September 12th Meet and Greet.
[REGISTER]
---
Vancouver's Terramera closed a US$45 million Series B, led by Ospraie Ag Science and 
Seed2Growth Ventures
.
Newly-named Chairman Jeff Booth had high praise for the team:
Besides being a visionary entrepreneur, Karn [Manhas] may be one of the best CEO's I have ever met at attracting amazing talent to help the company achieve its mission. Terramera has a bench that is filled with incredible individuals, including: Dr. Annett Rozek, their CSO who leads their discovery and R&D; Graeme Herring, who leads Terramera's patent strategy and is responsible for their IP; Dr. Travis Good their CTO who is both an incredible developer of talent and artificial intelligence models (more on that to come); and Michael Scott who recently took up the role of CFO and has been an absolute rock star.
"We are on the path to reduce global synthetic chemical loads in agriculture by 80 percent by 2030 with Actigate," says CEO Manhas.
[TechCrunch / BetaKit]
---
Hootsuite CEO Ryan Holmes writes in Inc. magazine about entrepreneurial lessons he's learned from his six-month old daughter.
"Watching a toddler is a vivid reminder of how much work has to happen behind the scenes before anything remotely resembling "success" happens," he writes. "For entrepreneurs and aspiring entrepreneurs, it drives home a core, and easily overlooked, startup truth: failure and progress are one and the same." He adds:
seeing my daughter crawl, teeter and fall for the better part of a year -- all in the prelude to taking her first step -- has brought this truth into sharp focus. She fails happily, unquestioningly, like it's the most natural thing in the world ...  if only we remembered how to do the same as grownups.
[Inc.]
---
A group of Vancouver-based taxis is asking the Supreme Court of B.C. to quash rules recently introduced by the Passenger Transportation Board that would allow ride-hailing to begin legally operating in B.C.
Nine taxi companies from the Metro Vancouver area filed the petition Wednesday, arguing the rules put taxis at a disadvantage against companies like Lyft and Uber. I find this all so absolutely ridiculous. And I have a tip for them:
---
Bits and bytes…
Boris Wertz, investor and partner at Version One Ventures, shared The Version One Promise to Founders. [Version One Blog]
Quietly's chief strategy officer Sean Tyson wrote an article on LinkedIn: "These Are Not Soft Skills: the Case for STEAM vs. STEM." [LinkedIn]
The Lady Business Summit is a day of real-talk, timely expertise, and practical how-to's for entrepreneurs. [Learn More]
A Medium post from Invoke's director of technology Wes DeBoer: "Let Your Product Define Your Technology, Not Your Technology Define Your Product." [Medium]
The federal government has ramped up funding announcements for B.C. tech initiatives since late August: $695,000 for Science World, $2.25M for BC Tech, and $3M for SFU. [Business in Vancouver]
Vancouver Economic CEO Catherine Warren on getting more women in the boardroom: "Finding great female directors is easier than you think, the business math is a cakewalk and the PR writes itself." [LinkedIn]
A $10,000 investment in Telus 10 years ago would have delivered a 331.80% total return, or an average annual total return of 15.75%, including reinvestment of dividends. In terms of absolute value, the $10,000 investment is worth $43,190.08 today. [The Motley Fool]
Chip Wilson has made $32.3 million in three months off his investment in Anta Sports Products Ltd. as the Chinese company's shares soar despite multiple short-seller attacks. [Bloomberg]
Richmond-based Corvus Energy made Fortune magazine's 2019 Change the World list. [Fortune]
---
Headlines you may have missed…
$22-million in federal funding for City of Vancouver's Low Carbon Innovation Centre
Vancouver man gets 1 day in jail for running illegal gaming operation in $4M home
This North Vancouver business owner drank tire sealant to prove a point
Innovate BC and New Ventures BC Announces Top 10 Finalists for 2019 New Ventures BC Competition
Vancouver UX Society Announces 'Call for Entries' for 2019 Vancouver User Experience Awards
Slack stock is down 12% after its first earnings as a public company, in which it posted a big loss — including $8 million in credits to customers after outages
Vancouver's VFX hub hustles to feed global consumer hunger for constantly evolving content
---
You will find me at these upcoming events…
This Wednesday, September 11, I'll be hosting TechVancouver as the community learns about starting and selling companies from Benjamin Hutchinson, founder & COO of Rocketplace (previously Founder & COO at Earnest) and angel investor Laurie Wallace, co-founder and past CEO, Datum Telegraphic.
[REGISTER]
B.C.'s tech sector is booming—a $30B industry with over 10,000 companies—and only getting bigger. Meet the people fuelling that growth. During Vancouver Startup Week, Innovate BC will be hosting A Conversation with B.C.'s Innovation Leaders featuring a panel discussion with Innovate BC CEO Raghwa Gopal, BC Tech CEO Jill Tipping and Foresight Cleantech Accelerator CEO Jeanette Jackson.
[REGISTER]
---
Should your colleagues be reading this too? Forward it to them.

Follow along on Twitter: @notionport and @vantechjournal.

Send tips to news@vantechjournal.ca.