Vancouver Tech Journal | #73
"This is now a trust issue. How do we get our customers to trust that machines aren't scary."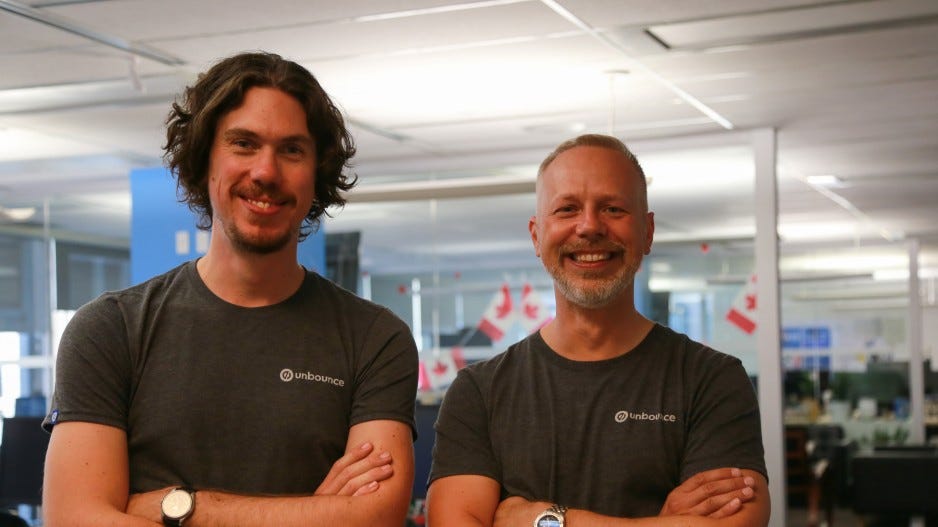 Digital marketing platform Unbounce, which started in Gastown with just 6 people in 2009, now employs 182 people across two offices, in Vancouver and Berlin, and counts 15,000 customers worldwide, including The New York Times, Hootsuite, and the Red Cross.
Between 2014 and 2018, its revenue grew by 490.7%, reaching over $23.3 million last year. In addition to recently launching a new visual identity and corporate vision, the company has begun to use artificial intelligence (AI) to offer its clients insights and automation that will allow them to optimize their campaigns and improve their return on investment. Says CTO Carl Schmidt:
We've got great technology, and we can actually do a lot now in terms of teaching machines what works and what doesn't and how to get you better results. This is now a trust issue. How do we get our customers to trust that machines aren't scary, particularly to jobs, that they can do a good job for them, that they can make them more money.
---
Ride-hailing is finally coming to B.C. and the independent Passenger Transportation Board, in announcing
new regulations
, have done their best to ensure that nobody is really happy.
Case in point, in blatant protection of the taxi industry, ride-hailing companies will be mandated to charge a minimum fare amount, in line with what taxis charge (between $3.25 and $3.95 in the Lower Mainland). "Transportation network services will also not be able to use coupons on discounts to charge below this rate," PTB chairwoman Catharine Read stated. BIV editor Kirk Lapointe puts it like this:
We will be a province of regulated minimum and unregulated maximum fares. Imagine that: another industry being told how little it can charge – but strangely, not how much – at the literal expense of the passenger. Is this truly a consumer-friendly regime?
But oddly, ride-hailing companies will face very generous boundary restrictions and face no cap on their fleet sizes. It's all very confusing. "If the government was trying to protect the taxi industry, it has a dark sense of humour about it," Lapointe adds.
[Business in Vancouver]
---
Vancouver's BrainStation has introduced Income Sharing Agreements, which allow students to learn now, and pay later, in income-geared monthly instalments. Or more specifically, pay when you've landed a job that earns you a certain income. 
That's how you know you have a solid product—you don't get paid until your customer gets paid. So how does it work? After a student is admitted and signs an ISA at BrainStation, they only have to make a small down payment to start their diploma program. The student is then able to fully complete the diploma program and enter the job market. They will only begin paying back tuition once they're employed and earning more than $40,000 per year.
[BrainStation]
---
LoginRadius
, which has developed a platform that helps businesses manage and secure their customers' digital identities, is moving their headquarters from Edmonton to downtown Vancouver.
The SaaS company has nearly doubled in size within the last year, after receiving a $17 million investment from Microsoft's venture fund M12 and ForgePoint Capital in July. LoginRadius' new space, located on the eighth floor of 815 West Hastings St., is 8,200 square feet, which includes views of Vancouver's harbour and mountains. Here in the Vancouver Sun, CEO Rakesh Soni shares three tips for big-city tech firm managers who find themselves on the boom path and in need of more space.
[BetaKit / Vancouver Sun]
---
Paul Davidescu
, CEO of Vancouver's Tangoo, writes in
Forbes
about how busy professionals can make meditation stick.
It starts with being clear on your motivation to meditate and where it will take you. "When you aren't crystal clear on why you're engaging in a new behavior, other than what your friends say, it will get lost in the shuffle when life happens," he explains. His other themes are "Start small and build up." and "Be consistent and reflective in your journey," and he concludes:
Meditation needs your full buy-in and to be taken as seriously as the most challenging endeavors you have had to overcome in the past. All great feats require proper practice and constant calibration to positively affect your life and take things to the next level.
[Forbes]
---
Christopher Chong, president of Vancouver-based SST Wireless, explains how, no matter how sustainability-minded we may think we are, our reliance on technology—even electric vehicles—is not necessarily "clean."
All that technology you use requires raw materials, he writes. "It requires materials to be extracted and processed or recycled at great expense," He continues:
If we want to make an impact, we need to change our behaviour and consumption, not just relying on future "cleaner" alternatives. Stop buying a new smart phone every 2 years, it works fine. Walk, bike or take transit instead of your car, even your electric car.
He's writing this because he was questioned why his company works with the mining industry. The simple truth: "Industries such as mining are essential in order to meet the growing demand for our technology driven society." And he's proud that his company is doing its part to help companies in all industries—such as mining—increase their efficiency, reduce energy use and protect the environment.
[LinkedIn]
---
Free advice from…
Boris Wertz, founder and general partner at Version One Ventures:
VC's have always relied on the strength of their networks for dealflow. As an increasing number of founders come from more diverse backgrounds, VC's will have to change to stay relevant. More diverse partnerships, more openness towards cold emails, less pattern matching.
[LinkedIn]
---
Bits and bytes…
VanHack CEO Ilya Brotzky lays out 5 common misunderstandings about hiring tech talent from abroad. [LinkedIn]
Victory Square Technologies CEO Shafin Diamond Tejani, writes in BCBusiness about why some startups are starting to see venture capital as their worst enemy. [BCBusiness]
TransLink has announced that following a successful pilot program it will be expanding its artificial intelligence program to improve bus departure estimates. [Daily Hive]
The Canadian Business Growth Fund and a similar pioneering fund in the U.K. are partnering up to invest $15-million in Vancouver's Appnovation Technologies Inc. [Financial Post]
Vancouver Public Library selects 6 books for you to better understand security threats to your company, and how to mitigate them. [Business in Vancouver]
Local law firm Segev LLP lays out changes to Canadian cryptocurrency regulations that are set for mid 2020. [Segev.ca]
Check out this round-up of what companies are moving to new offices and where. [CBRE Techspace Quarterly]
Vancouver-based company Startup League has smashed their Kickstarter goal by reaching 220% of funding, for QUP, a mobile fundraising game for students. [KickStarter] 
Vancouver-based Portable Electric is heading to Burning Man and will be gifting attendees their VOLTstack battery generators, which will support art and music that other campers provide. [GeekWire]
Vancouver's Nordstrom store is said to be the top revenue-generating store in the chain. [Vancouver Courier]
---
More headlines…
YVR's Craig Richmond named CEO of the Year
Vancouver's Top 100 Events 2019
New MEC Vancouver flagship store a showcase of wood construction (PHOTOS)
Furniture rental app helps Vancouverites with the cost of outfitting apartments
The Granville Strip is changing. Where's the next party?
Vancouver's PressReader acquires U.S. publishing analytics firm
---
WATCH: Navigating Vancouver's Technology Ecosystem
---
Should your colleagues be reading this too? Forward it to them.   

Follow along on Twitter: @notionport and @vantechjournal.     

Send tips to news@vantechjournal.ca.