Vancouver Tech Journal | #70
"What is it like to run a business in Vancouver and attract top talent like engineers, sales people, and marketers to a city where they can't afford to rent apartments?"
In this week's Sunday Briefing: Housing affordability is key to the technology industry's success; our top FinTech startups according to the Digital Finance Institute; an esports documentary featured at CBC; and 21 other tech and business stories you may have missed. Enjoy.
---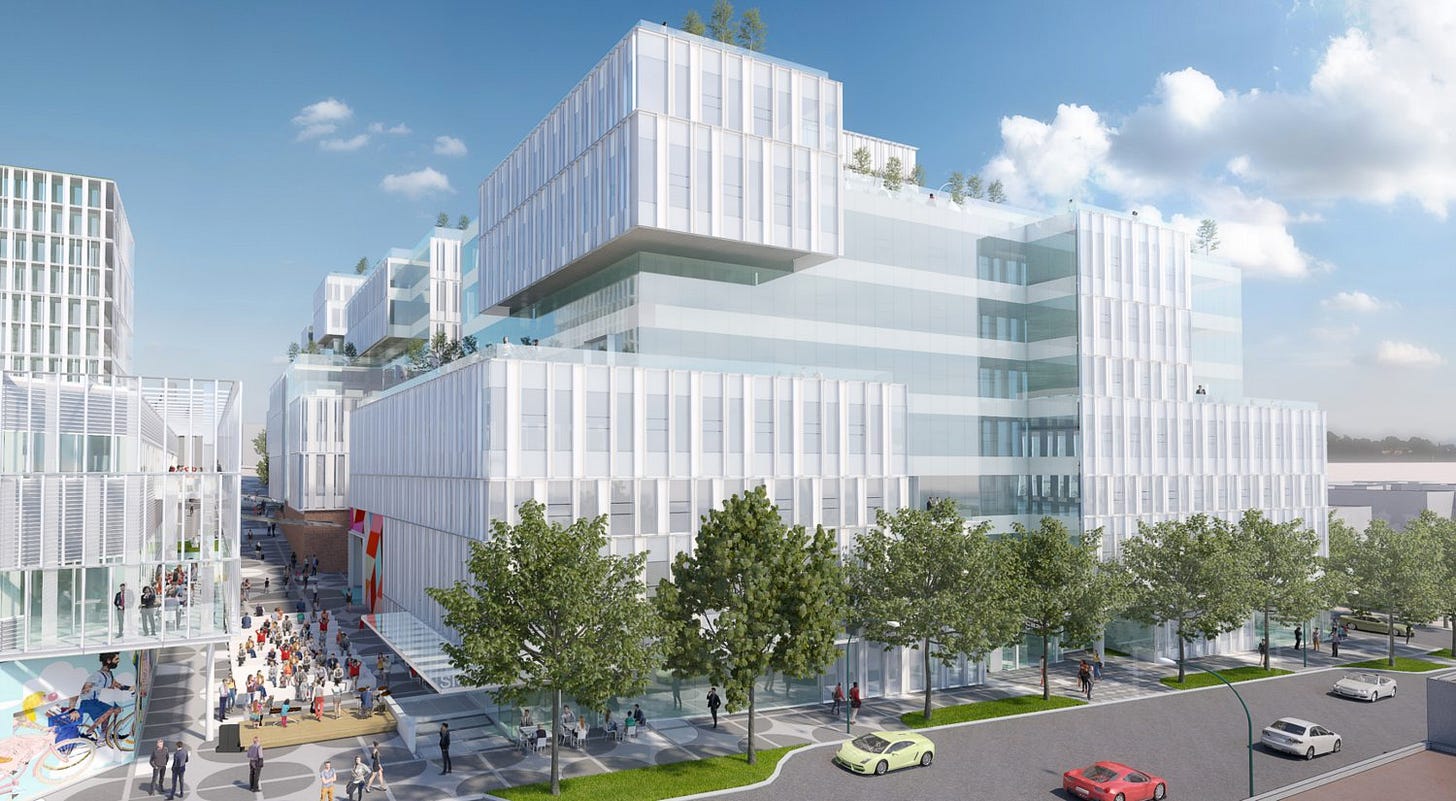 Hootsuite vice-president Stefan Krepiakevich says Vancouver needs more rental housing to attract top tech talent.
Speaking at the public hearing for the 121 market rental homes proposed for the site at 3833 Fraser Street (which was ultimately approved by city council in a 7-3 vote), Krepiakevich asked, "What is it like to run a business in Vancouver and attract top talent like engineers, sales people, and marketers to a city where they can't afford to rent apartments?" Krepiakevich continued:
It is very hard as a technology company to attract and keep top talent and grow a business in Vancouver… As a city, we need to be increasing the supply of rental units so that a city like ours can grow, foster, and build great companies that have high paying jobs that can support families…

I would love to bring more people to this city. I would love for great, smart, and innovative people to come to Vancouver, but they just can't afford to live here. And if they can't afford to live here, then we're not going to create great companies in this city.
Writes Kenneth Chan, "As of last fall, Vancouver's rental vacancy rate was 0.8%, which means only eight out of every 1,000 markets were empty and available for rent. The lack of supply causes an upward shift in rental rates, severely contributing to the housing affordability issue."
[Daily Hive]
---
#LONGREAD: From Ontario classrooms to B.C. boardrooms,
Brenda Irwin
's path from science teacher to tech investor featured chance encounters with countless extraordinary individuals and multiple trips through uncharted social territory.
Irwin, the founder and general partner at the Relentless Venture Fund, wouldn't have had it any other way. "What I love about business and venture and investing, and what I loved about teaching," Irwin explains. "It's finding the potential in people and discovering the unexpected."
[Vancouver Tech Journal]
---
The 
Digital Finance Institute
 has released its top 50 FinTech companies in Canada for 2019, and it features Bench, Fundrazr, Mogo, Wealthbar, among other Vancouver startups.
The top 50 companies in this report represent a wide diversity of sub-verticals in the FinTech sector, including blockchain, capital markets, insurance, RegTech (regulatory processes tech), payments, and finance. The institute conducted market research and informational interviews with industry stakeholders to help identify the leading companies. Factors such as product innovation, disruption of a service, scalability and growth adoption were also considered in preparing the list.
[BetaKit]
---
In CBRE's recent report, Scoring Tech Talent in North America, Vancouver jumped from No. 12 to No. 24.
Colin Yasukochi, CBRE's director of research and analysis, attributes the jump in part due to our strong universities. He also believes Vancouver is a top candidate to break into the top ten thanks to the added benefit of proximity to established tech strongholds on the West Coast.
[Forbes / CBRE]
---
A high-speed rail linking Vancouver, Seattle and Portland has the potential to unlock US$355 billion in economic growth and 160,000 new permanent jobs throughout the Cascadia region.
This, according to a new study submitted to Washington's state legislature. Per, Tyler Orton's reporting:
Drastically cutting travel time between the cities would also have the knock-on effect of drawing more companies to the region, which the report from the Washington State Department of Transportation argues would generate hundreds of billions of dollars in economic growth. This hypothetical ultra-high-speed system would travel at speeds of more than 320 kilometres per hour either through high-speed rail, magnetic levitation or hyperloop technology.
Says B.C. Jobs, Trade and Technology Minister Bruce Ralston: "Improving the connectivity in the Pacific Northwest region presents enormous potential for job creation, economic growth and environmental benefits on both sides of the border."
[Business in Vancouver]
But Gary Mason, the
Globe and Mail's
national affairs columnist, is not too enthused, and he believes Vancouver has more urgent priorities.
…this project can't be a priority for British Columbia – there are simply too many other transportation needs in Metro Vancouver that deserve attention. It would be like buying a Ferrari, while the roof of your house is falling apart and there are cracks in your home's foundation. It would not be the responsible thing to do.
Issues closer to home: "congestion nightmare that exists at the Massey Tunnel" and "Travelling from the North Shore into Vancouver." Mason continues:
And maybe before we sink billions into a high-speed rail service linking Vancouver to U.S. cities we might want to look at one that goes from Vancouver out to the Fraser Valley… I know that's not as sexy sounding as Vancouver-Seattle-Portland, but it would be much more practical and reward more people who actually pay taxes here.
---
Forbes
writer Angelica Mari spotlights Vancouver-based
VanHack
, a business focused on technical talent and recruitment.
According to CEO Ilya Brotzky, VanHack has recruited candidates for 725 tech jobs so far, of which 650 have been filled by Brazilian programmers. Customers have ranged from large consulting firms like Deloitte to startups such as food delivery operator SkipTheDishes. VanHack is currently looking to fill about 100 intermediate and senior-level vacancies with programmers skilled in JavaScript, Ruby on Rails, Python and .Net. While most jobs are Canada-based, the firm is also recruiting on behalf of companies in Ireland, Germany and The Netherlands.
[Forbes]
---
Smash Forward, a
new documentary directed by Melissa Dex Guzma, highlights the growing esports community and careers in Vancouver.
Gumza interviewed 400 people for the film, released lastweek, which tells the story of the community around games. She also focuses on the number of jobs available in gaming, beyond playing, like graphic design to game production to marketing and streaming opportunities.
[CBC]
---
Vancouver's Traction Conference unveils its 2019 agenda, with speakers from top Silicon Valley companies.
Traction just announced the full agenda for its two-day conference next month. It features more than 40 sessions with speakers from companies such as Red Hat, Shopify, Atlassian, HubSpot, Mailchimp, Zendesk, SurveyMonkey, Zapier, Duolinguo, and Kabbage, with talks directed towards helping attendees to grow and scale their businesses. Explains Ray Walia, conference organizer and CEO of Vancouver incubator Launch Academy:
Traction is known for consistently bringing a solid lineup of unicorn founders and leaders delivering actionable insights that attendees can implement in their businesses right away. We are excited to have an impressive lineup of speakers and partners that are all contributing towards a successful seventh Traction Conference in Vancouver.
---
The CFL announced Wednesday it has teamed up with Vancouver-based
HeadCheck Health, Inc.
, which will allow CFL medical staff to monitor the effectiveness of their concussion protocol in real-time.
Huge win for Harrison Brown (CEO) and his team. "As a home-grown Canadian company that started out of the research lab with University Football players, we couldn't be happier to be working with the top football brand in our country," says Brown. "We're excited to build a long-term relationship with the league and showcase at the biggest stage our ability to make a difference in player safety."
[CBC]
---
The New York Times reviewed The EXchange Hotel in Vancouver's business district.
The $240-million makeover of Vancouver's Old Stock Exchange Building took three years, added 20 glass floors with aluminum louvers to create a pinstripe effect, and was originally slated to be entirely office space. After the building reopened in November 2017, winning the American Architecture Prize for Heritage Architecture, the developers decided to convert the original 11 floors of the neo-Gothic, brick structure into a luxury hotel.
The Bottom Line: "A stylish boutique hotel with the feel of a custom-made suit, The EXchange offers a prime location and small, but well-thought-out features. It's popular with business travelers, but the restaurant may tempt a wider, more local crowd."
[New York Times]
---
But there's more…
Vancouver Founder Fund (VFF) is now Rhino Ventures! [VIDEO]
Finger Food Studios is now Finger Food Advanced Technology Group
Killer Spaces: BBTV Vancouver: The Castle that Content Built [PHOTOS]
5 questions with B.C.'s first innovation commissioner, Alan Winter
Apple Plans to Open Office in Westbank's Glitzy Vancouver Tower
Embattled Vancouver Blockchain Consultancy, Vanbex, Targeted in Additional Lawsuit
Vancouver retail struggling in comparison with Toronto and Montreal
Vancouver-based Jetti Resources raise $642,000 for cleantech mining project
Vancouver FinTech Mogo and Toronto platform League are teaming up for identity fraud protection
From the Invoke blog: User Testing: A Guide to Testing At Every Stage of Digital Products
Vancouver to allow car share drivers to park in metered spaces for free
Toronto, Vancouver rise in rankings of best global cities for female entrepreneurs
Reid family's Rival Technologies raises $8.5m in venture capital
---

Should your colleagues be reading this too? 

Forward it to them.



Follow along on Twitter: 

@notionport

 and 

@vantechjournal

.

Send tips to 

news@vantechjournal.ca

.