Vancouver Tech Journal | #67
Slack surged 48.5% in its first day of trading on the New York Stock Exchange.
In this week's Sunday Briefing: Slack is a public company worth nearly $20B; Procurify just raised $20M; a local health tech startup is getting coverage in TechCrunch; and McDonald's Green Concept Restaurant is coming to town. Enjoy.
---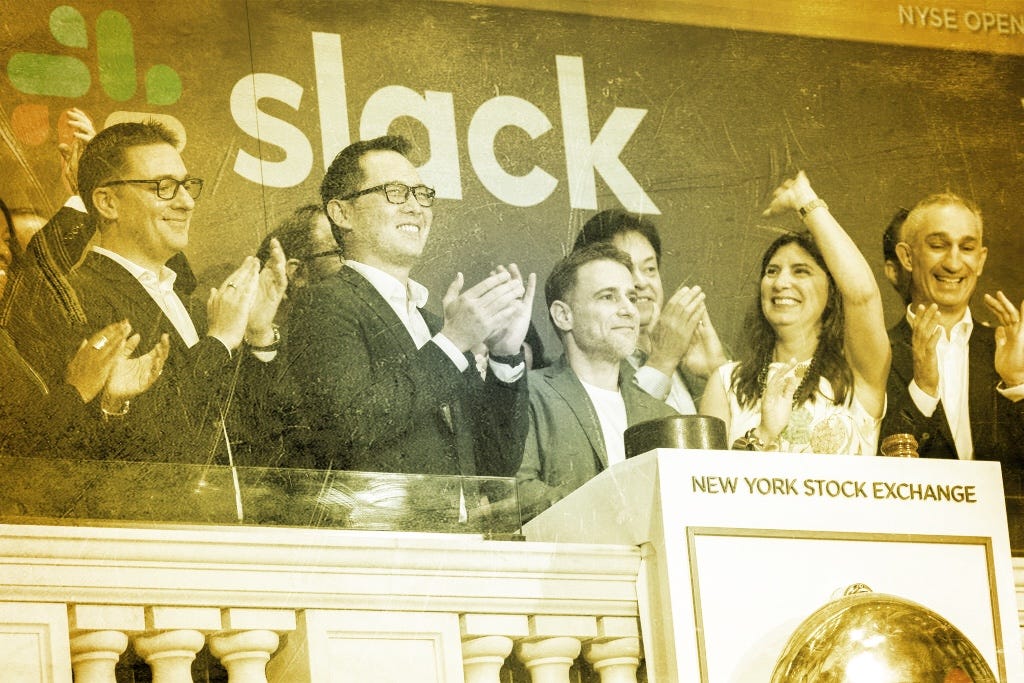 A Bell Rang. People Made Money. Slack's Non-IPO Wasn't So Different.
In cased you missed it, Vancouver-founded, SF-based Slack is a public company now. And as Eric Newcomer writes, "Slack is the second big company to forgo an initial public offering and opt for a direct listing instead." But what happened seemed just like an IPO: "Slack surged 48.5% in its first day of trading on the New York Stock Exchange," wrote CNBC. "It opened at a share price of $38.50, above the $26 reference price set by the exchange." In Slack's last financing round, it was valued at $7.1 billion. And as of this writing, it is valued at $18.78 billion. So, good job Slack.
[Bloomberg / CNBC / NYTimes]
---
BCBusiness
associate editor Nathan Caddell published a lengthy profile on Vancouver's Procurify—oh, and they just raised US$20 million.
Nice timing. And some good wisdom from co-founder and CEO Aman Mann who has distilled what he's learned while building the company into these three drivers:
Systems is about technology, process is about workflows and how you manage things, and people is about change management. No matter how crazy your technology, if you don't have all three connecting, none of it matters; it'll all break at some point.
Procurify is a cloud-based procurement software company that's raised in total about $30 million. Information Venture Partners led this most recent round, with contributions from Runa Capital, HarbourVest Partners, Manulife, and Kensington Capital's BC Tech Fund.
[VentureBeat / BCBusiness]
---
Vancouver's Careteam featured in
TechCrunch
, and Darrell Etherington—former Shopify and Apple PR hack—writes a good description of what the company actually does:
What Careteam provides is collaboration for care — true collaboration, designed to span patients, their doctors and other healthcare pros, their families and anyone who matters to them in the course of pursuing their care. It provides the ability to communicate instantly, build care plans that integrate all aspects of their tailored health plans, receive custom-configurable notifications and measure progress toward specific goals set by patient and healthcare providers.
Careteam was co-founded by Dr. Alexandra Greenhill (of myBestHelper fame), and they won the Vancity Social Venture prize at last year's New Ventures BC awards.
[TechCrunch]
---
McDonald's will open its first Canadian "Green Concept Restaurant" in Vancouver to incubate new packaging options and recycling initiatives.
Some of the new items include wooden cutlery and stir sticks, as well as fibre lids. The restaurant will be located at 3444 E Hastings Street, not far from the PNE.
[DailyHive]
---
Walter Pela
, KPMG's regional managing partner for Greater Vancouver, believes the B.C. tech sector can lead the way on Canadian innovation.
And KPMG is here to help. How? Well, here in Vancouver they recently open Canada's first Ignition Centre, an 8,000-square-foot space focused on taking innovation, collaboration and growth to the next level. Pela invites you to join him there:
Organizations of all shapes and sizes — including large publicly listed companies, local startups, educational institutions and community-based social enterprises — are welcome to join us and work with our innovation, digital transformation, data science and analytics teams, as well as third-party technology ecosystem partners.
---
TransLink and Vancouver Economic Commission (VEC) have partnered to enable startups to pilot ideas that help the public transit system improve its operational efficiencies, sustainability, and customer service.
According to VEC head Catherine Warren, "TransLink's involvement in our Tech Deployment Network (TDN) unleashes a chance for startups to work with a keystone institution on urgently needed climate solutions." TD-what? TDN is a regional expansion of the Green and Digital Demonstration Program which help startups and entrepreneurs catalyze and accelerate the private sector development of green and digital solutions towards the marketplace.
[DailyHive]
---
Vancouver lawyer
Ron Segev
talks legal jurisdictions and limitations, regulatory advice, and the application of blockchain in the legal sector—plus one blockchain client he's particularly pumped about.
His team have been working with RXB Healthcare Technologies, who, Segev explains:
utilizes the power of distributed ledger technology to properly harness medical data. In so doing it pays a patient for contributing his or her medical data set to the larger data pool which will be used by research labs to develop and improve drug therapies. This is a business model and application that can only exist on a distributed ledger technology.
Read the full interview to hear his top legal advice for new blockchain startups.
[CoinPoint]
---
Open Ocean Robotics won the $100,000 Spring Impact Investor Challenge—beating out 100 other participating companies.
The Challenge was a 10-week long program designed to help investors and companies better understand the process of investing in early stage purpose driven companies. CEO Julie Angus had this to say about the experience:
For us, the learning experience has also been profound, helping us navigate the due diligence process and benefit from the guidance, mentorship and network of this remarkable group of investors and Spring Activator.
Open Ocean Robotics develops autonomous energy-harvesting boats to collect information from oceans and instantly relay it.
[LinkedIn]
---
Vancouver fintech Mogo acquired Difference Capital, whose investment portfolio includes Hootsuite and Vision Critical.
According to president and CFO Greg Feller, the deal gives Mogo needed capital in order push further into consumer fintech. "[This] brings another over $30 million of cash and investments onto our balance sheet," he told Business in Vancouver. Mogo has grown to 800,000 users, up from 100,000 when it went public in 2015.
[Business in Vancouver]
---
You still with me?
UBC engineering grad bridges worlds of cutting-edge technology, Indigenous roots
Microsoft helps launch new free community digital lab in Vancouver's Chinatown
Amazon's first purpose-built office building in Vancouver to open next year
Big tech expansion in Vancouver a 'magnet' for U.S. firms
Banned in B.C.: Riding an e-scooter could cost you $600
Shades of grey shroud Vancouver's cannabis retail scene
Vancouver's TruTrace Technologies takes on cannabis tracking with its proprietary blockchain platform
Winners of Startup Canada's regional awards in British Columbia
---
Let's connect this week at Axiom Zen's new office (Tuesday); Fujitsu AI HQ Welcome Reception (Thursday); and happy hour with Tile at OPUS (Thursday).