The Sunday Briefing | #99
"You won't know who can help and how until you create the dialogue." - Patrick Lor, Managing Partner of Panache Ventures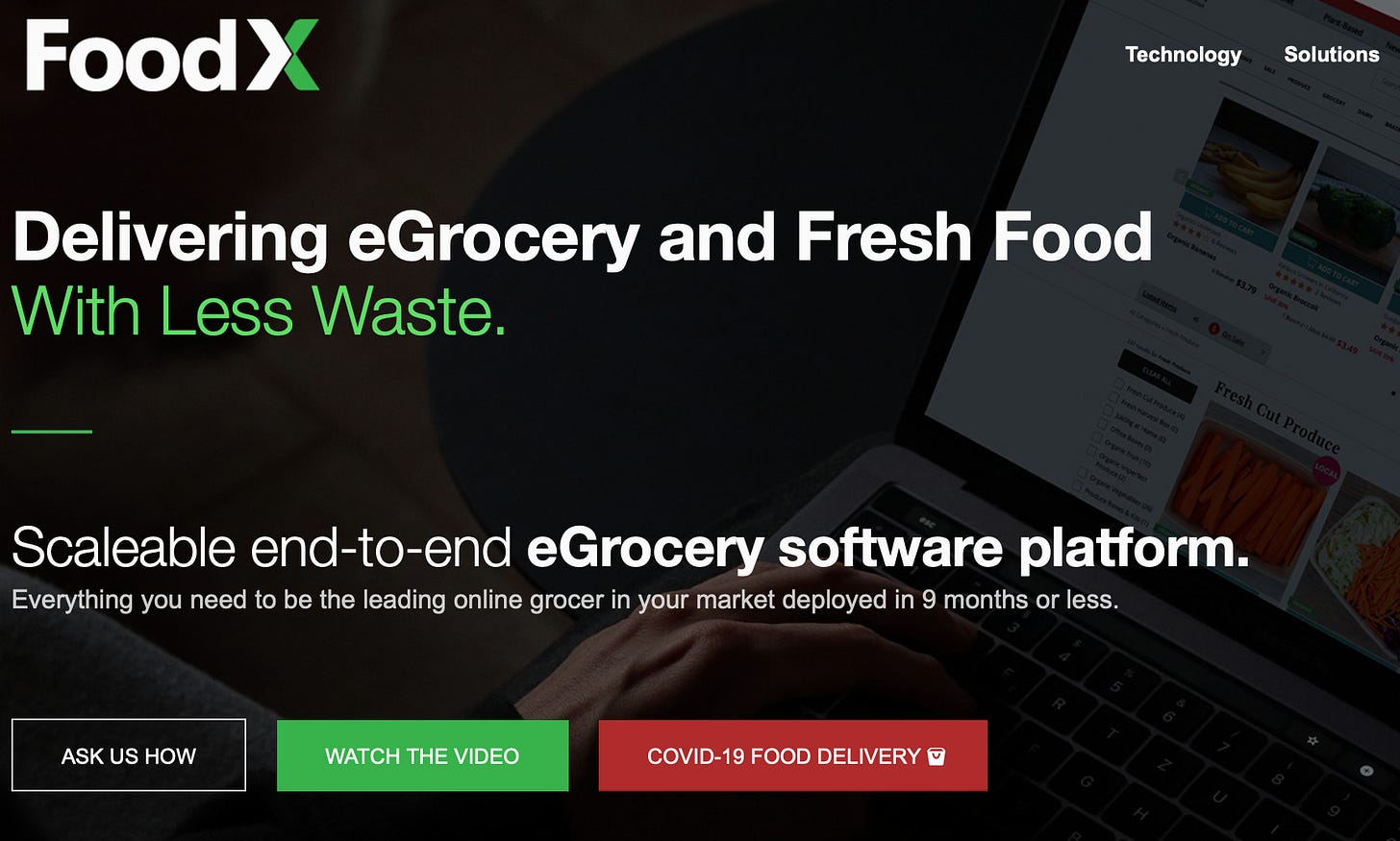 The 

Vancouver Tech Journal

 brings you news, insight, opinions, and the lesser-known stories from Vancouver's innovation ecosystem. This is The Sunday Briefing. Enjoy.
---
Food-X Technologies, a SaaS startup, has received $250,000 from the Digital Technology Supercluster to lead a new collaboration aimed to develop an e-grocery management system for the government and health authorities in B.C. Per Isabelle Kirkwood in Betakit:
The initiative is aimed to deliver groceries to essential workers, non-pandemic patients, and citizens in quarantine due to the COVID-19 pandemic. Other companies that are collaborating on the project include Spud, Adaptech, 1QBit, ETG, and Microsoft.
Patrick Lor of Panache Ventures—based in Calgary but with 9 portfolio companies in B.C.—says founders must lean on each other to stay afloat.
The mental stress of being a founder has always been intense, and very few people understand what it's like, because there can only be so many CEOs or founders. This crisis has amplified the stress; that's the downside. The upside is that we're all experiencing the same crisis, so it feels like a great opportunity for CEOs to lean on each other for help.
Read his other tips for founders in this short Q&A we did in the Calgary Venture vertical of Daily Hive. /more
Eventbrite's Canadian team has been let go—including everyone in the Vancouver office, which includes Jayesh Parmar who founded and sold Picatic to Eventbrite two years ago. Parmar confirmed the news on LinkedIn and Rob Lewis retells the incredible Picatic story over at Techcouver. "These are people that are loyal, smart and ridiculously talented," writes Parmar. "If you know someone in Canada that is looking for serious talent, please let me know as it would be a pleasure to connect you with them." /more
Newly minted Trulioo CEO Steve Munford dishes on taking the reins during a pandemic and the company's future. "Getting the company to the first $100 million in sales, the second and third $100 million in sales, and the chance to help the company through those stages," he explains to BCBusiness' editor Nick Rockel. "I think I can add value there." /more
Three new UBER/Lyft competitors have been approved to operate in B.C: LTG Technologies Ltd., Metro Burnaby Rides Inc. and Hich Ride Sharing Corp. The three companies are the ninth, tenth and 11th operators, respectively, to be granted approvals to offer ride-hailing services in B.C. The PTB has received 35 ride-hailing applications to date, issuing decisions on 28 of them since September. /more
Vancouver's whatifi.io launched on Product Hunt. whatifi.io provides families and individuals with the peace-of-mind that their financial decisions will be successful, long-term. Using to the tool, users visually create multiple personal scenarios and calculate the best path through those results. /more
Discovery Parks announced the winners of its Generator Challenge 10.0 Competition. The competition awards premium, turn-key workspace for 12 months to early-stage technology companies that demonstrate a high likelihood of success. There are 7 winners, including Vancouver's Inverted AI (UBC spin out) and Medimap. /more
Danny Halarewich, who became the Vancouver-based head of e-commerce at Mailchimp (after they acquired his company LemonStand) said he has left the company. Read the full announcement thread on Twitter:
---
IDEAS
Shahrzad Rafati, founder and CEO of BroadbandTV Corp, writing on LinkedIn: How Can We Support Our Essential Service Workers?
Manoj Singh, founder and CEO of Acuva Technologies, writing on LinkedIn: My Personal Experience with COVID-19 as CEO of Acuva Technologies
Shafin Tejani, CEO of Victory Square Technologies, writing on Forbes: The Cybersecurity Gap Hidden In The Background
David Gens, founder and CEO of Merchant Growth, writing in the Vancouver Sun: Canadian small businesses need a rent subsidy in our COVID-19 times
Gregory Smith, co-founder and advisor at TIMIA Capital, writing on his firm's blog: As Over-Funded Unicorns Lose Their Shine, Is Bootstrapping Finally Becoming Newsworthy?
Gordon Patrick Newell, partner and executive coach at Bond & Borne Leadership: How to Succeed in a Rapidly Changing Environment
Jeanette Jackson, CEO of Foresight Cleantech Accelerator Centre and Barnabe Geis, director of programs and climate ventures, at the Centre for Social Innovation, writing at the National Observer: Don't let COVID-19 take down our clean tech sector
Vishesh Raisinghani, business writer and technology investment analyst, writing on The Motley Fool: Why I Invested $2,000 in This Unknown Tech Stock [VTJ note: It's Vancouver's WELL Health Technologies]
Karn Manhas, founder and CEO at Terramera, writing on LinkedIn: How the COVID-19 reset points to a way forward for climate change
---
ICYMI
Can made-in-B.C. tech improve social distancing on construction sites?
Mayor Kennedy Stewart looking at film, tech industry to restart Vancouver's economy
Thrive Health gets shout-out from premier, sees jump in job applications
Resilient Vancouver game creator [Phoenix Labs] builds virtual company culture
B.C. esports company strikes deal with Vancouver Whitecaps
FORM Raises $12 Million Series A Round For Augmented Reality Swim Goggles
B.C.'s Innovative Fitness reinvents itself to weather the COVID-19 storm
20 Canadian made video games you must play during quarantine
---
LAST WORDS
Should your colleagues be reading this too? Forward it to them.
Follow along on Twitter: @vantechjournal / @notionport.
Reply with tips for next week.