The Sunday Briefing | #110
"Vancouver has the mountains, the ocean and the craft beer, but not the salaries." - Tyler Orton, reporter, Business in Vancouver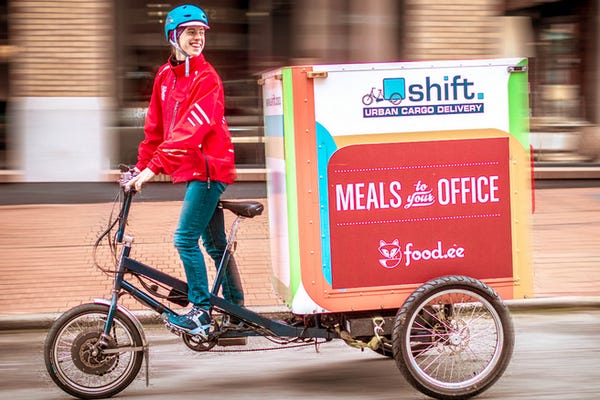 The 

Vancouver Tech Journal

 brings you news, insight, opinions, and the lesser-known stories from Vancouver's innovation ecosystem. This is The Sunday Briefing. Enjoy.
---
Foodee, Vancouver's leading corporate catering tech startup, has closed $13 million CAD in funding and revealed its acquisition of San Francisco competitor, Chewse. Per BetaKit's Isabelle Kirkwood:
The funding, which closed in June, consisted of equity and debt financing. The equity portion was led by BDC Capital through its bridge financing program. Existing investors Structure Capital and Kensington Capital also participated, and as well as a new investor, Foundry Group. Foodee declined to disclose the amount of debt versus equity.
Since its founding in 2010, Foodee has served close to one million individual meals, and the company achieved profitability in the second quarter of 2019. /more
"Vancouver has the mountains, the ocean and the craft beer, but not the salaries." New rankings from CBRE Group Inc. reveal only Montreal tech workers are paid lower on average than those in Metro Vancouver based on 50 North American tech hubs evaluated. The report also said that the number of tech workers in the region grew to 84,900, up from the 74,700 working in the market a year earlier. /more
Vancouver proptech startup addy launched with a mission to allow every human to become a homeowner, by investing in real estate for as little as $1. Per Techcouver:
The company's proof of concept property located on Vancouver's Trout Lake sold out to 305 investors in addy's network spread across the country. Investments ranged from $1 to $95,000, and the average investment was $4,551. It was the first of its kind in Canada.
"We believe everyone should have the opportunity to own property with access to real estate investing at any amount, regardless of income, age, or other conflicts," says Michael Stephenson, Co-founder and CEO of addy. /more
The B.C. engineer behind 3D-printed human tissues: Competitive spirit has driven engineer-turned-entrepreneur Tamer Mohamed's success with Aspect Biosystems. Read this profile in BIV Magazine. /more
Some B.C. tech stocks have generated better percentage increases than Amazon in 2020, reports Georgia Straight's Charlie Smith. This, according to the T-Net 20 Stock Index, a database that's updated quarterly and includes the 20 largest publicly traded tech companies in B.C. Recent gainers include B.C.'s Ballard Power Systems (up 139%) and Absolute Software (up 62%). /more
A project was set up at the Cloud Innovation Centre (CIC) at UBC with the goal to develop and deploy an open source AI model capable of analyzing CT scans of COVID-19 infected patients. It aims to empower radiologists by providing metrics and statistical information about the infection that cannot normally be assessed by the human eye alone. The CIC at UBC is a public-private collaboration between UBC and AWS. /more
Entrepreneurs for Sustainability (EN4S) launched their Sustainable Energy Startup Helpdesk. They're looking to hear from sustainability startups what aspects of their business they need help with, but do not have the connections or resources to obtain such help. They'll then aim to provide targeted assistance using BCSEA resources and connections. This could take a variety of forms, from idea feedback to industry insights to mentoring for various aspects of running a startup to help with grant applications and more. /more
Two of the world's five highest esports earners call Vancouver home. Arteezy and Aui_2000 together have more than $4.25 million in career earnings. /more
From BCBusiness: Young Guns: Sean Burke's latest venture is about more than making money. Expore this short day-in-the-life of the former FrontFundr COO and CEO of mental wellness startup CheckingIn. /more
/More headlines you may have missed
Behind the HYPE: Arc'teryx's Unmatched Innovations in Functionality
B.C. Institute of Technology launches Artificial Intelligence Management program
Spring Launches Business Resilience Program To Enable Economic Recovery
B.C. startups navigate new realities of launching in pandemic
Vancouver-based XPhyto Therapeutics announces progress in efforts to create an easy-to-use saliva test for COVID-19
Former Kater CEO Scott Larson named interim president of Canadian drone manufacturer Draganfly Inc.
Stockwell Day hired at Vancouver tech company weeks after resignation over comments on racism
---
IDEAS/OPINION
Marius Adomnica, a Vancouver lawyer at SEGEV LLP, on the great Twitter hack:
Casey Lau, co-host of RISE and host of the Sandwich Society podcast, writing at Techcouver: Collision Reverb: Why More Conferences, Meet-ups and Networking Events Should Be A Live/Online Hybrid
Ryan Holmes, co-founder and chairman of Hootsuite, writing in Bay Street Bull: Is COVID-19 the Death Knell for 1800s-era Work Culture? He's also got this gem in The Helm: The Work Week Is Obsolete. What Comes Next?
Peter Lukomskyj, B.C. General Manager at Lyft, writing on LinkedIn: Driving the economy forward - one ride at a time
Shafin Diamond Tejani, CEO of Victory Square Technologies, writing on LinkedIn: Meet The Founder Helping To Make Antibody Testing For COVID-19 A Reality
Serial entrepeneur Hussein Hallak, writing on Medium: Let go: Life doesn't ask for permission.
Marah Berezowsky, head of Immersive Experience Marketing at Global HR Summit, writing on LinkedIn: 5 Companies Using XR Technology & How You Can Too!
Trulioo CEO Stephen Ufford quoted in Protect Your Business And Your Remote Staff From Hackers With These 16 Strategies in Forbes:
Leverage agile and flexible technology. Times of crisis are perfect for criminals exploiting the chaos for their own interests. Businesses leveraging agile and flexible solutions will easily adapt to changes in the environment. For example, they can update identity verification requirements during Covid-19 if they see high transaction volumes. Technologies must evolve faster than fraudsters to ensure the highest levels of security.
---
PODCAST
Applying a Product Mindset to Marketing with Britt Skolovy, Chief Growth Officer at Kinzoo
---
NOT TECH
---
LASTLY
Should your clients and colleagues be reading this? Please forward it to them.
Get updates throughout the week on Twitter: @vantechjournal.
Reply to say hello or send me tips.