$100M To Boast About | The Sunday Briefing
"We're getting companies larger refunds, faster, [and] at a lower audit grip from the government." - Boast.ai co-founder Lloyed Lobo
Good afternoon, and welcome to the hundreds of new Vancouver Tech Journal subscribers reading this week. Today's Sunday Briefing is just around 1,700 words, a 6-minute read. Enjoy.
-William (@notionport)
---
💰
Boast.ai,
a financing platform that makes it easier for companies to access R&D tax credits,
announced
a $100 million credit facility from Brevet Capital.
Boast.ai helps businesses receive hundreds of thousands of dollars in R&D tax credits from the government using AI and an in-house team of experts. Boast's co-founder Lloyed Lobo explains the problem his company solves like this:
Each year the US and Canadian governments provide more than $15 Billion in R&D Tax Credits to fund businesses, but the application process is cumbersome, prone to frustrating audits, and receiving the money can take up to 16 months as you need to wait for tax filing season and government processing times.
Now, instead of waiting a year to receive the R&D tax credit refunds from the government, this new credit facility will enable Boast's clients to not just work with the firm to prepare their tax credit claims but also get advanced funding on a monthly basis throughout the year to fuel their growth.
---
💬 13 thoughts about Shopify's operations, Scotiabank's Vancouver investing plans, supercluster funding and more.
Last week, Vancouver Tech Journal introduced a new column, 13 thoughts, as a platform to share interesting stories and bits of information that don't warrant their own full article but deserve more than a tweet. Gossip, inside baseball, babble… call it what want, but don't pretend you're not interested.
---
⏩ Quick Takes
---
📈 Pulse check: The health and biotech news keeping hearts racing.
---
🏦 Banknotes: Financial news to know.
---
📝 Views from the 604: The week's sharpest ideas and opinions.
---
👩🏻‍💼 Personnel issues: People going places.
---
💼 Pole positions: Tech jobs that matter.
Want to see your posting here? Get in touch: info@vantechjournal.com.
---
📁 Need 
tech news briefings delivered daily?
Vancouver Tech Journal is testing a Morning Report. It includes everything in the Sunday Briefing and more—delivered to your inbox daily at 6:00am from Tuesday to Friday. For anyone who relies on the most up-to-date tech news to fuel their workday, deal flow and decision making, the Morning Report is for you. Join the waitlist to be considered for our ongoing beta test.
---
💚 Cleantech: Good news for the planet.
---
😎 Pretty cool: What else is new and novel.
---
📅 Mark your calendar to match ours.
This Tuesday (February 23), on Vancouver Tech Morning Coffee, our weekly Clubhouse show, we welcome special guest Lloyed Lobo, co-founder and president of Boast.ai, which, as noted above, recently announced $100M in financing.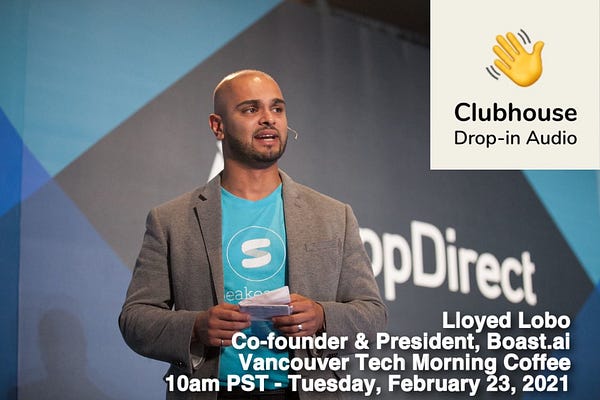 ---
Deloitte Global TMT Predictions 2021: Later on February 23, VEF invite you to join them and Deloitte's Duncan Stewart, co-author of the Deloitte Global TMT Predictions annual report, as he provides an in-depth look at the trends set to affect and disrupt your business.
---
‼️ Double take: In case you missed these stories.
---
⌛ That's it. Until next week…
🙏 If you enjoyed this newsletter, we'd really appreciate it if you sent it to all your colleagues and clients.