Sunday Briefing | #116
"We've spent a ton of money with lawyers and consultants, but at the end of the day, this as a necessary piece to make sure there's trust in the marketplace." - Mitchell Demeter, president of Netcoins
The 

Vancouver Tech Journal

 brings you news, insight, opinions, and the lesser-known stories from Vancouver's innovation ecosystem. It is written by 

William Johnson

, an independent writer, communications advisor, and consultant based in Vancouver, B.C.
---
Back in June, I published 6 ways to view Shopify's "digital by default" declaration, and I suggested the following: "Now you can go work for any top brand from any location—in areas where they do not have a campus and importantly, places that people can actually afford to live." Yet, I only recently spoke to someone who has taken advantage of this reality.
Matt Nelson is head of marketing for Shopify Retail. I recently noticed in his Twitter bio that he's listed Vernon, B.C. as his location. I couldn't help but message him, "Matt are you actually based in Vernon?" "I am," he wrote back. "Been here two months w Shopify going digital by default. Loved the summer, but the real fun is about to begin on the mountains :)"
"Where were you before?"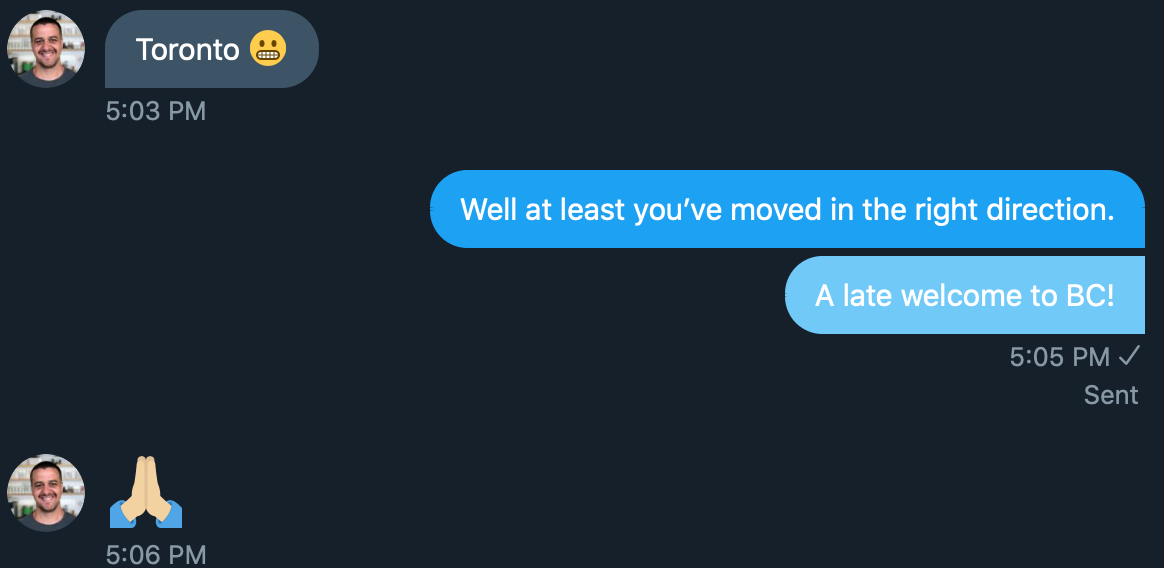 Speaking of Shopify… The company's stock has surged 132 per cent this year, the top-performer on the S&P/TSX and a bigger advance than any stock on the S&P 500.
B.C. crypto exchange Netcoins volunteered to be regulated by the government, setting a precedent. They've applied for "registration from the B.C. Securities Commission—an invitation for government oversight of the sector, which has hitherto been tainted by get-rich-quick schemes, fraud and money laundering," writes Michael McCullough in BCBusiness.
A profile of Iranian immigrant and Victory Square Technologies COO Vahid Shababi written by Daily Hive's Wyatt Fossett. "Everything has a price and there is no shortcut," says Shababi. "Everyone wants to be healthy but they don't want to do what healthy people do. Everyone wants to be wealthy but they don't want to do what wealthy people do."
From Picatic To Product Hunt, Former Co-Workers Launch Gaze. Techcouver's Robert Lewis reports:
Co-founded and developed by former Picatic employees Taus Noor and Kevin Pierce, Gazepass lets software developers enable passwordless login on web & mobile apps with just a few lines of code.
BBTV Holdings, the holding company of Vancouver-based media and technology company BroadbandTV, has filed for an IPO with the TSX. Per Betakit:
BBTV Holdings is looking to raise $172.4 million CAD through the IPO by issuing subordinate voting shares priced at $14 and $22.50 per share. The company plans to list on the TSX under the symbol BBTV.
Operto Guest Technologies, a Vancouver proptech company, has announced it has appointed Steven Davis as its new CEO. Operto connects guests and teams to meaningful technology and has proven to dramatically enhance and simplify the guest experience. Davis joins Operto from Vancouver's Slalom Capital, where he was the CEO and founder. Davis joins Operto from Slalom Capital, where he was the CEO and founder.
Teradici, a company whose technology allows workers in the media and entertainment industry to access their workstations and the software they need from home, won an Emmy. Teradici won the award for Outstanding Achievement in Engineering Development. "We are honoured to be recognized by the Television Academy for our work, especially in this year that has seen so much disruption for so many of our customers," said Dave Hobbs, co-founder and chief architect for Teradici.
Accenture and Vancouver's Motive.io have created life-like virtual reality training that teaches healthcare workers how to safely put on and take off personal protective equipment (PPE). The training was developed in collaboration with the University of British Columbia (UBC) and BC Women's Hospital.
---
+
Canadian Business: Growth List 2020: The Complete Ranking of Canada's Fastest-Growing Companies
Thinkific, an e-learning platform company, was way ahead of the curve
Global giant Acronis launches Vancouver data centre
TiE Angels Launches In Vancouver With A Demo Day
Focus on innovation, not alcohol, key to survival for restaurants: expertsIdeas and opinions
West Coast VR firms debut duelling PPE simulations
Innovate BC injects COVID funding into tech
B.C. tech rides 'tidal wave' of online education demand
Is Telus the best Canadian telco stock?
Pioneering social entrepreneurs' group with B.C. roots turns 25
Ballard sells off drone division after five years
---
Q&A
Kate Manolis of Plenty of Fish: "Why the smartest thing you can do is hire the right people; I can't stress this enough"
Ask a Leader: Jill Tipping calls for a tech-enabled economy
3Q: Portable Electric's CEO on saving lives with green generators
5 questions with Lumen5 CEO and serial entrepreneur Michael Cheng
---
Listen up
The Flipside Podcast : Episode 450 - Josh Nilson C.E.O. East Side Games
---
Ideas and opinions
Karn Manhas, CEO at Terramera, writing in Fast Company: How to inspire your team during a crisis without falling into toxic positivity
Jordan Behan, CEO of Narrate Creative, writing in Techcouver: What These 3 Successful Vancouver SaaS Companies Have In Common
Ryan D'Arcy, a professor at Simon Fraser University and the University of British Columbia, writing in Business in Vancouver: British Columbia is leading the global digital health revolution
Pascal Spothelfer, president and CEO of Genome BC, writing in Business in Vancouver: The use of digital tools has grown exponentially during COVID-19
Emily Key, founder of Northumberland Group and former operations leader at Shopify and Bench, writes a newsletter that I like. Read the latest: Slow down to speed up. 
Speaking of operations…
---
The Vancouver Tech Journal is a partner of the Vancouver User Experience Awards
The Vancouver User Experience Awards is an opportunity for growing startups, freelance practitioners, agencies, and user-centric enterprises to showcase their work and get recognized for the incredible experiences they create every day.
---
Lastly
Should your clients and colleagues be reading this? Please forward it to them.
Get updates throughout the week on Twitter: @vantechjournal.
Reply to say hello or send me tips.