Sunday Briefing | #114
"We want to add more sensors to the system, and eventually we'll be looking to open up the art of aging wine, because a lot of it is done by rule of thumb." - Miayan Yeremi, BarrelWise Founder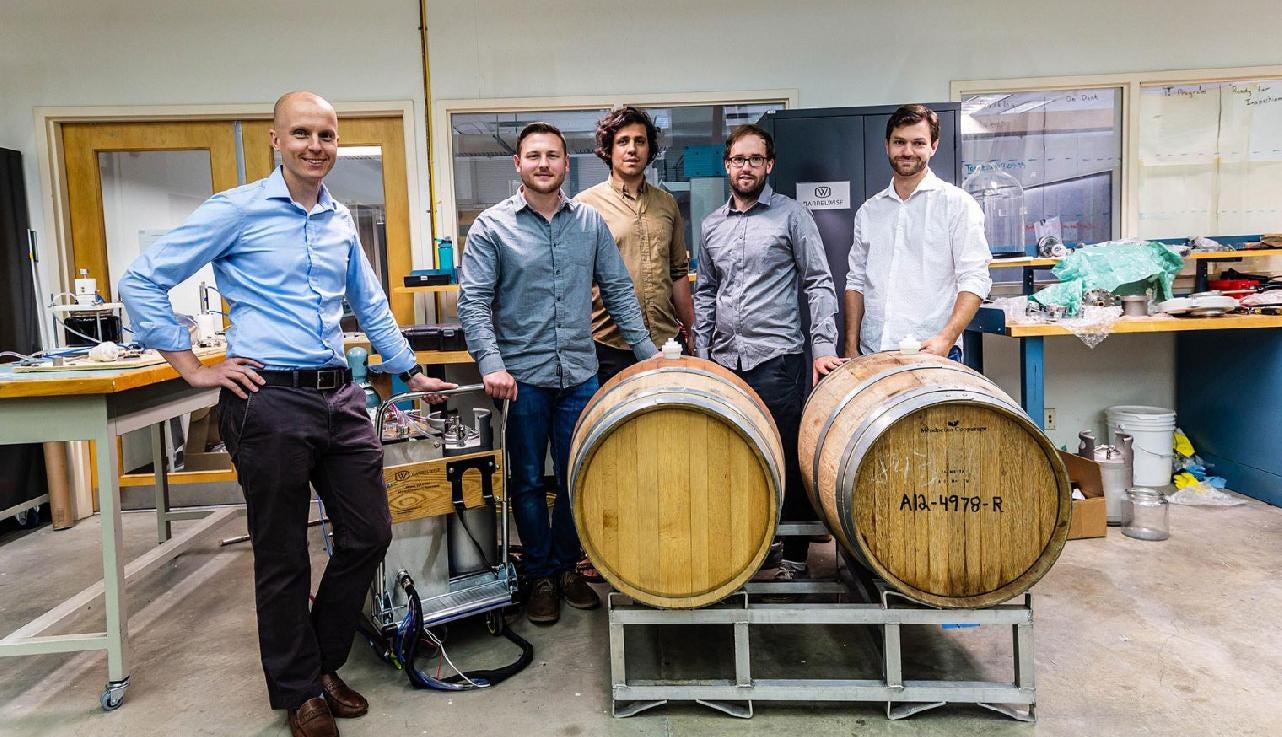 The 

Vancouver Tech Journal

 brings you news, insight, opinions, and the lesser-known stories from Vancouver's innovation ecosystem. This is The Sunday Briefing. Enjoy.
---
BCBusiness spotlights BarrelWise Technologies
, a company that sits in the centre of my favourite things Venn diagram (
wine/tech/wine
).
During the wine aging process, producers lose 5 to 10 percent of the liquid each year thanks to evaporation, he says. The resulting empty space at the top of the oak barrel can give way to bacterial growth and lower-quality wine. That means most large wineries spend resources constantly checking the quality of their product, one barrel at a time.
BarrelWise has developed a system that enables wine barrel topping, sampling, sulfite additions, as well as certain chemical analysis of oak-ageing wine, all while keeping the barrels sealed. They're doing pilots with five wineries, including Kelowna's Sandhill Wines, and they were recently awarded $50,000 through Innovate BC's Agritech Innovate Challenge.
---
Women in Tech World announces Nicola Jones-Crossley will join the organization as Executive Director, effective September 16th.
I'm excited to join the incredible team at Women in Tech World and build upon the important work the organization has become known for globally. Creating meaningful impact has always guided the work that I do, and I'm humbled to be given the opportunity to work alongside Alicia, Melanie and the team at Women in Tech World to bring the voices of women in tech to the forefront.
---
Movember is looking for innovative and outside the box ideas that respond to the current situation and can be carried into the future, helping men stay connected beyond the pandemic. Globally, up to 75 ideas will be shortlisted, and up to 16 ideas will be chosen to tap into $3.22 million. Up to five digital or technology-based solutions will be selected in Canada, each of which will receive an investment of between $90,000 to $225,000 to co-develop their idea in partnership with Movember.
---
Vancouver fitness tech startup 

Trainerize

 has been acquired by ABC Financial, a US software provider for the fitness industry.
ABC will offer "Trainerize powered by ABC" as an add-on module to its platform, and Trainerize will continue to be available as a standalone solution. Following the deal, ABC Financial will be adding Trainerize's entire 55-person staff to its team. Sharad Mohan, CEO of Trainerize, will join ABC Financial as managing director.
---
Carbon Engineering signed up Shopify as a customer for its carbon capture technology,

reports Business in Vancouver.
Shopify is the first organization planning to purchase permanent CO2 removal from the atmosphere by tapping one of Carbon Engineering's to-be-built direct air capture plants.
Carbon Engineering's technology takes CO2 directly out of the atmosphere, where it can either be sequestered or used for low-carbon fuel.
---
Vancouver competitive intelligence startup Klue raised a $19.7 million CAD ($15 million USD) Series A round of financing.
Per Betakit's Isabelle Kirkwood, the investment brings the company's total funding to $24.9 million CAD.
Silicon Valley-based Craft Ventures led the financing. Other participants included HWVP, existing investors OMERS Ventures, Rhino Ventures, and BDC Capital, and several angel investors, including Frederic Kerrest, co-founder of Okta, and Zach Coelius. The funding will be used by Klue to accelerate product and machine learning development.
---
In his bi-weekly 

tech story round-up

, Innovate BC boss Raghwa Gopal spotlighted a
$10M investment from the province's energy ministry into "made-in-B.C. innovations that will help grow our world-leading clean tech sector and create good jobs."
"Beneficiaries of this funding include MineSense Technologies, Powertech Labs, Ionomr Innovations, and Clir Renewables, amongst others," he writes.
---
Related: NRC-IRAP and Innovate BC have signed an MOU to invest more than
$2 million into 22 pilot projects
being led by tech companies based in British Columbia, as part of the
BC Fast Pilot
.
The BC Fast Pilot Program allows BC tech companies to demonstrate the impact of their product, measure the value of their solution, and promote customer adoption. Last year, 12 pilot demonstrations were funded during the BC Fast Pilot Program's initial run. The program claims these 12 demonstrations led to the acquisition of 20 new customers and an increase of nearly $3 million in new revenue for participating companies.
---
The head of DigiBC Brenda Bailey
announced on Twitter
that she's seeking to represent the BC NDP in Vancouver-False Creek for the election that will likely be announced as early as Monday.
---
Hiring. All roles. Looking for top tier talent in sales, product management, engineering, design and marketing. If you love the product led growth movement this might be your calling! Looking? Know someone that is? Dooly 's having a growth spurt and we'd love to talk! PM me for details. Feel free to share!!
---
+
Office work could be changed forever by COVID-19. Here's why that matters
BIV Fastest Growing Companies Podcast Series
LifeSciences BC Recognizes Annual Award Winners
B.C. tech takes aim at COVID-19 risks facing field workers
Google launches tool to help Canadian businesses go global
Vancouver's Science World seeks provincial support to stay open
E-sports, VR aim to fill employee engagement gap
---
Ideas and opinions
Ray Walia, CEO at Launch.vc, writing at Forbes: International Companies' Barriers To Entering The American Market
Mervyn Mabini, principal at M2N Advisory, writing on LinkedIn: Thinkific's 13 step approach to onboarding new users | Deep Dive: Product Onboarding
Mike Rowlands, president and CEO at Junxion, writing on his company's blog: The Call to Social Purpose
Charlie Grinnell, CEO at RightMetric, writing at Forbes: From Strategy To Action: Five Tips For Smarter Marketing
Kirk LaPointe, editor in chief at Business in Vancouver, writing at his publication: Recovery plan slaps Band-Aid on major economic hemorrhage
---
Friends of the Briefing
If you want a broader tech news fix on the weekends that the Sunday Briefing is not sent, you should check out the Segev LLP Industry News Spotlight. Every two weeks, they gather their recent favourite news stories, shared on their internal #industrynews channel, so you can see what they're seeing that's new and noteworthy. Sample and subscribe here.

To get your fix of Vancouver tech news on Friday's before the weekend starts, make sure to subscribe to the Techcouver newsletter, which features top local news and job postings. Sample and subscribe here.
---
Upcoming
September 29: Investment in the Age of Covid-19: Raising Capital During a Pandemic: Join VEF's panel of active investors, as they discuss how they are investing, due diligence in the virtual world, valuations, and insights in today's financing landscape. Featuring Alex Norman (Canadian Partner, AngelList), Meredith Powell (Venture Partner, Voyager Capital), Kathleen Kaulins (Director, Vistara Capital), and Terell Sterling (Founding CEO, Go Paladin, past partner Andreessen Horowitz).
October 14: AoA Webinar - Investing in British Columbia Startups: A panel discussion on investing in British Columbia startups. Panelists will include Troy DeFrank, PNW Director at BC Trade+Investment, CJ Voss of K&L Gates, Darren Taylor form BDO Vancouver, and BC-based angel investor Thealzel Lee. 
---
Lastly
Should your clients and colleagues be reading this? Please forward it to them.
Get updates throughout the week on Twitter: @vantechjournal.
Reply to say hello or send me tips.