Vancouver Tech Journal | #76
"Farmers are the original experimenters, hackers, makers and problem-solvers."
In this week's Sunday Briefing, read why Terramera's CEO says farming is the next hot tech career, a local investors tips for how we can spot bogus startups, Finger Food's $3.5M expansion news, and details on SFU's Data for Good initiative. Enjoy.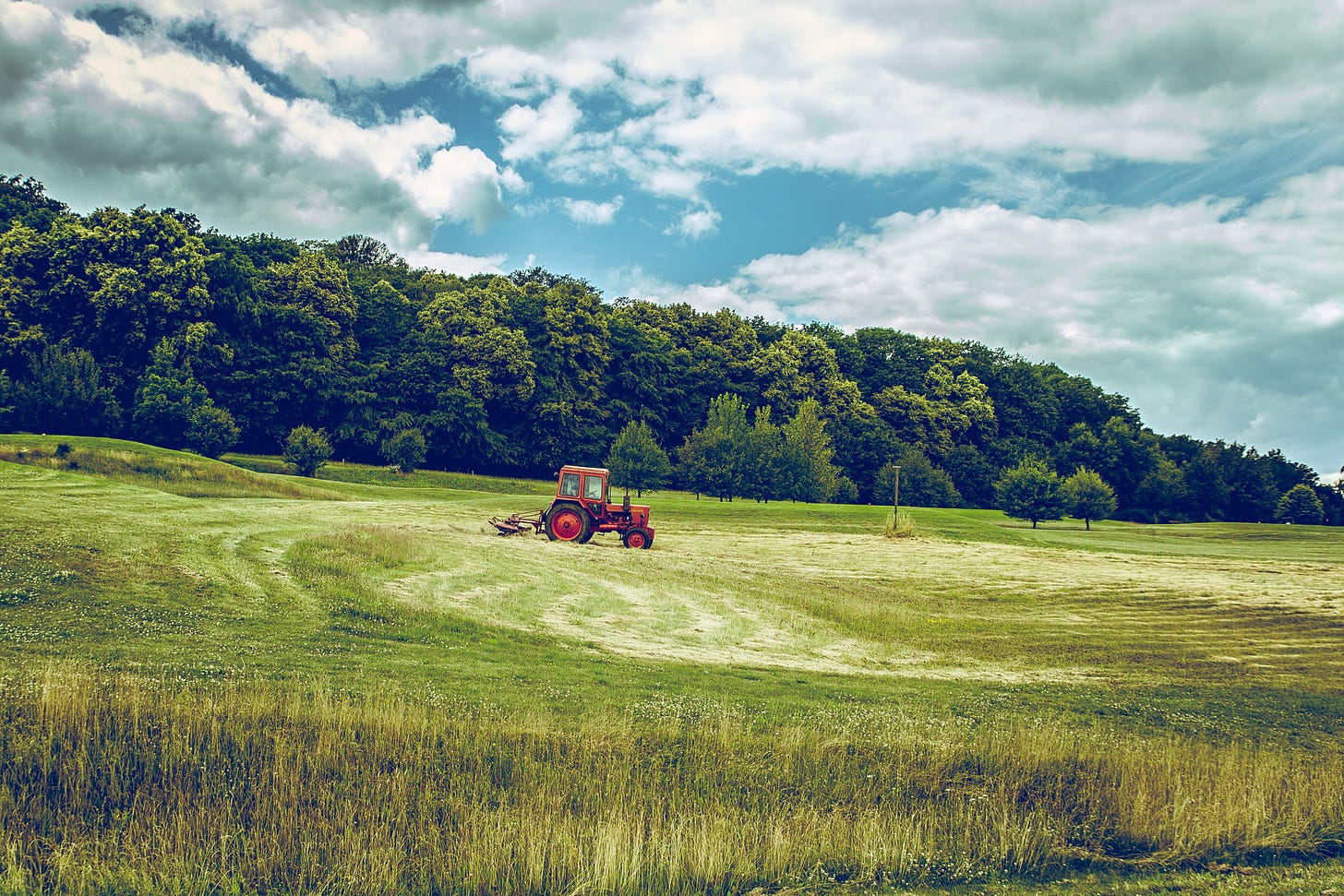 Terramera CEO: The Next Hot Tech Career? Farming.
"I've seen firsthand the effort and dedication farmers put into stewarding the land and feeding the world," writes Terramera CEO Karn Manhas, who just celebrated raising $45M. "I've also seen misperception about what farming is (and isn't) hold the sector back from attracting younger generations and adopting technological innovations that can improve the lives and livelihoods of farmers." In a piece from LinkedIn and Agfunder, Manhas shares thoughts on why agriculture needs an image makeover, ultimately concluding that:
Farmers are the original experimenters, hackers, makers and problem-solvers; they're biologists, chemists, engineers, entrepreneurs and inventors. Perhaps if we talked about them like that, young people would be inspired to continue their legacy, and proudly bring the field into the future.
---
Local investor Shafin Tejani shares what to look for to spot overhyped startups, including: beware the PowerPoint entrepreneur.
Perhaps his most important point is: Avoid startups that make customers (and profit) an afterthought:
Far too many early-stage companies are, frankly, creating solutions to problems no one has. They're building products in a vacuum, without ever engaging with customers to suss out product-market fit – or even whether demand exists at all. A startup is far easier to validate once it has built a prototype that's been improved upon with feedback from living, breathing customers. Better still is if the founders have scrapped and bootstrapped their way to an actual revenue stream.
---
Fears of congestion and a powerful taxi lobby have long kept ride-hailing apps out of transit-friendly Vancouver, British Columbia. That's about to change, writes
Laura Bliss
in
CityLab
.
Bliss outlines Vancouver's bona fides as a world class city: "ribbony shoreline, glassy high-rises, and ample urban forest is a public transit system that was recently voted North America's best." But then reminds us of what's been missing from our "urbanist dreamscape: ride-hailing." She details the rocky history of ride-hailing here, up until where we are today, with all stakeholders—except for the taxi cartels—on board and ready:
B.C. transportation leaders are cautiously optimistic that being a last-adopter will prove to be a virtue. They hope that strict data-sharing requirements, a stringent licensing scheme for drivers, and a long-term vision to mitigate added traffic with fees on curbside access and downtown streets at rush hour will help make ride-hailing more sustainable here.
"It's not to say that we're better than other cities," said Andrew McCurran, the director of strategic planning and policy for Translink, the transit agency serving metropolitan Vancouver. "But we've had the benefit of learning from other mistakes."
[CiyLab]
---
Raghwa Gopal (Innovate BC), Jill Tipping (BC Tech Association) and Jeanette Jackson (Foresight) talked shop at
A Conversation With B.C.'s Innovation Leaders
during Vancouver Startup Week.
The three CEOs discussed topics ranging from talent, funding, clusters, and collaborating to build the Vancouver and B.C. tech ecosystems. As reported by Business in Vancouver's Tyler Orton, Tipping argued that B.C. has all the fundamentals needed to build a world-class tech sector. But that the jurisdiction needs more money. "I'll state that boldly," said Tipping. Another topic covered was the need to develop more anchor companies. Gopal emphasized the need to develop talent and skills, and to build out regional clusters.
[Business in Vancouver]
---
B.C.'s Finger Food Advanced Technology Group — which provides enterprise technology solutions to global clients such as Disney, Lego, Electronic Arts and Lowe's — has been awarded up to $3.5 million from Calgary's stimulus fund to create at least 200 new jobs in the city.
The $100-million Opportunity Calgary Investment Fund was established by city council in 2018 for the purpose of investing in private, public and not-for-profit initiatives that promise to create jobs and stimulate the economy. Per Amanda Stephenson:
Finger Food CEO Ryan Peterson said Wednesday the company is about to complete negotiations for a 10-year lease for 52,000 square feet of office space in downtown Calgary. A small team has already relocated from Port Coquitlam to Calgary, and the company will soon be recruiting designers, developers, project managers, QA professionals and more.
There are many perspectives through which to view this announcement. I choose to celebrate a B.C. company growing and expanding.
[Calgary Herald]
---
Sohrab Merat
, co-founder and chief product officer of 
owl.co
, writes in
Daily Hive
answering the question he's asked most: Why Vancouver?
"Isn't this such a Vancouver question?" he asks.
It's on the West Coast, and very close to Silicon Valley (just a two hour flight). Here in Vancouver we have some of the brightest minds in tech, but don't have to worry as much about talent poaching. Owl has a beautiful office, there's the nice weather, plus great talent from great universities. So it's a sweet spot in Canada, plus there are a lot of great government incentives, like the Scientific Research and Experimental Development Tax Incentive Program.
---
Squamish, BC-based cleantech startup, 
Carbon Engineering
 is expanding the capacity of the design for its first commercial Direct Air Capture (DAC) plant.
The plant is currently being designed with a goal of removing carbon dioxide from the atmosphere and permanently storing it underground. Insanely:
Carbon Engineering's plant will now be able to remove one million tons of CO₂ from the atmosphere each year, which is equivalent to the annual emissions of 250,000 average cars. This is double the previously expected capacity of 500,000 tons of CO₂ per year. 
"Over the last few years we have observed a growing consensus in the science and policy sectors that both aggressive emissions reductions and large-scale removal of CO₂ from the atmosphere is essential," said Steve Oldham, CEO of Carbon Engineering.
[BetaKit]
---
Other headlines you may have missed…
Canada is pushing its tech sector into a race to the bottom: "The New Economy Is Not Like The Old Economy," writes Jim Balsillie in the Globe and Mail
A Look Inside Vancouver's Most High-End Neighborhoods
UBC researchers develop model to support the adoption of B.C. hydrogen cars
Vancouver's Kryton takes stake in Danish tech firm
SFU launches Data for Good to solve social and economic challenges in Canada
B.C. a 'middling' jurisdiction for prosperity: report
---
See you at…
AInBC Launch Event at Norton Rose Fulbright (October 1)
Fireside Chat with Andrew Reid (September 24)
---
Should your colleagues be reading this too? Forward it to them.    

Follow along on Twitter: @notionport and @vantechjournal.

Send tips to news@vantechjournal.ca.