Vancouver Tech Journal | #71
Patrick Nangle: "Do the millennials driving e-commerce growth and the trend toward ever shorter delivery times, including same-day [delivery], realize the environmental consequences?"
In this week's Sunday Briefing: A profile of Modo's environmentalist CEO; Chip Wilson says technology has made us lazy and fat; a local teenager created a smartphone system that helps detect whether someone might have Alzheimer's disease; and 19 other tech and business stories you may have missed. Enjoy.
---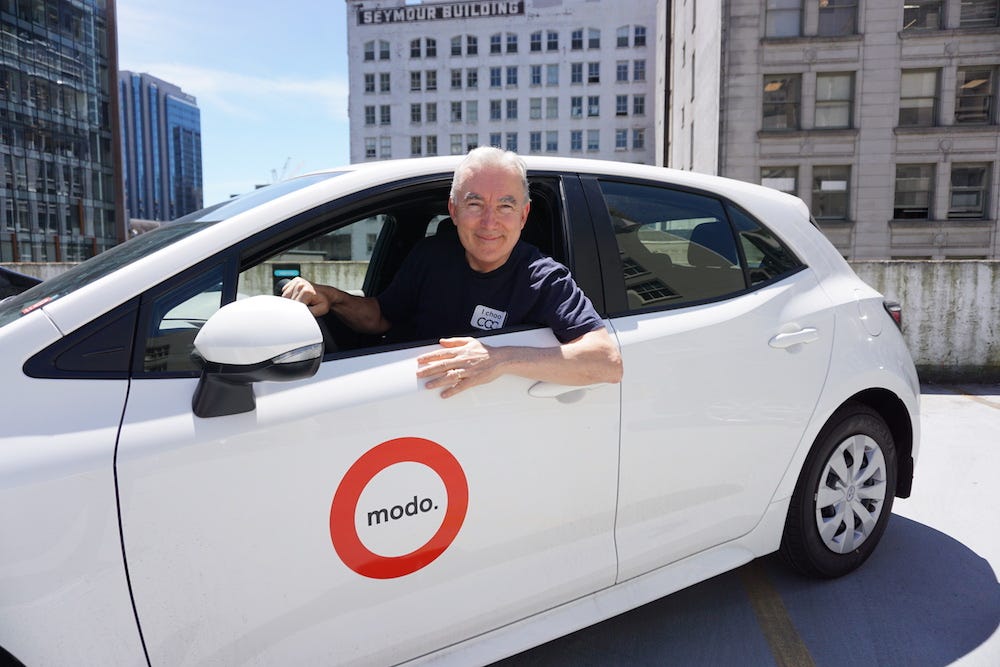 Read this profile of Patrick Nangle, CEO of car-sharing company Modo
and "pragmatic" environmentalist.
Nangle was formerly the CEO of Purolator. "But Nangle," writes Roberta Staley, "had a desire to invest his time and effort more directly into issues that he was personally interested in—versus delivering a pair of shoes ordered online the same day." He took the Modo top job so he could directly influence the behaviour of thousands of people.
At a macro level, it's about transforming communities for the better: fewer cars, less congestion, better use of space, lower emissions, healthier lifestyles. At the household and individual level it's about affordability and an affordable life, free of the burden of car ownership.
Noteworthy: Earlier this year, Modo became the first car-share operator to make zero-emission hydrogen fuel cell vehicles accessible to its members.
[Corporate Knights]
---
Vancouver's Monstercat—an EDM record label—featured at
The Verge
for their product, which is allowing streaming culture and the music industry to coexist.
The problem: Record labels are against streamers/creators playing their music online (e.g. kid streaming himself playing Fortnite with his favourite Calvin Harris track on in the background). Solution:
Monstercat signs artists on a track-by-track basis, resulting in a discography of over 2,000 songs across 29 genres of music, from drum & bass through to indie dance tunes and happy hardcore. With a $5 monthly subscription, creators [streamers, etc.] can stream these tunes in the background of their content across YouTube, Twitch, and Mixer, while keeping all of the revenue for themselves.
---
Lululemon founder Chip Wilson says technology made us fat and lazy.
He's not wrong…. Anyways, Ty Haney, writing in The Recreationalist, summarizing the Wilson ethos:
The Chip Wilson mentality is that phenomenal product and people come first. The Instagram strategies, the interactive sites, the marketing around it, always is secondary. He thinks it's due time for a woman to rise up for women. He thinks tech is making us lazy. He would never make an operations person the boss. 
Carve out 18 minutes of your time to read this whole fascinating interview, which was conducted while climbing the Grouse Grind.
[The Recreationalist]
---
Uber spokesperson Michael van Hemmen says the company may not operate outside of Metro Vancouver if it can't get enough qualified drivers with a commercial licence in keeping with ride-hailing regulations set by the B.C. government.
Applications from companies such as Uber and Lyft will be accepted as of Sept. 3 but van Hemmen says the onerous requirements may mean the company will find it difficult to do business. In a statement to Business in Vancouver, the company said:
Getting enough driver-partners qualified is the first of several steps before Uber can make a decision whether to launch in Metro Vancouver and it needs to review the regulations that government has designated the Passenger Transportation Board [PTB] to set, which includes key policies such as flexible pricing, boundaries and no vehicle caps.
Most jurisdictions allow private companies to determine their own prices and supply of vehicles, however, the cabinet-appointed PTB will be taking on those responsibilities in B.C.
[National Post / BIV]
---
Vancouver-headquartered Aritzia, Meghan Markle's go-to boutique, is defying U.S. retail slump.
Aritzia's strategy of opening stores and staffing them with thousands of style advisers seems to be working, writes Bloomberg News' Natalie Obiko Pearson:
Aritzia's six straight quarters of double-digit revenue growth show how new players are flooding into the openings in the apparel market as brands like Guess? Inc. and Gap Inc. stumble. Sales are particularly strong in the U.S. -- where about a third of Aritzia's 92 boutiques are located. The chain has a store at Manhattan's new mall, Hudson Yards, that's performing well, and is opening others this fiscal year in Denver, Minneapolis, Houston, Austin and East Rutherford, New Jersey.
"Our business there is fantastic—both online and in our stores," said Chief Executive Officer Brian Hill, referring to the U.S.
[BNN Bloomberg]
---
LAST CHANCE: Get early access to VTJ+



To be launched in late August, VTJ+ is a thrice-weekly email to supplement the free Sunday Briefing.



[SIGN UP]
---
An eighteen-year-old Vancouver student has created a smartphone system that helps detect whether someone might have Alzheimer's disease.
Kai Leong, who just graduated from Killarney Secondary School, has developed an app that measures and analyzes a person's gait—the way they move while walking. Says Leong:
What a lot of people don't realize is that walking patterns are actually validated markers of neurodegenerative diseases. They're often overlooked because of how expensive and how inaccessible current walking analysis or gait analysis is. 
Because of this project, Leong was selected by Youth Science Canada to participate in the China Adolescent Science and Technology Innovation Contest in Macau, China. He is one of two Canadian students representing their country July 20 to 26.
[CBC]
---
Bonnie Powell
, senior director, people, at Vancouver's Bench Accounting, says the company is hiring 200+ people over the next 8 months.
50 of those are entry-level. Tell your kids and your friends' kids. "Ok, now you're curious about working at Bench, but you don't feel you have the experience to apply?," she wrote on LinekdIn. "Know this. Bench is Vancouver's finest entry-level career launching pad…"
[Bench Careers]
---
Wal van Lierop
, executive chairman and founding partner of Vancouver-based Chrysalix Venture Capital, believes we are managing climate change all wrong.
Writing in Forbes, he argues that we need, not just carbon targets, but taxes and penalties enforced by audits:
The combination of a carbon tax and audit-enforced targets with penalties can provide the teeth to hold companies immediately accountable for creating trillions of dollars' worth of future damages. With that, the world may have a chance to meet the targets of the Paris Agreement. Let's work on this practical, necessary plan so that humankind can continue to call earth home.
[Forbes]
---
New Avenue Capital's Manny Padda
, writing for the Entrepreneurs' Organization
Octane blog
, on practical ways that Canadian startups can go global (without leaving home).
He suggests, among other tips, leaving Canada for a little while (and find other Canadians); joining an international accelerator or entrepreneur group; and thinking international when hiring:
By the same token, Canada is one of the most multicultural nations in the world—our greatest strength is truly our diversity. Leverage that when you're hiring. Chances are, there's someone with firsthand knowledge of the market you're trying to reach within your immediate community, so tap into the diversity on your doorstep.
---
Two key SFU initiatives, one focusing on entrepreneurship and another advancing clean technology research, will benefit from nearly $3 million in federal funding.
Coast Capital Savings Venture Connection is receiving more than $1.9 million to expand its youth entrepreneurship program to underrepresented faculties, and engage with industries. In addition, more than $1 million in funding will go to the School of Mechatronic Systems Engineering, in conjunction with the new School of Sustainable Energy Engineering, to create an experimental research facility to prototype clean technology solutions for the aerospace industry.
[SFU News]
---
A&W Canada, headquartered in North Vancouver (which is probably news for a lot of you), credits their partnership with Beyond Meat for significant recent growth.
The company added Beyond Meat burgers to its menu in July 2018. The plant-based patty is made by a California company and uses ingredients to mimic beef's colouring, juiciness and chew. The product temporarily sold out due to demand shortly after it launched. A&W has attributed its ongoing innovation, including being the first national burger chain to serve the Beyond Meat burger, to helping drive strong sales.
[The Star Vancouver]
---
More headlines…
---
Should your colleagues be reading this too? Forward it to them.

Follow along on Twitter: @notionport and @vantechjournal. 



Send stories to 

news@vantechjournal.ca

.