Vancouver Tech Journal | #66
Vancouver startup Swae working with Bosch Foundation, MSF Canada and Etihad Airways. More like, Swag. Amirite?!
In this week's Sunday Briefing: Etihad Airways taps a Vancouver startup for an AI-crowdsourcing solution; UBC launched Canada's first-ever blockchain training path; a new venture fund to improve Indigenous outcomes; Lululemon's extraordinary 54% gross margin; and The Gaming Stadium's opening date. Enjoy.
---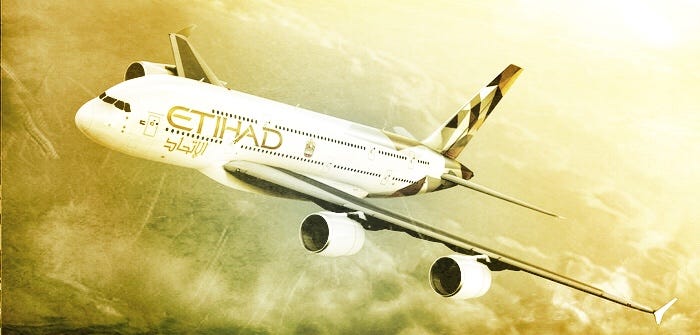 Vancouver startup
Swae
built an AI-powered crowdsourcing platform for Etihad Airways called iFikra.
The 'intrapreneurship' platform is intended to enable every employee at the airline to contribute innovative ideas. Tony Douglas, group CEO of Etihad Aviation Group, explained:
We recognise that there is an abundance of great ideas right here in our organisation and no one knows our business better than our employees, so we developed this tool to give them the platform they need to innovate.
Ideas that 'graduate' from the platform will be provided with seed funding and support through Innovate Lab, Etihad's innovation lab.
[Aircraft Interiors International / Trade Arabia]
---
UBC is
launching
 Canada's first blockchain and distributed ledger technology training path for graduate students.
The training path is designed to build competency around blockchain tech, and is focused on its application in four public benefit areas: health and wellness, clean energy, regulatory technology and Indigenous issues. It seeks to train 139 students over six years to help scale Canada's blockchain industry while also addressing socio-technical issues related to FinTech, engineering, computer science, and information governance.
[CoinTelegraph / BetaKit]
---
First of its kind Raven Indigenous Impact Fund aims to improve outcomes in Indigenous communities.
The initial closing of the Vancouver-based fund involves seven investors that have committed $1.75-million: Community Foundations Canada, Inspirit Foundation, Lawson Foundation, Lochmaddy Foundation, Ottawa Community Foundation, Swift Foundation and Vancity. Raven aims to raise $5-million by the pilot fund's final closing in October. Explains Jeffrey Cyr, a managing partner at Raven Indigenous Capital Partners:
We're an Indigenous intermediary working with Indigenous businesses, bridging the space between non-Indigenous private capital and the Indigenous businesses.
The fund's investments will range from $250,000 to $1-million, and the company is targeting returns to investors of 6 to 8 per cent, net of fees.
[Globe and Mail]
---
What is Ethan Lou's description of Vancouver bitcoin enthusiasts in the
The Tyee
about?
More and more, those involved in Bitcoin are likely to be downtown office workers with single-syllable names like Brad or Chad, who wear grey Patagonia fleece vests over pastel Armani shirts and adhere to Eastern Time because of the financial markets. Their exploits are reported not in Vice, but the Globe and Mail's business section, oftentimes cloaked by a paywall.
[The Tyee]
---
Lighthouse Labs CEO Jeremy Shaki thinks collaboration is key when it comes to scaling Vancouver's tech sector.
Shaki writes that we need to develop a strong foundation of talent, invest in innovation hubs where community can be fostered, and welcome government's role in investment and policy:
While there is no quick fix to scaling Vancouver's tech industry, building a strong tech community through close collaboration between talent, tech companies and education can attract the anchor companies needed to create a prospering tech ecosystem, as well as scale our homegrown startups.
---
21-year-old athleisure innovator Lululemon is still raking it in, increasing total sales by 20% to $782.3 million.
Pretty incredible. And there's this: "Gross margin, or the percentage of sales left minus the cost of goods sold, widened by 0.8 percentage points to an enviable 54% [emphasis mine], partly after the company reduced discounts."
[Forbes]
---
WeWork is opening yet another Vancouver location at 1045 Howe Street.
The new site will span four floors, with more than 1,200 desks available. It's situated on the west side of Howe Street, just one block south of Nelson Street and the Provincial Law Courts, and most importantly, not far from a Shizenya (sushi), Breka, Mean Poutine, and a Railtown Cafe. The 54,300 square-foot space is slated to open before the year is out, in December 2019.
[Georgia Straight]
---
Vancouver's Copperleaf, led by Judi Hess (
Person of the Year
), just received a $10M investment from National Grid Partners.
Copperleaf will use the capital to fund innovation and growth into new markets and geographies worldwide. Last year, Copperleaf's revenue growth placed the company on the GROWTH 500 ranking of Canada's Fastest-Growing Companies for the fourth consecutive year, and Deloitte's Technology Fast 500™ ranking of the fastest-growing technology companies in North America. The company currently uses analytics and data solutions to help manage more than $645 billion of infrastructure globally.
[Power Engineering / Private Capital Journal]
---
Vanedge Capital made and lost millions in a satellite intelligence tie-up gone wrong.
Planet, a leading satellite startup, had purchased Boundless Spatial, which builds software to manage and analyze geospatial data. But after the transaction closed last month, Boundless' shareholders—and investors Vanedge Capital and others—received a letter, and lawsuit threat, from Planet's attorneys, asserting that Boundless had failed to disclose "information concerning material customer contracts." And get this: the two sides ended up agreeing that the failed disclosure should reduce the price of the acquisition (and investor gains) significantly, from $40 million to $16 million. As Tim Fernholz writes: "The mystery, at least from the outside, is what the Boundless executives failed to disclose, or what Planet's due diligence missed."
[Quartz]
---
Finally: Vancouver's esports arena The Gaming Stadium (TGS) is opening in under two weeks.
The facility, which will hold 100 spectators is in Richmond. Spiro Khouri, VP of Sales & Marketing, explains:
We are positioning TGS to lead in the space by delivering tournaments, leagues, training programs for new esport athletes and programs to support the existing pro player base. The beauty of the arena is that it's also multi-faceted which allows us to service both the competitive side of esports as well as the Content Production side by capturing our athletes in action during live and streamed competitions.
---
Still reading….?
Pics: Canada Post Vancouver building completely gutted for new Amazon office
B.C. government invests $2.2 million to make tech industry more inclusive
Tile Eyes New Verticals with Canadian Expansion
10 Things You Didn't Know About... Lighthouse Labs CEO Jeremy Shaki
Five valuation tips to help you maintain perspective
New developments in cancer therapeutics leveraging 3D bioprinting from B.C.
Our first thoughts on Kater, the made-in-Vancouver ride-hailing solution.
Jessie Adcock fuses passion and unparalleled skill to advance Vancouver's tech-enabled future
A conversation with Chris Miller evokes a cascade of stories and canny ideas
---
Are you keeping this from your colleagues? That's not fair. Share this with them.