Vancouver Tech Journal | #65
"Vancouver definitely has connections to, unfortunately, digital currencies being used for nefarious purposes."
In this week's Sunday Briefing: Why Vancouver's mayor is trying to ban bitcoin ATMs; the focus of RBC's new AI lab; a company that built the electric Porsche that Bill Gates and Warren Buffett were recently driving; and why one Vancouver entrepreneur thinks China is a massive threat to Canadian innovation. Enjoy.
---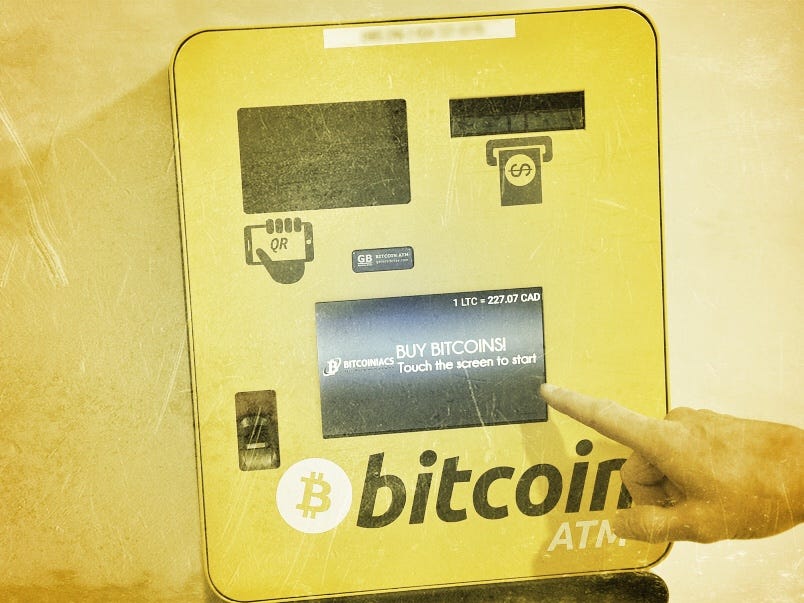 Vancouver deployed the first-ever bitcoin ATM. Now mayor Kennedy Stewart wants to ban them.
They've become "an ideal money-laundering vehicle," according the Vancouver Police Department. "Vancouver definitely has connections to, unfortunately, digital currencies being used for nefarious purposes," says Vancouver lawyer Christine Duhaime. Per Alvin Singh, the mayor's communications director, city staff are researching the issue and will report back in the fourth quarter of 2019.
[CoinDesk / The Star]
---
Borealis AI, a RBC artificial intelligence research institute, launched a new west coast lab in Vancouver.
The local lab will focus on computer vision, a subfield of machine learning that trains computers to see, process and understand the visual world. "In Canada's AI renaissance, Vancouver has been the forgotten city," writes RBC executive John Stackhouse on LinkedIn. "Until now." Vancouver is home to 130 AI startups, as well as investor groups, incubators and multiple public research labs focused on AI, he notes. 20 researchers are working at their new facility (take a video tour), led by Greg Mori, a computer vision specialist and former head of computing science at SFU.
[BIV]
---
#Fun: Bill Gates and Warren Buffet went for a ride in a Porsche 356 replica, made by Vancouver EV startup Electra Meccanica.
Parent company Intermeccanica has been building 356 replicas in Vancouver since the late 1970s and only launched its electric-vehicle division, Electra Meccanica, which removes the fuel-powered engine and swaps in electric powertrains, a few years ago.
[Driving]
---
Why didn't the government intervene financially to reduce ridesharing resistance in B.C?
At a recent BIV event featuring Lyft Canada managing director Aaron Zifkin, among other tech leaders, panellists argued that the B.C. government could've solved the province's ridesharing headache by paying off the taxi medallion owners. BC Tech CEO Jill Tipping had this to say:
Anytime that you identify a place in the economy where the benefits will be experienced by many and it will be a significant accelerator for plenty of parts of the economy and for the general citizen, and the pain will be born by a limited few—that is the best possible case for government intervention; not to hold back change, but to meaningfully engage with the economic disruption that is being caused to a small number.
Speaking of ridesharing:
BIV
editor Kirk LaPointe has run out of patience:
…we are the laughingstocks of North America, perceived pretenders in tech because one of the most significant applications of its innovation remains on ice into its second decade elsewhere. And what John Horgan will just not say – just will not make this one public concession to and admission of realpolitik in British Columbia – is that his government's antediluvian posture is more than anything out of defensive dread of a perceived political third rail: the fearsome taxi lobby that possibly swung the last election by punishing two Liberal Surrey MLAs who dared suggest we adopt what the rest of the world has.
[BIV]
---
BrainStation's Demo Day is this Wednesday, June 12 at their campus on Granville Street.
Connect with full-time students at this graduate project showcase to see what they've accomplished during their diploma program. Projects to look forward to: a model to detect retinal diseases and an application designed to address chronic loneliness in senior adults. Want to learn about the types of projects you'll see? Look no further.
[BrainStation]
---
The Vancouver innovation ecosystem guide is back with 150+
communities, events, accelerators, funding opportunities, and other resources for founders and innovators.
Since this was republished on June 2, nearly 1,400 people have viewed it. Plus, we've been sent more than twenty new items to feature, so you may want to scan it again.
[Browse the guide]
---
Hootsuite CEO Ryan Holmes turned down the opportunity to invest in Uber and recently wrote this article explaining why celebrating missed opportunities is so important.
I take solace in the fact that, back in the day, we made the tough calls all the time — even if they sometimes turned about to be the wrong ones. We said no to Uber. But we said yes to plenty of other opportunities. 
"One of those was Hootsuite," he writes. "This year, Hootsuite turned 10 years old and now has 18 million users, including 800 of the Fortune 1000 companies."
[Ryan Holmes / LinkedIn]
---
Apple CEO Tim Cook gave Pranav Karthik, a 13-year-old Vancouverite, a shoutout on Twitter for helping other young developers learn code.
Karthik started coding when he was in Grade 3, inspired by his mother who used to work for Microsoft. About that tweet: "It was mind-blowing," says Karthik. "I just couldn't believe that the CEO of Apple tweeted about me."
[DailyHive]
---
Venture capital investment increased to $173 million via 18 deals in B.C. during 2019's first quarter, per
CVCA's
latest report.
That's up 32% from last year when 20 deals worth $131 million was tallied. During this recent quarter, Vancouver's Cmd raised a US$15 million series B funding round led by GV, the venture capital arm of Google's parent company, Alphabet, Inc. B.C. ranked third in investments, behind Ontario and Quebec.
[BIV]
---
"
We want to build our economy around innovation? Then we have to do something about China"
Vancouver-based serial entrepreneur Vaclav Vincalek believes our economic future is "tied intimately to our ability to innovate." But that "if we don't do something about China, what we believe and what we try to do won't matter." China has been a threat to Canadian innovation for a long time, Vincalek writes:
Maybe some Canadians have short memories, but it was only a few years ago that we saw how China hollowed out Nortel from the inside through corporate espionage. We saw how China's cyberattack on Canada's National Research Council's computers cost our country hundreds of millions. And those solar panels that were supposed to provide all those clean, green jobs in North America? There's another industry destroyed by unfair Chinese trade practices.
The Canadian government is spending nearly $1 billion on new innovation initiatives, but if we don't build the infrastructure to protect their outcomes, then it will all have been for naught, Vincalek argues. "In that case, maybe we should just keep pumping oil and chopping down our forests."
[Vaclav Vincalek / LinkedIn]
---
Sophie Gupta, principal at Vancouver-based Yaletown Partners, has key details on the recently announced Equality Fund.
The funds investment partners are the Royal Bank of Canada, Calvert Impact, and Yaletown Partners. Yaletown's role is to support the fund with an institutional-grade investment platform. The Equality Fund hopes to use investments and social finance, a tool to mobilize private capital for the public good, and as a way of rethinking philanthropy. Gupta said the fund will bring the spectrum of grants, commercial investments, and impact investments under one umbrella. "We're looking at specifically targeting those sectors where we think that there is this intersection between the gender lens that we're applying, as well as technology," she explains.
[BetaKit]
---
Facebook's Canadian news accelerator boosts local media including DailyHive, Glacier Media, The Discourse, The Tyee and Vancouver Observer.
The social media giant is investing $2.5 million "in ongoing global efforts to support journalists, academics and news organizations across the globe to advance journalism and help develop sustainable business models – both off and on our platforms." The news organizations involved join a 12-week program to help them find new ways to connect with audiences and creative ways to monetize their businesses.
[Facebook Journalism Project]
---
If you have more time…
These 7 Vancouver startups, so hot right now (Vancouver Tech Journal)
Tile expands to Canada, opens engineering hub in Vancouver (BetaKit)
U.S. food-delivery giant Postmates has at least ten staff in Vancouver (The Logic)
10 amazing start-ups from Vancouver to watch (Silicon Republic)
Canada's 5 largest (non-Toronto) office projects under construction (Vancouver Sun)
B.C. Regional Women Entrepreneurship Knowledge Hub launched at SFU's VentureLabs (SFU)
---
Know someone who should be reading this? Then 

send it to them.