The Sunday Briefing | #94
"Many communities around the world are horrifically under-serviced." - Peyman Namdari, co-founder of Lumen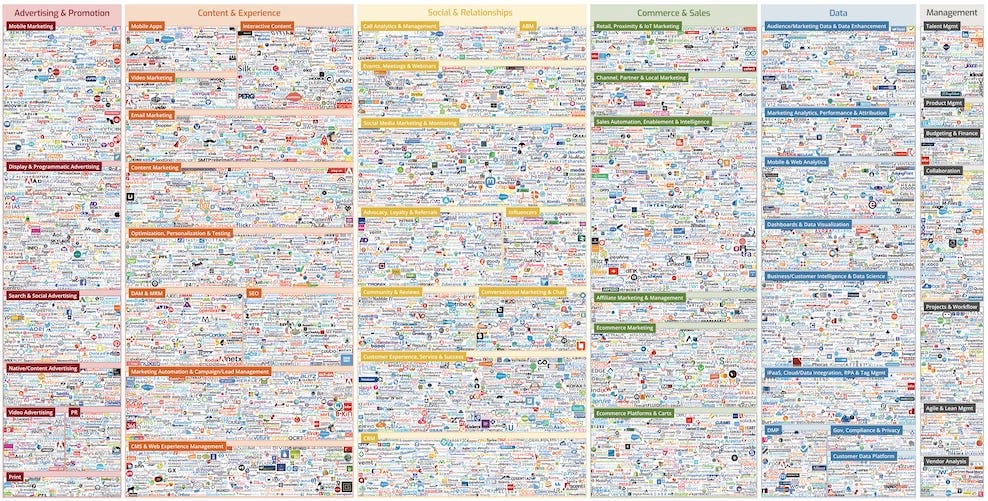 The 

Vancouver Tech Journal

 brings you news, insight, opinions, and the lesser-known stories from Vancouver's innovation ecosystem. This is The Sunday Briefing. Enjoy.
---
Issue #94 is brought to you by Mind Meld PR Inc. Learn how they get media coverage for tech companies at www.mindmeldpr.com.
---
Vancouver's Hootsuite and Unbounce were named in the Top 75 SaaS Companies of the Decade by Nextiva. Nextiva rounded up the top SaaS companies that changed the way we work, and in each summary, they include an overview, CEO details, and why the product is notable. Pictured above: the 2019 marketing tech stack ecosystem, in which Hootsuite and Unbounce have been dominant. /more
Analytics India Magazine taps Vancouver as one of its Top Cities that Flaunt AI Hubs, noting:
Vancouver has a strong AI ecosystem with more than 100 companies developing AI services and products. Recently, Amazon has announced to open new offices in the area with a plan to hire close to 3,000 employees from the field of AI and other related streams. The region also consists of more than 12,000 students who are enrolled in AI and data-related programs. Amongst a number of universities, the University of British Columbia and Simon Fraser University are considered the best.
Vancouver's Daily Hive, recently recognized as the 38th fastest growing business in Canada, acquired Toronto news startup Pressed. For three years, Pressed reached thousands of Canadians with its popular daily email newsletter and social media community. As part of the acquisition, Jacqueline Leung, founder of Pressed, joins Daily Hive as Managing Editor. /more
3-day esports convention "The Gaming Experience" announced for Vancouver. Organizers say that the three-day event will span over 100,000 sq. ft. and will feature Interactive VR Exhibits, a game studio showcase, an artist alley, a retro arcade, and vendors. The tournament will include games such as CS:GO, Tekken 7, Super Smash Bros. Ultimate, and Street Fighter V, among others. /more
A day in the life of Vancouver entrepreneurs Peyman Namdari and Mehdi Asadollahi, founders of Lumen, an online service that provides a transparent, secure and convenient way to transfer funds internationally. After launching last June, the pair moved $4 million in 290 transactions over the next four months. "Many communities around the world are horrifically underserviced," Namdari says. "We just thought there had to be a better way." /more
UFC and Vancouver's Dapper Labs are developing a new digital experience that will let UFC fans purchase, trade, and own UFC-branded digital collectibles on Dapper Labs' Flow platform. Per Roham Gharegozlou, CEO of Dapper Labs:
Flow makes it easy for any developer to build blockchain apps, games, and digital assets to power them. Working with the UFC®, we are showing what's possible when you give an engaged fanbase a real ownership stake in the game they love and the communities they're a part of.
Zenoti, a leading cloud-based platform for spas, salons and med-spas, recently announced new product development centre in Vancouver. The office will focus on bringing new technological innovations to their product while helping to open new markets for the company, according to a release. /more
/More
---
IDEAS
Wal van Lierop, executive chairman of Chrysalix Venture Capital, writing in Forbes: Our Carbon Problem Is A Multibillion-Dollar Opportunity
Karn Manhas, founder and CEO of Terramera, writing in GreenBiz: We need to think beyond urban farming
Megan Helmer, president of STEM-focused PR Associates, writing on LinkedIn: One-third of Canadians believe science can't be trusted
Shafin Tejani, CEO of Victory Square Technologies, writing on Bay Street Bull: 4 Ways Startups Can Protect Themselves During A Recession
Gordon Patrick Newell, partner and executive coach at Bond & Bourne Leadership, writing on LinkedIn: In praise of genuine authenticity in your work culture and some ideas on how you can start to achieve it.
---
Q+A
Five questions on negotiation: BC Tech CEO Jill Tipping
---
GROW
The Investment Readiness Program at the #BCTECHSummit will provide founders with a comprehensive overview of the North American fundraising landscape, the best M&A strategies and tactics for global growth, and opportunities to build relationships with your next potential investor. Apply to participate as a company or an investor.
The 3 Grant Programs Every BC Tech Company Should Take Advantage Of. "When building your tech startup, every bit of funding helps," writes New Ventures BC's Rachel Burns. "Here are three grants that will have you training up your team and hiring bright new talent in no time."
---
KEY EVENTS
---
LASTLY
Should your colleagues be reading this too? Forward it to them.
Follow along on Twitter: @vantechjournal / @notionport.
Reply with tips for next week.