The Sunday Briefing | #103
"Our job is to translate the small flywheel of the startup to the big flywheel of Telus." - Rich Osborn, managing partner of Telus Ventures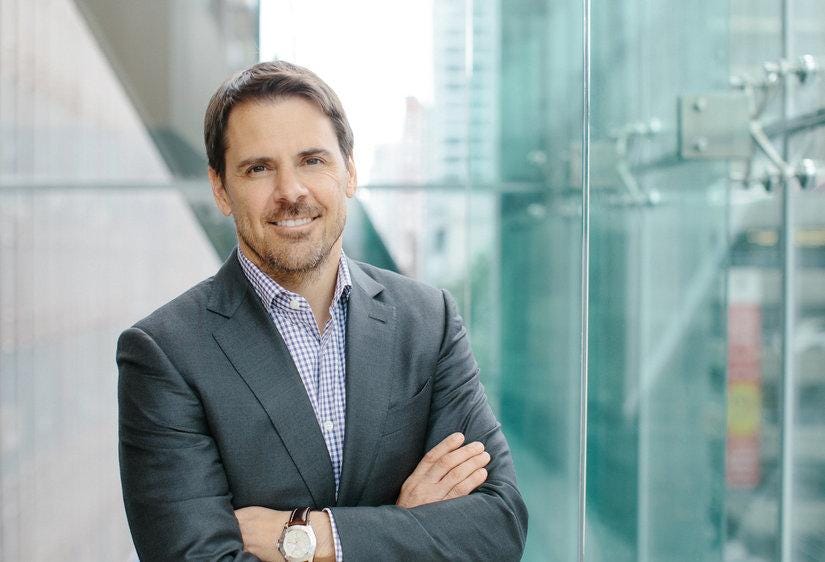 The 

Vancouver Tech Journal

 brings you news, insight, opinions, and the lesser-known stories from Vancouver's innovation ecosystem. This is The Sunday Briefing. Enjoy.
---
My latest piece of writing is a profile of Rich Osborn, the managing partner of Telus Ventures. Osborn is responsible for investing in technology solutions with the potential to drive growth and impact at Telus and support the corporation's broader business priorities. "Our job is to translate the small flywheel of the startup to the big flywheel of Telus," Osborn explained to me. "And we've figured out over time who the right people are and what the right buttons are to push to make things go faster. Because ultimately, that's what we're there for." /more
Vancouver-based startup ARTMS Products, which produces medical isotopes, has raised a $26.4M Series A funding round, bringing the company's total funding to more than $30 million CAD. Per reporting from BetaKit's Isabelle Kirkwood:
The round was led by New York-based Deerfield Management with investment from existing investor Global Health Science (GHS) Fund, a seed investor also based in Vancouver. A spokesperson for the company told BetaKit the round closed on May 13. ARTMS aims to address the current global shortage of medical isotopes, which are used as a component of nuclear medicine.
Vancouver-based robo advisor startup WealthBar has been fully acquired by one of Canada's largest wealth management firms, CI Financial. WealthBar was first acquired by CI Financial in January 2019. At the time, WealthBar executives maintained a 25 percent minority stake, which CI Financial has now bought out. /more
Former B.C. innovation commissioner Alan Winter says COVID-19 has exposed Canada's dependence on purchasing goods and technology offshore with profits from primary resource industries. He said to Brenna Owen of the Canadian Press:
The issues that we see today around (personal protection equipment) and getting stuff out of China is all illustrative of the fact that our economy, to some extent, has been totally submerged into other countries in terms of supply chains. Our strategy of selling raw natural resources doesn't make a lot of sense. We need to have the capability of developing more finished goods ourselves.
Koch Engineered Solutions—a unit of Koch Industries Inc.—yes, owned by those Kochs—acquired Vancouver's DarkVision Technologies. DarkVision has created imaging technology that delivers high resolution images inside oil and gas wells. They won the New Ventures BC Competition back in 2014, taking home a $100,000 prize. /more
Richmond-based CRM GeoTomography Technologies Inc. developed technology that detects subatomic particle – muons -- that bombard the Earth from space, in order to X-ray what's below the ground and produce 3D geological maps for mining and exploration companies. Per Business in Vancouver, the company rebranded as Ideon Technologies Inc. and brought on a new CEO, Gary Agnew, to take the company from R&D to commercialization. "We see the opportunity to really solve some very big, high-value problems for industry," said Agnew. /more
The Greater Vancouver Board of Trade has launched a "Getting your business ready to reopen" toolkit. /more
Q&A
Respawn Entertainment LLC, maker of the hit battle royale game Apex Legends, has opened a new studio in Vancouver and is actively hunting for local talent. This interview in The Province features Respawn Chief Operations Officer Dusty Welch talking about the kind of roles he's looking to fill, why the American company chose to set up shop in Vancouver and what it's been like to expand operations during a global pandemic. /more
In BCBusiness magazine, Q&A: Silicon Valley entrepreneur and investor Michael Wee sizes up B.C.'s tech ecosystem
An interview with Neil Kenley, newly-named Director, Investments of Vancouver's Vistara Capital Partners. Kenley is opening the firm's new Toronto office.
Tips for staying sane in a pandemic from... CuePath Innovation's Bruce Nunn
IDEAS
Karn Manhas, CEO of Terramera, writing in BCBusiness: COVID-19 has put Canadian farmers in the spotlight. How can we make the most of it? & writing in Thrive Global: How The COVID-19 Pause Could Save The Planet
Dana Kawas, CEO of Thynkli, writing on LinkedIn: Jumpstart your Digital Journey
James Riley, CEO of LightSpark Software Inc, writing on LinkedIn: Better data will make us resilient for the next big challenge, climate change
David Gens, CEO of Merchant Growth, writing in BCBusiness: Top 3 priorities for small businesses in crisis
Brenda Irwin, general partner at the Relentless Venture Fund, writing on LinkedIn: An Inconvenient Truth
Columnist Vaughn Palmer writing in the Vancouver Sun: Will legislative innovation offer 'dignified' version of Victoria Squares?
---
LISTEN
Joel Solomon, founding partner of Vancouver's Renewal Funds, on the 12 Minute Convos podcast
Jack Newton, CEO of Clio, discussing his company's recently published COVID-19 Impact Research Briefing on the Legal Talk Today podcast
E-VENTS
Tuesday, May 26: Vancouver Entrepreneurs' Forum Online: Health care transformation in the era of COVID-19
---
LASTLY
Follow along on Twitter: @vantechjournal / @notionport.
Feel free to reach out at william@williamjohnson.ca.
Send this to your colleagues and clients.
P.S. A few of you asked about the survey results from a few weeks ago. Here you go. This is what you all said.