TechPong returns: 'This year is going to be bigger than we've ever done'
It's time for round six of the city's most epic charity ping pong tournament.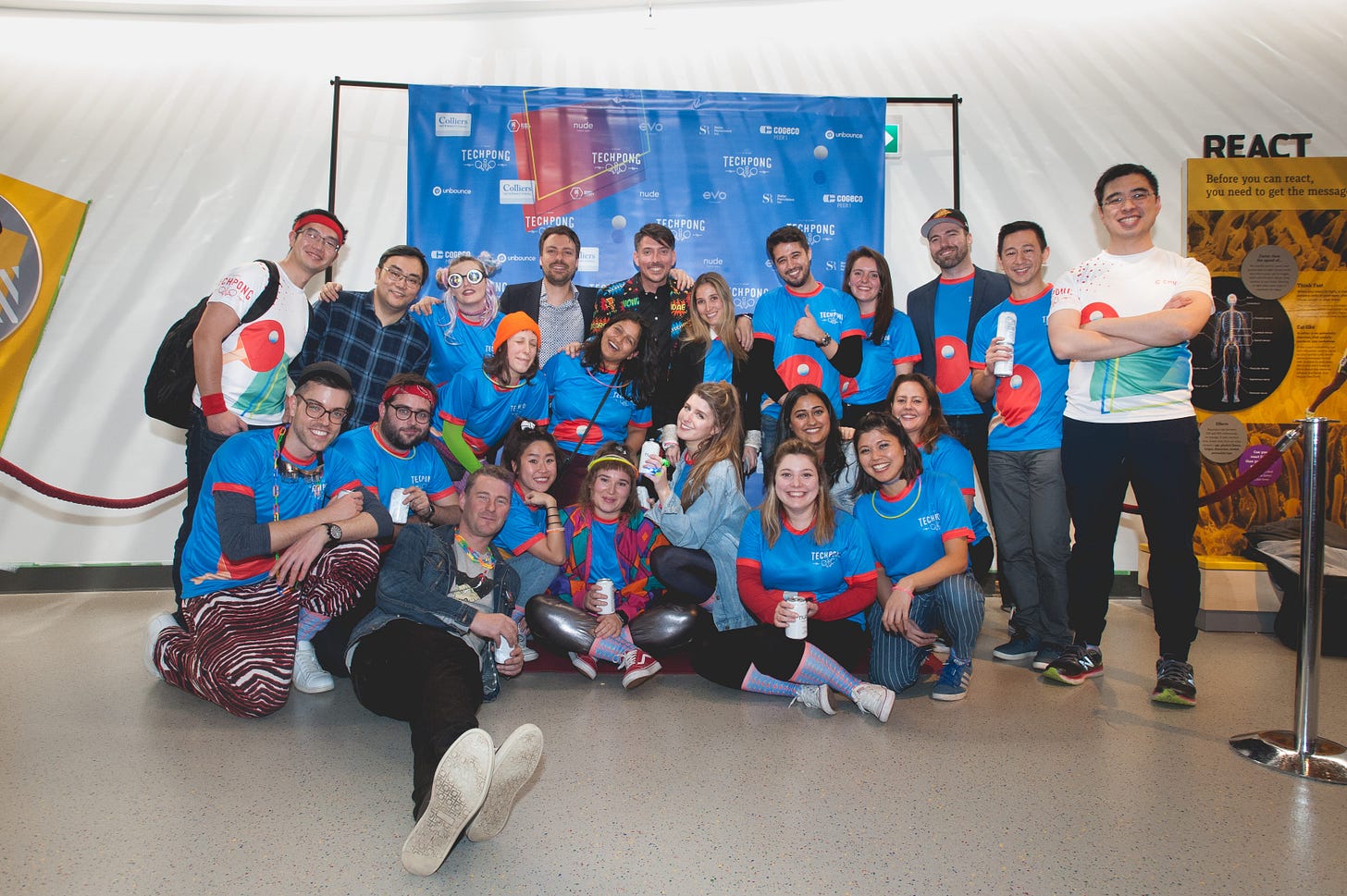 TechPong, Vancouver's most epic charity ping pong tournament is back. Launched in 2014, the event brings together Vancouver's tech community for an epic games night and to raise money for local causes.
Hosted by Charitable Impact, this year's event takes place November 7th at Science World and is expected to raise $100,000 and bring together around 1,000 people from the city's business and tech community.
To participate, company teams must raise a minimum of $2,000 using the Charitable Impact platform. This allows them to enter one player into the singles tournament, and two players into the doubles tournament.
Six years ago Rick Perreault, the CEO of Unbounce—a local tech firm that co-founded the initiative with Charitable Impact—positioned the event like this: "Unbounce started in Vancouver and we're still here and growing five years later. Our first office was in the Downtown Eastside and it's important to us to give back to the community now that we're in a position to do so. TechPong is a fun way for our team and the tech sector to rally together for a good cause."
A quick scan of this year's participants suggests that the event is also a high-value opportunity to network with other top companies in the city. Think Galvanize, Beanworks, Thinkific, and Allocadia, among others.
The Vancouver Tech Journal spoke to Dan Brodie, Chief Operating Officer at Charitable Impact, about why the event is important, who is involved, and what he thinks are the most rewarding aspects of the annual initiative. This interview has been condensed and edited for clarity.
What is

TechPong

and why is it important?
Well, it is Vancouver's biggest tech party and ping pong tournament, and it allows companies and people to join together to raise money for causes that they care about. It's just a really great event. It's going to be bigger and better this year than ever before. And it allows companies and people a great opportunity for things like recruitment, for cultivating company culture, for team building, and really just getting together with people from the BC tech community spending time,sharing some laughs and having a lot of fun together.
Tell me how the event links up with what your company does.
At Charitable Impact, we believe everyone imagines a brighter future. They have their own view of what that brighter future is. What we do here is help work with them to make that happen. When we look at TechPong, it is a great opportunity for people to get together in their organizations, or even to come individually and to give and create change for the causes they care about. At Charitable Impact, we're cause neutral. We don't tell people where they should give, but we help them to be able to do that in a very easy and effective manner.
I looked a couple of days ago and it looked like
Charitable Impact
was on top of the leaderboard in terms of fundraising. Is that important to you guys, or is it all just fun?
Great questions. Is it important for us to lead? Well, I think we're a reasonably competitive group, and we like to push the limits on this. From my own perspective, are there any companies I'm worried about beating us? Actually, I'm worried about all the companies beating us. Yet, on the other hand, I want every company to beat us, as well, because it means they're engaged. It means they have something they really care about and they're passionate about changing, and they're working hard towards doing that.
What companies have been really engaged and active in the past?
Oh, we've had a lot of companies in the past, so companies like Clio. Copperleaf is a big one. In fact, on the ping pong tournament side, they have an individual that's won multiple times, just an absolutely phenomenal ping pong player. But they've also been so engaged in raising money. 7Geese has been there before. We have Samsung. They've been there a number of times. We're starting to see other newer companies come, like Shopify this year is entering a team. Bananatag's been here many times before. We're seeing a really good core group of companies return and we're seeing a lot of new people engaging, as well.
Thinking back to the past few years, are there any top memories?
There are so many. Seeing hundreds and hundreds of hundreds of people gathered around the ping pong finals last year and seeing the collective group hang on just about every breath and every hit on the ping pong table. It was so exciting to see so many people just engaged and having fun. For myself, last year was a lot of fun and my team makes me dress up for the event adding some fun, as well. I'm not sure what they're going to make me do this year, but I think it's important to get involved in the theme. This year's theme is Fun Fair.
It's important for the people going and for us just to really enjoy our time together and have a lot of fun. It's one night where we can let loose a little bit. We're able to do some good and we're able to really connect and really enjoy our time spent with each other. For me, I think just seeing the happiness on people's faces, seeing how they engaged, whether it was ping pong or whether it was just hanging out and talking together and spending time with one another, it's incredibly rewarding.
Finish this sentence:
TechPong
couldn't exist without…
It couldn't exist without the amazing people, especially in the Vancouver tech community, the BC tech community. We have such a great team here at Charitable Impact, and they're so excited to be able to put this on. But without other companies willing to engage, without people wanting to change something else in the world, without people imagining a brighter future that they imagine, we wouldn't be able to do this. Increasingly every year, I think the level of engagement from companies, from people, surprises me. This year is going to be bigger than we've ever done, and we couldn't do it without all the other companies in the BC tech community.
Is there anything else you'd want to add?
Having the privilege to be a part of this and to be able to be a part of the team here at Charitable Impact and the BC tech community, and to be able to have a night where we can all come together and we can create some change in our country—it's absolutely fantastic. We're really thrilled to be able to help the BC tech community with TechPong.
This year TechPong will feature a carnival theme, with fun fair games to test skill and luck. There will also be live music, entertainment, and a bar run by Parallel 49 Brewing Company. Attendees—who do not need to play ping pong to take part—are encouraged to dress in theme, though they are not required to.
Vancouver Tech Journal readers get 10% off their ticket using code VanTech10.
Register at techpong.ca.