Sunday Briefing | #112
"Even in the COVID environment, B.C.'s tech companies continue to create many more jobs each year than we have the talent to fill." - Jill Tipping, president and CEO, BC Tech Association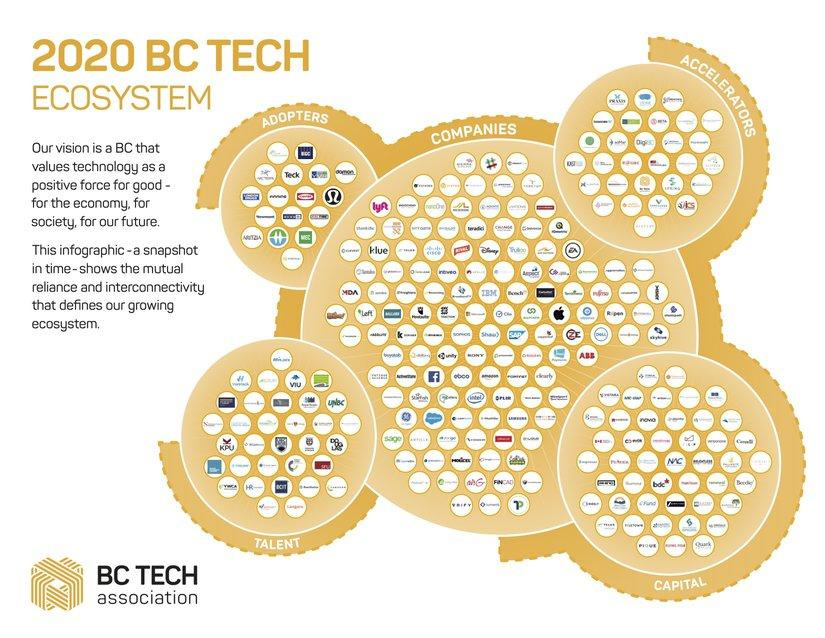 The 

Vancouver Tech Journal

 brings you news, insight, opinions, and the lesser-known stories from Vancouver's innovation ecosystem. This is The Sunday Briefing. Enjoy.
---
"Even in the COVID environment, B.C.'s tech companies continue to create many more jobs each year than we have the talent to fill,"
says Jill Tipping
, president and CEO of the BC Tech Association.
It's a real challenge for our tech companies and one of the reasons why BC Tech puts such a focus on reskilling programs to help people pivot into careers in tech. Many of these new employment opportunities come from the companies included in our 2020 Ecosystem Map.
---
Vancouver-based 
Rise People
, a startup that provides human resources and payroll solutions to employers, has launched a new insurance advisor engagement platform aimed to offer group life and health benefits.
Per BetaKit's Isabelle Kirkwood:
The new platform gives insurance advisors tools designed to streamline backend processes while delivering a paperless frontend experience. The platform is currently available across Canada to advisors that serve clients of Sun Life's group benefits program. Rise People plans to expand the platform to include other insurance carriers in the coming months.
Sun Life invested $15M into Rise back in 2018.
---
Well Health Technologies, a publicly-traded healthtech company headquartered in Vancouver, has
acquired
the services division of Cycura, a Toronto-based cybersecurity startup, for approximately $2.55 million CAD.
Well Health, which owns primary care clinics across Canada and provides electronic medical records services, said the acquisition will ensure Canadians' highly sensitive health data is kept safe.
---
Wiivv co-founder and CEO Shamil Hargovan
announced
that he's transitioning out of his role, relocating to Seattle, and will serve as board advisor.
Per the official announcement:
Hargovan was part of the original team that re-imagined footwear and brought the category into the direct-to-consumer digital age. During his six-year tenure, Wiivv grew as a start-up to become the largest supplier of custom 3D printed footwear worldwide, with a customer satisfaction rating that is four times the insoles industry average.
Footwear-industry veteran Brett Ritter has been promoted to President at the company.
---
Vancouver, Canada's animation powerhouse,is thriving in the pandemic,

reports Cartoon Brew

.
The pandemic has not hurt animation production in the city. In fact, it might have increased it. "We're actually coping surprisingly well during this pandemic," says Michelle Grady, executive vice president, Sony Pictures Imageworks. "We were able to get 750+ people safely working from home in a very short period of time. Because of the quick actions of our technology, production, and facilities teams, we barely missed a beat in our transition."
---
Ilya Brotzky, CEO and co-founder at
VanHack
—a firm that helps companies hire tech talent—is creating a free course for Non-Technical Founders / Executives about the fundamentals of building software products and working with tech teams.
For whoever interested, he's looking for comments on LinkedIn. Many have already chimed in.
---
Fourteen Canadian startups have
been selected
to participate in the eight-week Canadian Technology Accelerator (
CTA
) Digital, based in Silicon Valley.
The eight-week CTA Digital program, managed by the Consulate General of Canada in San Francisco and Silicon Valley, offers high-potential Canadian startups access to the resources of Silicon Valley so they can grow at scale amid the COVID-19 pandemic. The participating startups are building tech products across five sectors: education, finance, logistics and supply chain, property management, and retail.
3 Vancouver startups got the nod. Roomvu, Flow and guess who?
---
Vancouver's General Fusion
mentioned
in a IEEE Spectrum piece spotlighting 5 Big Ideas for Making Fusion Power a Reality.
General Fusion, based near Vancouver, was founded by Canadian plasma physicist Michel Laberge. He quit a lucrative job developing laser printers to pursue an approach called magnetized target fusion (MTF). The company has attracted more than $200 million, including investments from Jeff Bezos and the governments of Canada and Malaysia.
---
SFU researchers
have recently 
received $300,000 in funding
 from Innovate BC's Ignite Program to develop technology that allows farmers to grow more food with less pesticides.
The research project commenced earlier this year and involves a collaboration with Vancouver-based agtech company Terramera's Actigate™ technology platform, which aims to reduce global synthetic pesticide use by 80 per cent by 2030.
---
+
Where is B.C.'s COVID contact-tracing technology?
Do you think it's worth it to invest $1 into commercial and residential real estate?
Shared e-scooters in Vancouver? 
UBC's Master of Educational Technology program offers grads deep insights into online learning approaches
B.C. groups double down on digital twinning
---
Ideas and opinions
Casey Lau, co-host of RISE and host of the Sandwich Society podcast, writing at Techcouver: 10 Years of Startup Conferences & the Subtle Art of Connecting People
Jock Finlayson, Business Council of British Columbia's executive vice-president and chief policy officer, and Ken Peacock, the council's chief economist, writing at Business in Vancouver: Innovation acceleration could be pandemic's economic silver lining
Jenny Scribani, a content marketer at Thinkific, writing on her company's blog: 7 Keys To Creating A Personal Brand
Charlie Grinnell, CEO at RightMetric, writing at Forbes: Five Ways To Start Building Marketing Analytics Data Literacy
Karn Manhas, founder and CEO of Terramera, writing at YPO: Top-down Office Culture is Over. Here's How to Create Something Better.
Ecosystem builder Chin Hing Chang, writing on LinkedIn: Learning to say NO
---
WATCH
Grace Carter, director of internal communications at Hootsuite, will join Caroline Carter-Smith, partner at CSuite Content this Wednesday August 26 for a LinkedIn Live interview at 11:00am. What is it like working directly with the CSuite? How do you help your executive team speak out on important issues or bring a sense of cohesiveness to your org during a global pandemic? You will have to tune in to find out.
---
NOT TECH
Cheapest way to own Vancouver real estate: one-car Yaletown parking spot selling for $49,995
---
LASTLY
Should your clients and colleagues be reading this? Please forward it to them.
Get updates throughout the week on Twitter: @vantechjournal.
Reply to say hello or send me tips.