Meet Google, Facebook, and other giants at the VR/AR Global Summit in Vancouver
"The best knowledge and networking for enterprise, hardware, software and content providers."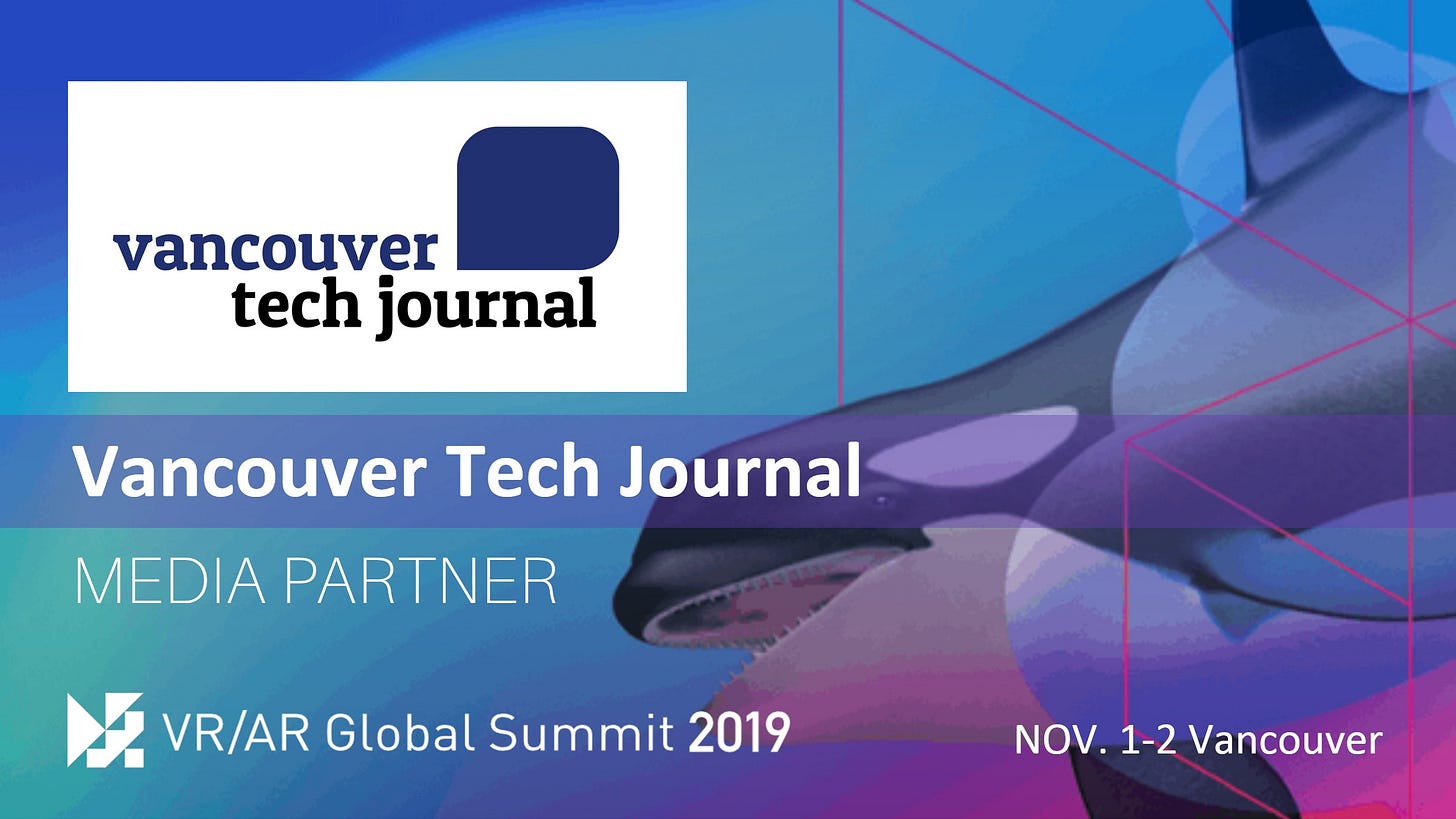 The facts are clear: With over 230 companies active in VR/AR, Vancouver is the 2nd largest immersive ecosystem in the world. And this Friday and Saturday (Nov 1-2), this massive community of technologists and artists will be on full display at the VR/AR Global Summit at Parq Vancouver.
This is the 4th time the international event is taking place in Vancouver, and organizers say the event will have a strong focus on AR and immersive interaction design. Get your tickets now.
Vancouver Tech Journal is a proud media partner of the event, and in typical Journal fashion, we're highlighting two of the top stories we've read on the Summit below.
In the
Vancouver Sun
,
Harrison Mooney emphasizes the growth of venture capital spending in XR, using Sandbox VR as an example, which just opened a Metro Vancouver office and is attracting investment from celebrities:
Three years ago, Vancouver was home to around 15 immersive technology companies. Now there are more than 230, from major publishers like Electronic Arts (EA), Microsoft and Nintendo, to startups like Etro Construction, which aims to implement new technologies in the construction industry and has been growing rapidly since its inception in 2015.

Even celebrities see a can't-miss moneymaking opportunity. Virtual reality gaming company Sandbox VR, which just expanded to Canada by opening a location Richmond, announced $11 million in funding from some big names in Silicon Valley and the entertainment industry, including Justin Timberlake and Katy Perry, actors Will Smith and Orlando Bloom, and former Disney President Michael Ovitz.

Sandbox works with VR and full-body, motion-capture technology for customers to become superheroes, space cowboys, and physics-defying fighters. The company describes the experience as the closest thing to the "holodeck" that exists.
In
Forbes
,
Charlie Fink delves into what conference delegates can expect from a content perspective:
In addition to VRARA chapters, and members from all over the globe, some of the world's largest companies are now implementing XR solutions. We'll hear from many of them, including MasterCard, Verizon, Boeing, Raytheon, Siemens, Viacom, Walmart and Lockheed Martin.

This year, the lineup is purposefully split almost equally between men and women. Undeterred by stats that state only 16% of women have tried VR as opposed to 30% of men, the VRARA is trying to keep this industry not only inclusive but a leader in celebrating and furthering the progress of women in tech. To mark this commitment, Co-Chairs, conference organizer Anne-Marie Enns and Sophia Moshasha, head of the VRARA's DC Chapter and Director at Brightline Interactive, will launch the VRARA Women's Committee at this year's summit.

Keynotes include: Travis May, Director of Learning Technology & Development at Mastercard, who will be speaking about the future of workplace training;  Heidi Buck, US Navy, founder and director of the Battlespace Exploitation of Mixed Reality Lab at SPAWAR Systems Center, Pacific.
Read all event coverage on the VR/AR Global Summit blog—and we'll see you there.
VR/AR Global Summit 2019
---