6 ways to view Shopify's "digital by default" declaration
Relax Vancouver. When you think it through, you realize that it's great news for everyone.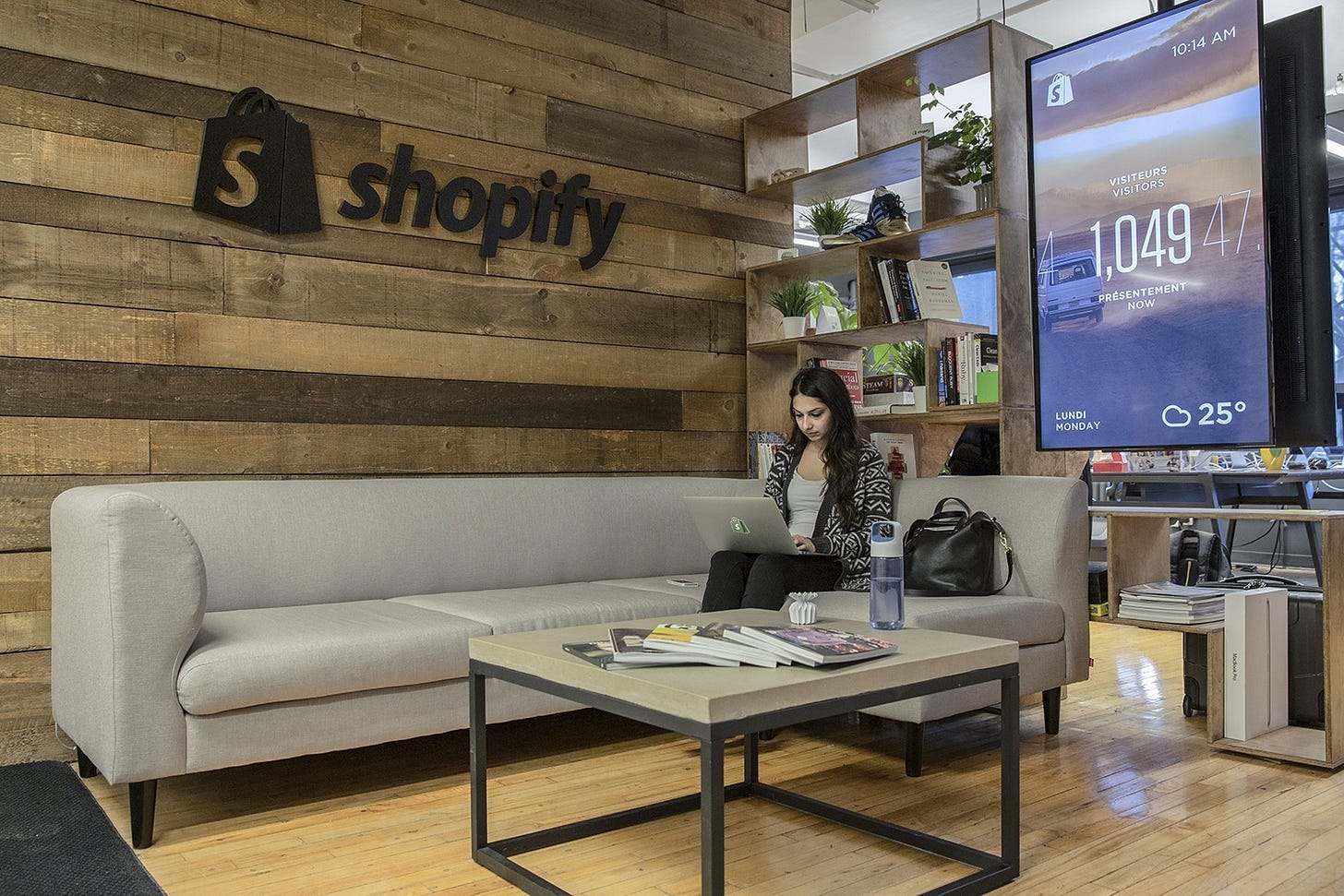 Two weeks ago Shopify CEO Tobi Lutke made the surprising-but-not-really-surprising announcement that his company's offices would remain closed for the rest of the year. He tweeted:
As of today, Shopify is a digital by default company. We will keep our offices closed until 2021 so that we can rework them for this new reality. And after that, most will permanently work remotely. Office centricity is over.
The local headlines came quick and were consistent: Most media focused on what would happen to the 1,000 jobs and massive office the commerce giant announced earlier in the year. "Shopify workforce going 'digital,' future of Vancouver office uncertain," is how Business in Vancouver positioned the news. BCBusiness put it this way: "Shopify CEO says working remotely is the future—so what about that massive Vancouver office?" Daily Hive's headline was "Shopify's plans for a new Vancouver office with 1,000 employees in doubt." The horror! And based on my conversations with people in the ecosystem, most are processing the news in the same way: with concern. But me, I'd rather see the good in the news, to see the beauty in this new world (to paraphrase Macy Gray and Dolores from WestWorld), and to think about what this really means on a bigger level for offices, talent, teams, and perks. Not just at Shopify in Vancouver, but for all of business around the world. Here are a few thoughts and ideas about this.
I.
First of all, the digital declaration is great news. Legacy corporations and innovation types alike have a spent a lot of time making us believe that hyper-curated office environments are the key to productivity and good culture. Of course these things matter. But the last two months has taught every body that offices might be overrated—like, extremely overrated.
II.
I don't know about you, but when I hear Tobi's digital by default declaration and the contention that "Office centricity is over," I also hear "Now you can go work for any top brand from any location— in areas where they do not have a campus and importantly, places that people can actually afford to live." Hello Squamish. Hello Nelson. Hello Sunshine Coast. Hello NARAMATA with your 40 wineries within a 20 minute drive! Let's go!
III.
What I hear next is all the mediocre businesses quivering in their boots. Because if Shopify (and other great companies) are no longer restricting their hiring to specific geographies where they have real estate, it means they are coming for all the world's best talent. As one of my best friends, a software engineer at Facebook said to me a few days ago, there are many professionals who are currently undervalued in their company or market that will suddenly see their value appreciate significantly. What's more, the competition for talent will expand from dense urban areas to entire regions—and the competition amongst talent will grow significantly too. Which will exacerbate a development that Scott Galloway made in his book The Four:
Thanks to LinkedIn, everyone is on the global job market all the time. If you are exceptional, there are thousands of firms looking for, and funding, you. If you are good, you are now competing with tens of millions of other "good" candidates all over the planet – and your wages may stagnate or decline.

In sum, it's never been a better time to be exceptional, or a worse time to be average.
Business owners—that last sentence is just as true for your organization as it is for individual people. Watch out all you Great Places to Work. The methodology for those annual lists will need to transform overnight.
IV.
So, as the business world continues to flip itself inside out, what becomes of the humble office? I'll tell you what: Offices become a perk, essentially branded co-working spaces, or better yet, a form of private members' club. Think about it. Remember what Huffington Post wrote about Hootsuite's second office when it opened? "Staff can enjoy organic, cold-pressed juice delivered from a local company, and have meals a lunchroom complete with picnic tables and a ping-pong table." "A projection system makes for ideal viewing venue for movie nights, sporting events and more." "For a break from the open office space, staff can work from the Zig Zag library, a quiet zone flocked with book decor and private booths with cozy pillows." Beer and wine on tap. A gym. Fresh fruit. Sounds like Terminal City Club except they're paying you. Shopify's current offices possess the same flair. Now, imagine you work for Shopify remotely. But you happen to be on vacation in Toronto. You're out one evening and you need to freshen up or you need to take a quick business call. You can just UBER over to your Shopifolk-only private space. Next week maybe you're in Berlin. You can do the same thing there.
V.
This must also mean the end of the romantic notion of being transferred to the sexy Paris or London office of a company. Indeed, if everyone works everywhere, then nobody works anywhere really. So you can just be wherever you want.
VI.
This also theoretically means the end of needing to find job security in new cities before you make a move. I had to worry about this five years ago when I moved from Ottawa to Vancouver. I actually took the risk and moved without employment secured, but understandably, not everybody would be willing to do that. Perhaps now it won't matter. If everybody is remote, then when you decide to move cities or countries, no one really cares—except for the local government of the jurisdiction into which you have relocated. And those bureaucrats may not even care if they can somehow still capture the payroll taxes you're bringing them with your 80%-higher-than-the-average-salary-tech-wages. Win-win for everyone. Like I said, I choose to see the beauty in the world.
On LinkedIn, Brittany Forsyth, Shopify's Chief Talent Officer wrote, "As we begin to contemplate coming back together, we've realized that the 'office' as we've known it has changed for everyone, likely forever." Indeed, it had too.
And I think most tech workers are set to benefit from this massive, yet long overdue shift in the way we live and work.