32 things learned about Shopify and their massive Vancouver expansion
The global commerce juggernaut is set to launch a 1,000 person office in downtown Vancouver—and we have everything you need to know about it.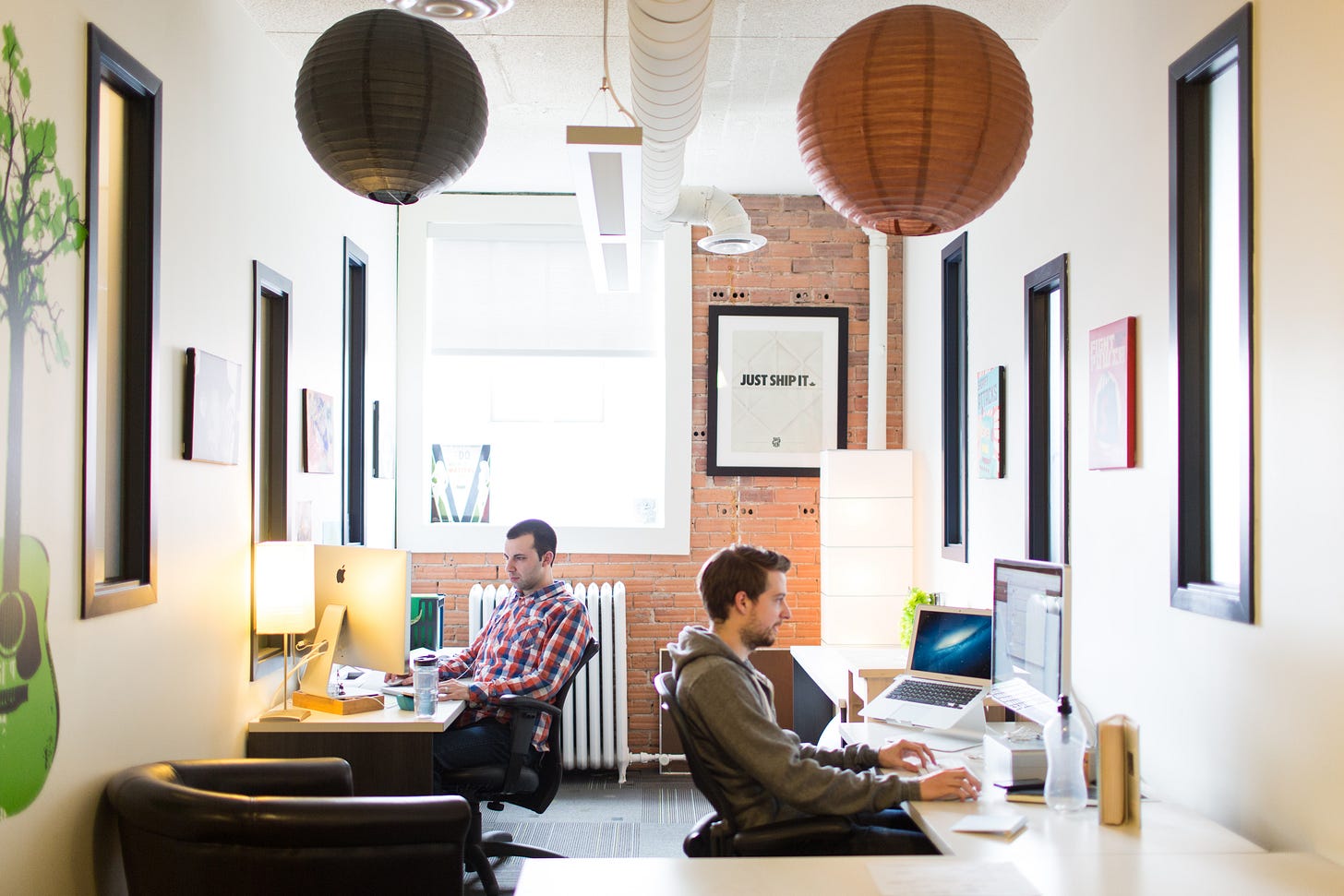 You know, I've already written about Shopify moving into a new office. But it was back in 2014, when they were set to open their jealousy-inducing Ottawa HQ:
A few weeks ago on the rooftop patio of Performance Court, the new 21-storey, 360,000-square-feet office building in the heart of Ottawa's central business district, Morguard, the building's owners, hosted a Stephen Beckta catered welcome party for their new tenants. The space at 150 Elgin St. has been leased to a mix of firms including CIBC, Ottawa Tourism, Canada Council for the Arts, and KPMG, among others. Perhaps the unit's most unlikely occupant, however, is e-commerce provider Shopify, who will be taking over six full floors of it, 100,000-square-feet in total.

Just eight years ago, the start-up, if we can even call it that anymore, was celebrating a move from its tiny Elgin St. digs to 185 Rideau St. (which was also once home to mobile app company Select Start Studios, who Shopify acquired). Now with over 100,000 paying customers, a billion dollar valuation, and over 450 staff, Shopify will have come full-circle, from stealing Wi-Fi at a close by Bridgehead Coffee to moving in with the city's largest commercial property management firm.
Fast forward six years and the company has more than a million merchants, just over 4,000 employees, is worth more than $60 billion, and now has 16 offices around the world.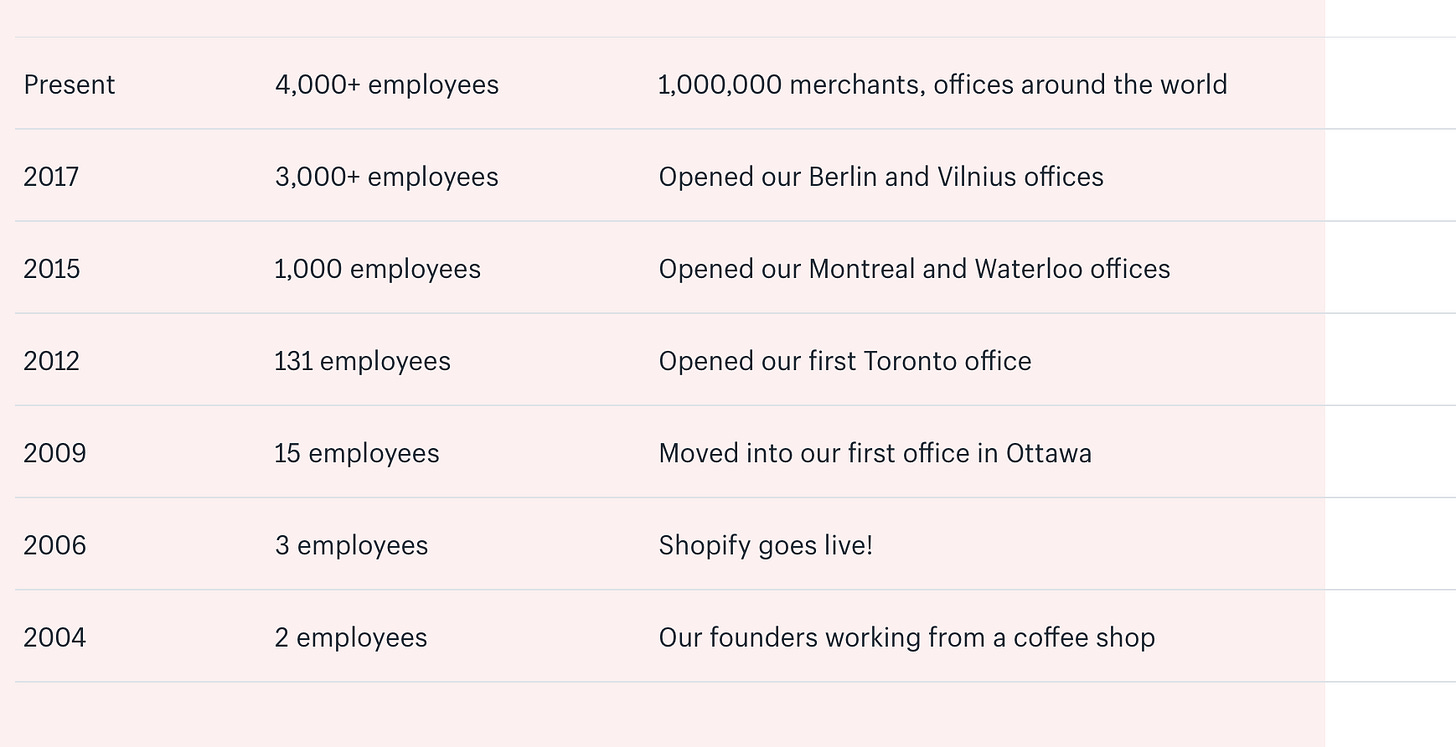 This past January the company announced plans to open an official space and hire 1,000 employees on the best coast:
We chose Vancouver because we're a proud Canadian company, and we see it as a hub for great talent and potential for continued growth. As with our other Canadian offices, we look forward to opening our doors in Vancouver to host technology and entrepreneurship events in our space, free-of-charge, as well as work alongside Shopify's merchants and partners in British Columbia to strengthen the local economy. 
To give the community more insights into their product, teams, and why they chose Vancouver, the company held a webinar with four company leaders: Mamak Yaghmaie, Delaney Manders, Farhan Thawar, and Lynsey Thornton, who is responsible for the company's Vancouver footprint.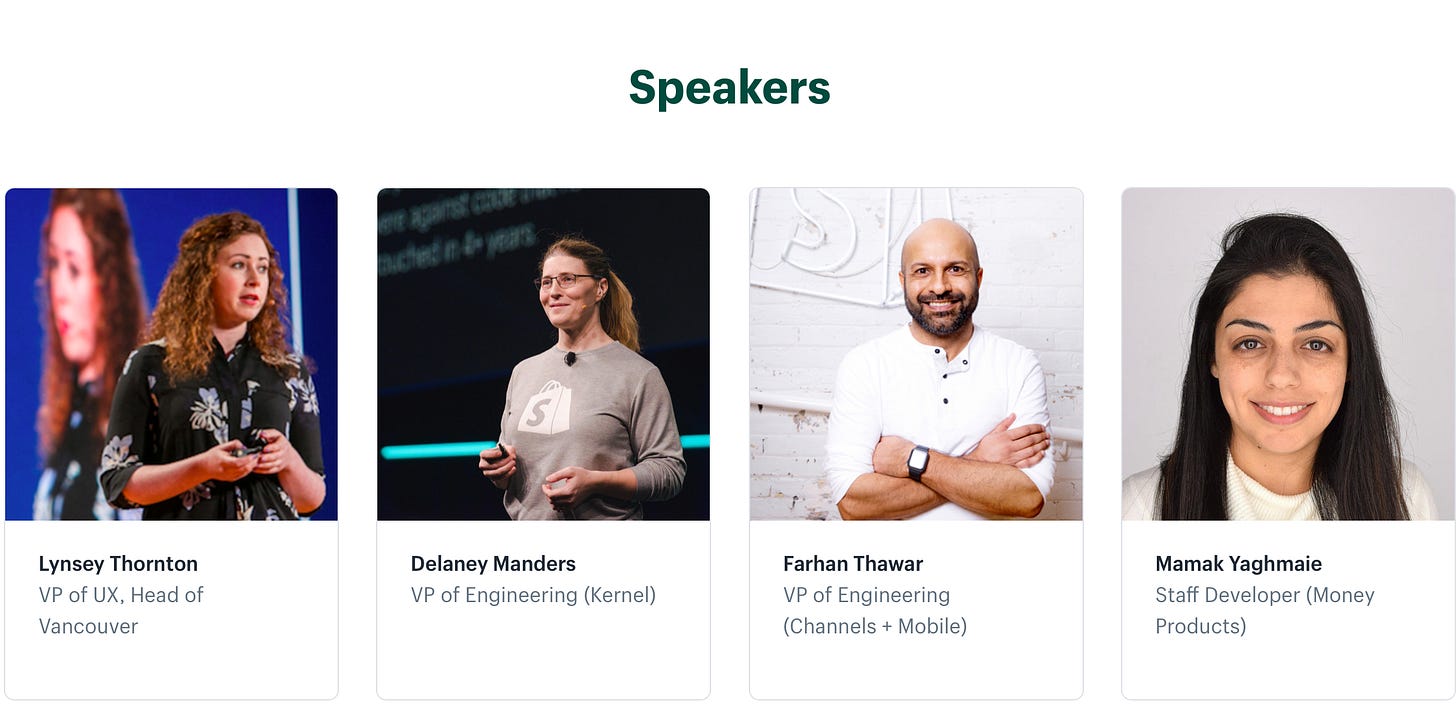 I re-watched the webinar recording, so you don't have to, and made notes. Below you can find 32 things I learned about Shopify and their massive Vancouver expansion.
Even the most successful and innovative companies can experience technical difficulties (though not of their own doing, I must say). Anyone who watched the webinar live knows what I'm talking about. Also, if you watch the two clips they sent out afterwards, you notice that they're almost the same video, but one is titled Introduction & Panel Chat and the second is Question & Answer Session. Tip: You only need to watch the first clip as it has everything in the second clip.

The notion of thriving on change is core to their work. For Thawar, it means "assuming positive intent" and that their team is all trying to make things work. For example, when it comes to COVID-19, he says, "It's not something that anybody wished for us all to have to work from home. But we're taking it in strides, and we're figuring out what are all the things we have to change about Shopify to make this work."

They trust that everybody's going to do the right thing for Shopify, according to Manders. "We make a big deal at Shopify about the trust battery, that you build up your trust battery, you get to know your peers, and they get to know you," she says. "The important thing about that that a lot of people don't intuit until they've been here awhile is it's not just that we charge the trust battery up—we use it once it's charged."

Shopify has given their employees $1,000 stipends to set up their home offices. What's key about this, explains Manders, is that, "We're not doing any checks on this by the way. There's no long expense process. You don't need to go through IT for most things, unless it's something you need ITs help for. We just trust you because we've built up that trust battery with everyone and we trust that everyone's going to do the right thing for Shopify."

"We bias towards autonomy," says Manders. In terms of how that plays out with hiring, Thornton says, "We look for people who are often times entrepreneurial because with that we see people who are self-motivated or who are used to behaving autonomously. If you are not somebody who does well with a lot of ambiguity in the workplace, like you want a checklist of what you're going to be doing everyday and you're looking at the clock hoping to exit exactly at 4:30 or whatever, you probably will have a hard time at Shopify."

Shopify's office will be located in Bentall 4. That's 1055 Dunsmuir Street.

They have leased four floors.

The first floor is due to be completed by November.

One of the first things they'll have on that floor is a community space to host events and congregate their team.

There will be a number of teams working at the Vancouver office distributed across multiple projects, which mirrors the Shopify employees already working in Vancouver. They're working on money products, merchandising products, their UX system Polaris, and Shopify Plus. "All those people will be part of Shopify Vancouver," says Thornton.

They're looking to potentially add more mobile focus, as well as professionals who can help with infrastructure and Kernel products.

They're going to be opportunistic in their hiring. "To be totally honest," says Thornton. "Shopify works on the basis that we hire people, not roles. And so that means every conversation I've had in Vancouver in the last couple of weeks has given me some sort of a new idea about, 'Okay, this person comes from this background and really cares about solving this problem.'" She continues, "And if there's anything that Shopify is good at it's matching those two things together: we match people and the things that they care about—that's where we see the most success."

Part of the building of their new office is a "mandate from other teams at Shopify to says, 'Let's hop on some of the great talent in Vancouver. But another part is, let's treat this as a startup within the company that's going to be sprung up.'"

Shopify is hiring senior people to start with. "Through seven years of being at Shopify," explains Thornton. "I've had the opportunity to see us open every office that we've opened and take some of the learnings from over that time. What we've learned is that the best success comes when we seed the office with a real strong founding team."

"That team is usually a bit of a mix of levels, but it's pretty important for us that we don't take on loads of interns now when we don't have the leadership to grow those people."

They will be hiring people in batches, starting with senior professionals, senior engineers, and people in UX, product, and data science.

If you're not hired right away, don't worry, they have a ten year lease on the office.

They won't be hiring for non-tech roles like security and maintenance for awhile, since they won't need these roles until they actually move in.

Shopify will have 10 to 20 engineers for everyone person that they have in a service or support role.

In terms of teams and roles, the teams across mobile are distributed, and the channels and mobile teams will see growth soon in Vancouver, Toronto and Ottawa, explained Thawar.

Their Kernel team is a distributed first organization. A third of that team, 60 to 70 folks, are fully remote within Manders' org, and then the other two-thirds are distributed fairly evenly across their offices.

The Vancouver office will start off by having a footprint or an extension of many other large product lines all represented.

Manders believes if you work in that office, it's a great way to get started right away because you can immediately jump into projects that have Shopify-wide impact and this immediately helps you get context on the code base and on their stack.

Manders says she wouldn't be surprised if the "next product line, the next big innovation, could easily be anchored in Vancouver."

Thawar sees the Shopify career journey as a jungle. "We think that your career at Shopify doesn't look like you might expect," he says. "Which is up and to the right… We actually encourage this jungle gym, which is the idea that you will learn different things, and you'll move around the organization."

"That could be learning different technologies," says Thawar. "That could mean moving from engineer to PM (product manager); that could be becoming a discipline lead; that could be working from another office; and it could be changing product lines. We really do encourage and promote the development for folks to make those changes. It's not just something off to the side that you do on your nights and weekends."

Shopify cares deeply about open source projects. They have this program called The Open Source Sabbatical, which is an opportunity to take three-to-six months to choose an open source project to work on. "Ideally something that we work with," says Manders. "But not necessarily, but it's usually easier because we're often already involved in projects."

They also contribute to open source in that they're a company that's built on open source, according to Manders. "We have as our core components, things like MySQL, and we have a number MySQL committers…" she explains. "When we are working with something which is an open source technology, we are very active in not only improving it in that ways that work for us, but contributing back and being a productive and polite member of that community."

There are lots of opportunities to contribute to open source as a hobby or as an opportunity to grow and develop your skill-set at Shopify. "It's a really great feeling to do something that is best for Shopify," says Manders. "And best for the world."

Because of COVID-19, they're not only working from home; they're doing all their interviews remotely too.

They're also on-boarding remotely!

They've been overwhelmed with applications, so don't be offended if you haven't heard back from them.

There is a website set-up where you can sign-up to receive Vancouver office updates: https://vancouver-office.myshopify.com
---
Keep reading:
---
The 

Vancouver Tech Journal

 brings you news, insight, opinions, and the lesser-known stories from Vancouver's innovation ecosystem.
Start every week off informed by reading our free 
Sunday Briefing
, delivered to your inbox every Sunday morning at 6:00am PST.